Citroën UK managing director Eurig Druce believes he has outlined the plan that the Groupe PSA brand has been "crying out for" in the form of the three-year, mid-term Citroën Advance UK strategy.
And, while a Fair Pricing initiative will aim to deliver greater transparency through lower prices and reduced haggling, a renewed product range and a drive to deliver a greater brand awareness through digital communications are all part of the new direction, the creation of a Team Citroën spirit is at its core.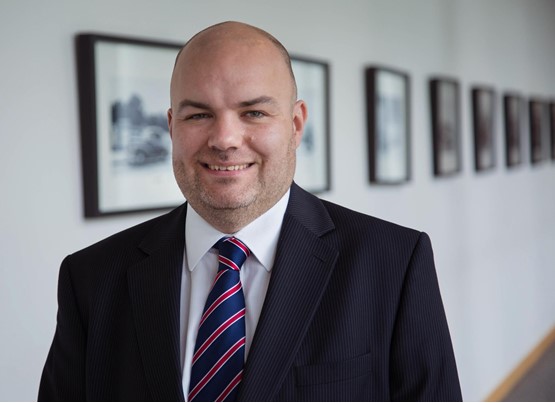 Druce wants the franchised operators of Citroën's 130 UK dealerships to set aside their competitiveness to support one another and help drive an improvement from profitability doldrums which delivered breakeven return on sales for dealers in 2019.
"I think the network is crying out for a plan like this that gives them hope for the future," says Druce, who took over from predecessor Karl Howkins in February after 19 years working within the French carmaker's UK operations.
"I really expect positivity to shine through," he adds.
Speaking to AM after revealing Citroën Advance UK to retailers in late 2020, Druce says his retail network is now ready to work together to make the franchise more profitable.
Three peer-to-peer actions will aim to drive the improvement: First, an elite training programme will be launched to optimise all the key levers of success, with sessions in which the best retailers (some of whom are delivering almost 3% RoS, according to Druce) assist those most in need.
Quarterly performance Zoom meetings will see Citroën UK share the best KPI performances in the business along with best practice, with a focus on profitability and business efficiency workshops to help bring together best practice in a practical way.
Finally, a workshop for mid-term planning in early 2021 will aim to help franchisees identify and embrace the "profit pools available from a transformational industry", Druce says.
Commenting on the Team Citroën ethic demanded by the plan, Druce says: "You have to have that recognition that a dealership is an independent business and (franchisees) really need that roadmap regarding where we're going over the next two-to three-years.
"For 2019, the average Citroën dealer was just above breakeven which is clearly nowhere near strong enough.
"This year, we've had the COVID crisis and the pain of the second quarter, but there was a strong recovery and we expect to be back where we were this time last year.
"The top dealers in the network have been able to improve their profitability in the period despite COVID, year-on-year to the end of September.
"That comes from strong used car performance but also from wins on the changes we made at the start of the year to reduce cost base in terms of demonstrators and some of the central charges as well."
Druce adds: "We want to take the expertise of a top quartile performer into a dealership that might be struggling to see what the differences are and what process can be shared and improved.
"Our dealers want to help their colleagues in the network improve. If you like, it's not a manufacturer coming to them with theory, as may have been perceived in the past, but a fellow operator with real experience and real accounts, performance and processes. I'm excited with the potential."
New values?
Alongside profitability, Druce is keen to see Citroën retailers improve their sales throughput through a stronger, more defined brand presence backed by a regional digital communications strategy defined by the use of "less industry jargon and more straight talking".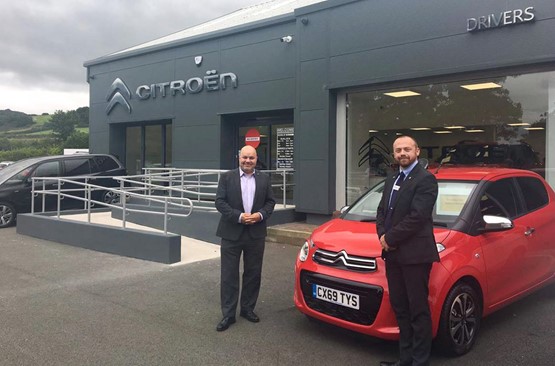 In 2019, the brand was the fastest growing of Europe's 12 largest mainstream car brands and in the UK it managed to deliver 2.39% growth, to 50,806 (2018: 49,618), in a market down by 2.37%.
To the end of November this year, however, Citroën's registrations were down 45.01% at 26,342 (2019: 47,905) as the sector suffered a 30.7% year-to-date (YTD) decline in a year impacted by COVID-19 and ever-more stringent EU emissions regulations.
In light commercial vehicle (LCV) terms, Citroën lies sixth in the sales rankings behind Groupe PSA sister brand Peugeot, with 20,958 YTD. Its Berlingo is the fifth best-seller less than 3.5 tonnes, with 1,368 registrations.
Druce hopes an influx of new product will help stem the tide of lost sales, with no fewer than 11 model derivatives being launched over a 16-month period as the brand kick-starts its electrification strategy.
"Starting with the C3 renewal and the first plug-in hybrid (PHEV), with C5 Aircross, the product push is now accelerating our EV journey with e-C4, e-SpaceTourer, e-Dispatch and e-Relay vans," he says.
"In fact, all of our van range will be electrified by the end of 2021 and 100% of our car range by 2025."
Charles Martin, formerly director of aftersales operations for the entire Groupe PSA (including Vauxhall), is joining Citroën UK as its new sales director in January, with a focus on increasing the brand's sales and market share in the UK.
Alongside the new products Druce and Martin hope to use to leverage greater registrations, comes the Fair Pricing strategy, new trim level naming (with Live, Sense and Shine grades), the introduction of a haggle-free fixed-price C-Series, an exclusive five-year warranty deal for online customers and tighter management of residual values (RVs).
Druce acknowledged that RVs play a central part in the majority of car sales today and conceded that Citroën had been "below par" in the past. He says the new C4 hatchback would improve residuals over its predecessor, the C4 Cactus, by 12 percentage points at three-years and 30,000 miles, representing a £3,500 cost saving for buyers, adding: "Tight control of trade-in will ensure our customers' cars are worth at least the industry average after three years."
Meanwhile, rental will represent no more than 10% of sales, he says.
Fair and transparent
Citroën's new Fair Pricing policy ushered in reduced list prices and greater transparency on December 1.
The changes see the C1 City Car reduced by up to £700, The changes see the C1 City Car reduced by up to £700 and its best-selling C3 hatchback and C3 Aircross SUV by up to £1,175 and £1,775.
As part of its drive for pricing transparency and reduced haggling and discounting, Citroën has also introduced a new fixed-price C-Series model range. Available in showrooms, or with the added bonus of a five-year warranty offered exclusively to customers of the brand's CitroënStore and Virtual Showroom online retail offering, the C-Series offers a trim level similar to the Level 2 Shine grade, but with a "haggle-free online price difference of £3,175 with the additional two years of warranty into the bargain", according to Druce.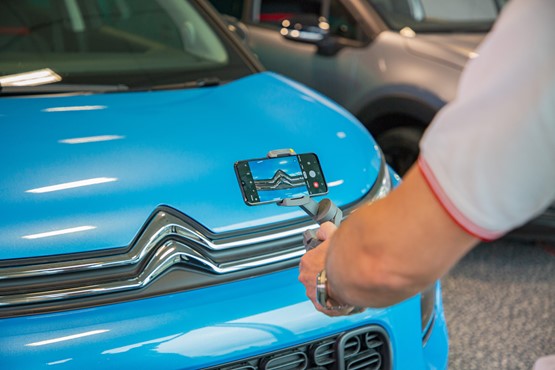 Asked what the incentive is for customers walking into a dealership to buy a new C3 – rather than heading online – Druce says: "Our strategy is to have bricks and clicks. Not every customer is ready to buy online.
"The C-Series is available in showrooms as well. In terms of an online transaction what we cannot do is have a negotiation.
"The C-Series is priced at a set level, with no additional consumer offers other than the five-year warranty online.
"When you look at the C3 Sense and Shine, they are available with consumer finance and perhaps a customer deposit.
"We're trying to offer the two scenarios, something a customer might require in a showroom and something that will suit a customer buying online."
Citroën followed up the July launch of the Groupe PSA's Virtual Showroom online vehicle showcase platform with that of its Citroën Store end-to-end online car retail platform in September.
Druce would not detail the number of orders or sales generated by the new technology, but says levels of interest in online sales have "grown considerably" in light of the COVID crisis.
"Digitally, it's fair to say we went into the COVID-19 crisis towards the back of the grid," he says. "We've since deployed tools which might normally have taken 18-24 months and done so in less than six."
New attitudes
Druce's assertion that the brand will move forward with a clicks and bricks strategy is backed by plans to fill nine existing open points in nine months.
He says that there is no plan to reduce the scale of the 130-strong network – down from 158 when AM interviewed previous MD Karl Howkins in September, 2018 – but says that there was a concerted push for the brand to be brought under the same roof as fellow Groupe PSA brands Peugeot, DS Automobiles and Vauxhall.
"For us, we see sustainability through growing volumes, through growing the profitability of our dealers and by sharing facilities, so it's a plan for us to have as many of our sites multi-branded as possible," he says.
But he adds: "Some of our most successful sites are solo Citroën sites both in terms of market share and profitability."
Among the recent network changes that have introduced new Citroën showrooms as part of a multi-brand dealership facility, in August Vertu Motors added Citroën under the same roof as its Ford franchise in Worcester as part of a £250,000 upgrade, while Wingrove Motor Company added a Peugeot franchise into its Citroën car dealership at Silverlink Newcastle.
Improved viability is a core issue for Citroën as it sets out on its Citroën Advance UK Plan in a bid to improve its profile, profitability and sales volumes.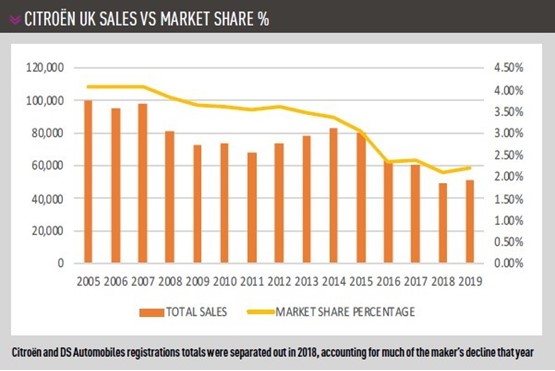 Druce acknowledged that the National Franchised Dealers Association (NFDA) Dealer Attitude Survey had been a key indicator of the need for action.
The brand's "overall" rating rose from 4.9 to 6.2-out-of-10 in the latest (Summer 2020) survey, two years after it scored just 3.4 to deliver a second from bottom ranking.
Now a quarterly survey of franchisees is carried out by Citroën UK in an attempt to pre-empt and remedy any issues.
On the NFDA survey result, Druce says: "I'd like to see it improve. I think dealers want to see profit gain. The working relationship is really strong now.
"We have a team ethos, which means we drive performance and challenge one another to improve the business together."
This article was first published in AM magazine's January 2021 Issue, available free here in digital format.