December 2017
Date: 28-11-2017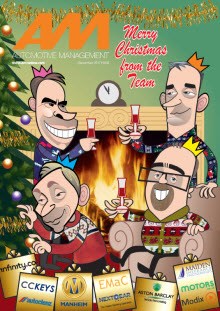 In this issue
AM Best UK Dealerships To Work For /p33
The best employers in motor retail revealed
Norton Way Corporate Sales /p20
Richard Siney on how emphasising fleet customer service led to award-winning performance
Renault UK /p28
New MD Vincent Tourette says he will be there for his dealers in the volatile times ahead
DMS & IT /p43
Are providers meeting dealers' needs for reliable data management?
GDPR
May 25, 2018 is the implementation data of the General Data Protection Regulation governing use of customer data.
Let AM help ensure you are compliant with news, insight and comment in our dedicated GDPR section – and at our February conference.
AM Jobs
16 March 2018, Salary to £50,000 per annum (basic £34 - £38k plus quarterly bonus scheme)
All AM jobs
Automotive Management is also available in a printed format on a monthly basis