Sitting at the centre of a triangle of three Aston Martin dealerships and a stone's throw from the manufacturer's HQ in Gaydon, Warwickshire, McGurk Performance Cars has carved itself out an impressive niche between the brand's franchised network and other independent specialists.
John McGurk, its managing director, says of the nine-employee site on a small business park in Kineton, south Warwickshire: "We haven't got the palace showroom, so we are nothing like a franchise in that respect. The franchise is on one level and we fit into something between."
However, the business does have a franchised pedigree in other areas – it uses Aston Martin-approved parts only and its three former factory-trained technicians use manufacturer-approved tools, diagnostics and equipment. McGurk himself also has a rich background in motor retail.
Having tinkered with engines throughout his teens, he left school at 16 and landed his first job in automotive retail at 18, selling used Rovers for car group Quicks and cutting his teeth in the sector throughout the 90s.
He said: "I was a typical car-mad teenager, buying cars and pulling them apart in my dad's garage and rebuilding them. I always wanted to be in the car business."
McGurk transferred to Ford, where he began to acquire business management skills before moving to TWR where he became involved with the Jaguar XJ220 produced in conjunction with the motor racing and engineering firm.
At the age of 25, he was working for Sytner's Ferrari dealership in Loughborough as a sales manager, but McGurk said: "Everyone who was there was going to be there forever and a day and I always wanted to do my own thing."
In his quest for independence, he set himself up as a trader, buying and selling about 50 cars a month from 2002.
When his current premises became available in 2006, McGurk seized the opportunity to establish a retail operation. Growing steadily over the years, McGurk Performance Cars opened its 8,000 sq ft showroom on the same site, in a former hangar where parachutes were made during World War II.
"When I was at Ferrari, we did a lot of Aston Martins, there weren't any specialists at the time. I continued with that and at the same time Aston Martin was about to launch the DB9 and the V8 Vantage and it went on from there."
'Stability is really important'
Turnover for McGurk Performance Cars was about £7 million in 2016/17 and it has grown year-on-year.
McGurk said: "If you were to put it on a graph, it would be very steady and progressive, with everything going in the right direction. There are no big leaps and troughs because for me, stability is really important.
"It's more important to do what you are doing to the best of your ability than get carried away with how many more cars can we sell. We have an excellent reputation and we need to control what we do and there has to be an element of 'how much do you want to take on?'."
Describing the company's culture, he said: "We are a very straightforward company to deal with, we care about what happens. People want to be in a relaxed environment where they are going to be looked after and can have a very professional, easy conversation.
"We own all our own stock, so there's a lot of care and love that goes into the cars we have on sale."
Sales performance
With about 40 cars on site every month, McGurk sells 150 Aston Martins a year, with numbers varying month-to-month depending on model and age. While the business does buy and sell other models, Aston Martin accounts for about 90% of both sales and service.
It will handle any good model that comes its way – it has just sold a DB7 for £35,000 and at the other end of the scale, a Vantage GT8 for £180,000 is up for sale. 'Special' cars that have passed through its doors this year include a 1978 V8 Vantage and a 1993 V600.
Age is no barrier either – the company takes each car on its merits, from the oldest of models to a four-week-old Vantage that came from a client. The most expensive car sold by the company this year was a Ferrari F40, for just under £1 million.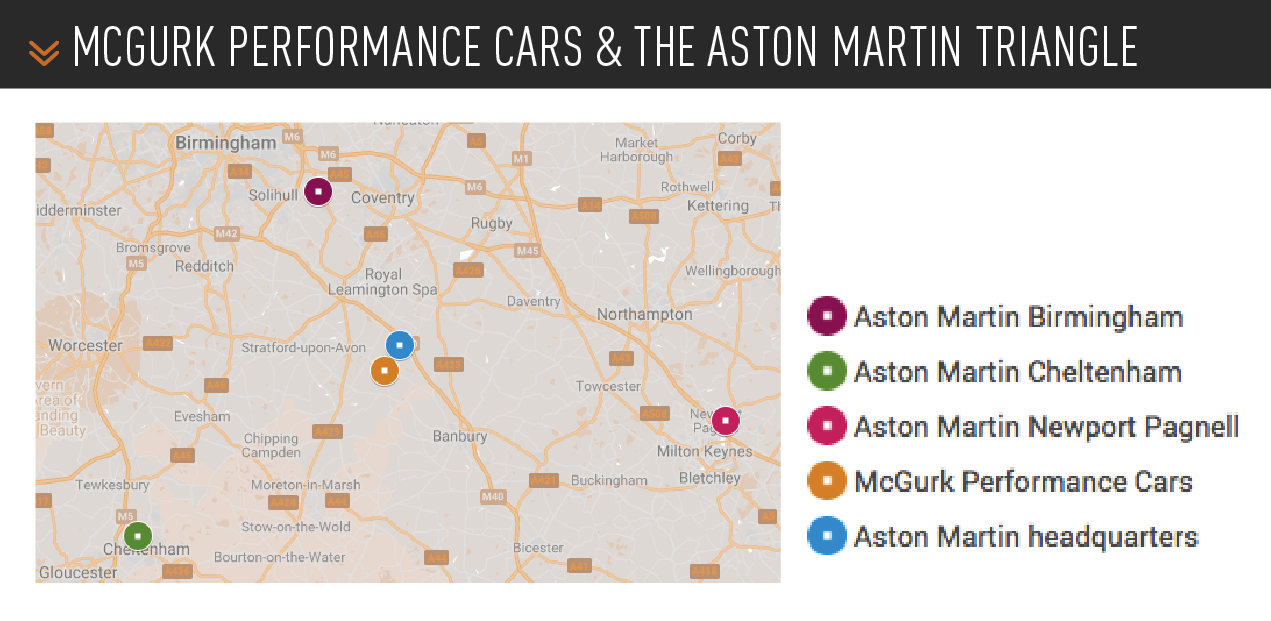 McGurk said: "We are always looking to buy cars back. It's really difficult to find really good examples of cars with a really good history where there's no questions about them. When you find those cars, it's super-important to hang on to them. We keep in touch with our clients all the time."
Prospective customers come via the internet and the sales business is underpinned by a focused online marketing strategy designed to deliver the right traffic. Social media doesn't figure highly, said McGurk, as its clients are not particularly active in the arena.
Clients come from all over the UK, while global sales this year included an XJ 220 sold to a customer in Philadelphia, a Porsche Carrera GT to Kuwait, two Ferrari F40s to Germany and an Aston Martin V8 was bought by a customer in Victoria, Canada.
"The cars are too individual and special, so people will travel to find exactly what they are looking for. We buy everything speculatively, we buy the cars we know are good cars, bring them to market and find a buyer," he said.
About a fifth of vehicles sold are financed for a variety of reasons, including a desire not to tie up capital. McGurk does not have a partnership with a finance provider, but instead sources and negotiates the best funding agreement to suit the customer at that particular time.
According to its website, McGurk Performance Cars has partnered with Warranty Management Services (WMS) as its warranty provider since the business began, and it provides a 12-month warranty on each car it sells.
McGurk described the relationship as excellent: "They know how much effort we put into our cars before they go out. They trust us and we trust them."
'We want a job done perfectly'
The three-ramp workshop handles about 15 cars a week, with a 50/50 mix of vehicle preparation and private service work.
"People want to come and work here. It's a very different environment to the environment technicians would be in in the main dealer network. We don't pay our technicians on a bonus scheme, our technicians are paid a salary to deliver the very best quality, so there are no time constraints.
"We want a job to be done perfectly first time. If that means a job takes six hours, where in a main dealer they would rush it through in three, then it takes six hours. We want a perfect result, happy clients and no comebacks."
Whether servicing vehicles or preparing cars for the forecourt, McGurk's pursuit of perfection is relentless.
"We go way beyond. We go through absolutely everything with a fine-tooth comb. A multi-point check is a basic way of putting it. There's more to it than that, it's about how much money we are prepared to spend on the cars."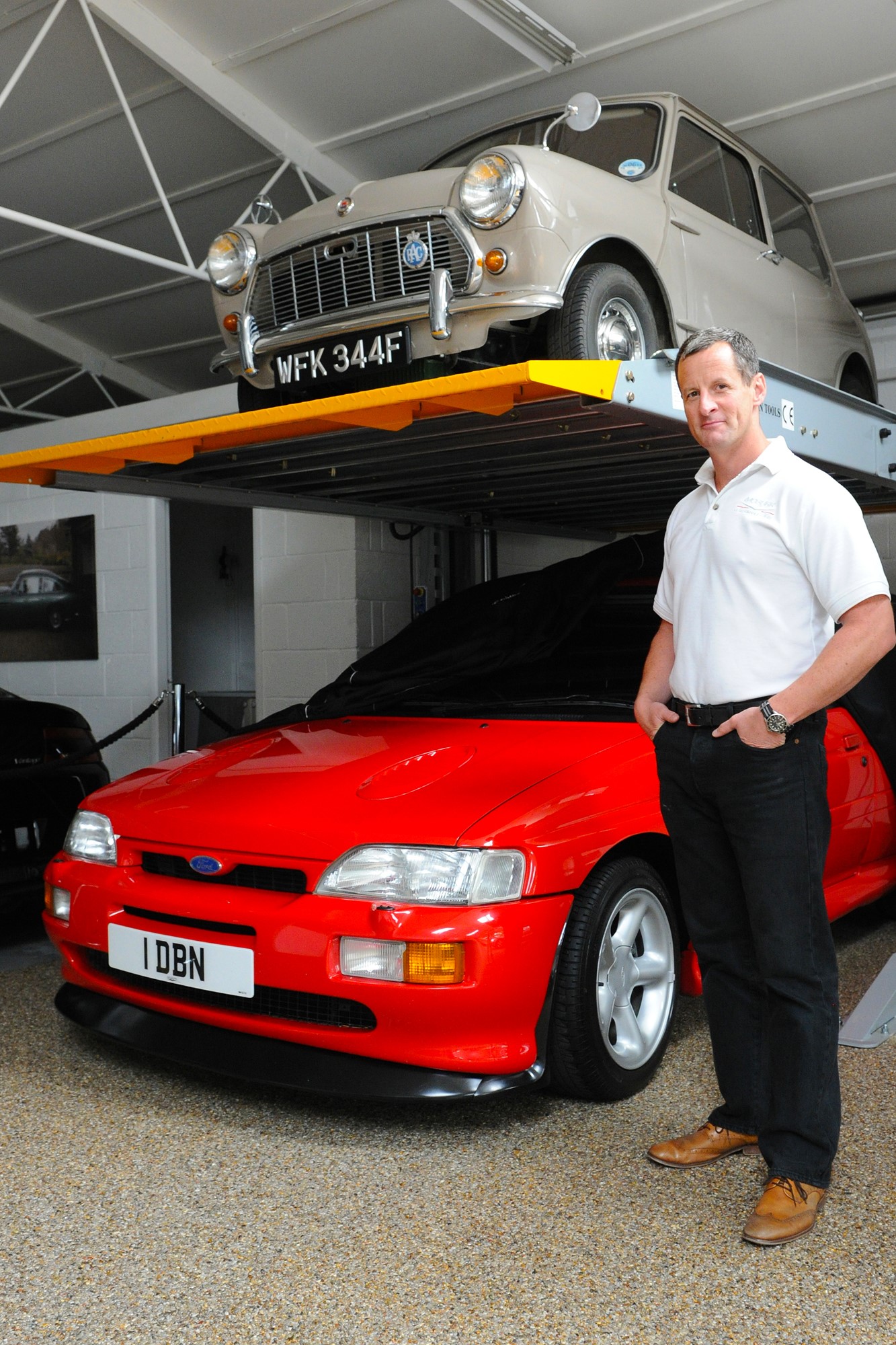 McGurk Performance Cars has become well known among Aston Martin owners for its customer service and high-quality servicing at competitive prices. However, McGurk has strong views about the brand's new service prices.
He said: "Aston Martin recently introduced a new pricing structure in what I can only assume is a price war with the independent network. I think it's the wrong thing to do. Our clients are commenting that they feel Aston Martin is not looking after their cars anymore.
"Aston Martin clients don't want to know how cheap it is, they want to know that everything has been done and their car is perfect. I don't think Aston Martin needed to do that, they should be leading the way when it comes to how the cars are serviced, not how cheap they can make it."
The brand
McGurk said Aston Martin's actions – such as announcing its intention to float on the London Stock Exchange later this year, plus its target of adding 1,000 registrations next year to its anticipated global sales of 6,200 to 6,400 in 2018 – inevitably affect his business.
"The more Aston Martin does things that are just 'wow', the more people want to be a part of that 'wow factor'. Whether they have got £2.7m for the latest Bond car or £35,000 to spend, they are still a part of it. It's also the association with the Red Bull racing team in Formula One – all of that creates desirability and love of the brand. It all makes a difference.
"I think people who want to buy an Aston Martin have always wanted an Aston Martin. It's a very British brand, but they are also beautiful-looking cars, they sound great, they are great to drive, there's a whole load of different reasons people are attracted to Aston Martin. It's a nice brand to be associated with."
Brexit and beyond
McGurk is convinced his steady approach is right for the business, especially in the current political and economic climate.
"2018 has been a challenging year for everyone. We are in a country which doesn't have good political leadership, we haven't got strong guidance in a time of huge uncertainty. Everyone is worried about what's going to happen in March. It's a shame, because I think people have forgotten that we are a great country.
"The specialist market has been hyped for the past 10 years, the classic car market is going backwards and everyone is just having a moment to step back and reflect about what's going on. People have got money, there isn't a financial issue, but everyone is just putting the brakes on for a minute.
"It's a good time to buy a car because the prices have come back a bit. A lot of people are recognising the prices are going down."
McGurk said some specialist clients' belief that their cars will increase in value every year is a problem: "It's dangerous, because that never happened until the past seven years.
"We have a responsibility to manage client expectations about what their cars are worth. If you have a dealer who has a car on sale or return, he is doing what the client tells him.
"As a car dealer, you should be an expert on what you are selling and the value. If you can't afford to buy it and you are selling it on behalf of someone, at least get the price right. If you look at the cars on the market at the moment, the price gap on some models is huge.
"Stock turn is important to us, but when you're in a market like Aston Martin you can't take a car to market and say that car has to be gone in 60 or 90 days. You have got to take a longer-term view of the investment and if it takes several months , so be it, don't distress the market by reducing the price of the car.
"The main dealers are slashing each other's throats to reduce the value of the cars because they are thinking 'we have got to get rid of it in 60 days or 90 days for our shareholders', and that screws everything up. You have got to understand what you are selling, so different models will come and go quicker than others. We rarely have to reduce the price of a car."