Players form Swansea's Ospreys rugby union team paid a visit to Motorpoint's new used car supermarket to kick-off operations at the 500-car facility.
The ID50 independent car retailer opened its 13th UK site on Friday (January 31) after converting the city's former B&Q DIY centre, on Samlet Road, into a sprawling indoors showroom.
General sales manager, Andrew Davies, who recently completed Motorpoint's talent management programme, will run the operation alongside Chris Brown, general manager of both Motorpoint Swansea and Motorpoint Newport.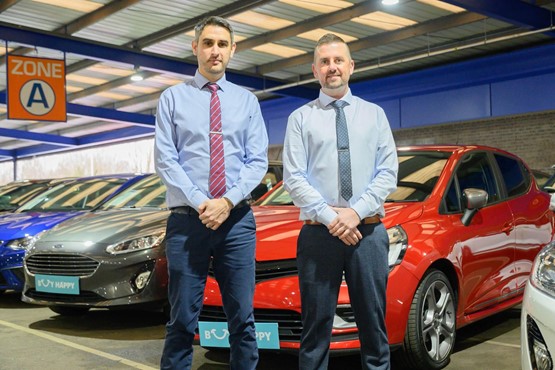 Commenting after last week's official opening, which saw Ospreys players Matthew Aubrey and Cory Allen join the team to greet Motorpoint Swansea's first customers, Brown said: "It's brilliant to finally open our doors to the public with Olly and the guys from the Ospreys and be able to give customers the opportunity to experience for themselves our award-winning combination of choice, value and service.
"The Motorpoint brand is already well-established in South West Wales thanks to our long-running naming rights partnership with the Motorpoint Arena Cardiff and we're looking to build on that awareness with our drive to make car buying easy in Swansea."
The opening of Motorpoint's new five-acre Swansea site comes after the independent car retail group reported falling profits in November.
However, the business opened its new Champion House headquarters in Derby last summer and still harbours ambitions for a network of at least 20 dealerships to ensure customers nationwide can buy used cars at Motorpoint.
It said it maintains its strategy of growing in local markets, opening more sites in new market areas and increasing nationwide sales through its central contact centre.
The opening of Motorpoint Swansea complements the company's network of existing branches in Birmingham, Birtley, Burnley, Castleford, Chingford, Derby, Glasgow, Newport, Oldbury, Peterborough, Sheffield and Widnes.
As part of its marketing efforts to promote the opening of its latest new used car supermarket site, Motorpoint has partnered with Swansea Sound and The Wave, South West Wales' most popular commercial radio stations, to give one listener the opportunity over the coming weeks to drive away in a Citroen C4 Cactus 1.2 Feel worth £11,599 on St David's Day.
Brown added: "We're regular listeners to Swansea Sound and The Wave and we thought what better way to celebrate the arrival of Motorpoint than by teaming up with the stations' to give one lucky person the chance to be the proud owner of one of the most popular family cars on the road today."