Rapidly-expanding used car supermarket group Trade Centre UK is set to follow-up this month's opening of a new site in Rotherham with the transformation of a former cinema in Walsall.
A report in the Walsall Express and Star newspaper revealed that the used car retail operation had acquired the Showcase Cinema site, located next to Junction 10 of the M6, and plans to transform it into "the largest car supermarket in the Midlands".
The new location will add to Trade Centre Wales sites in Neath and Abercynon and Trade Centre UK's Rochdale, Coventry, Wednesbury and Rotherham sites.
It was forced to close its Trade Centre Wales car supermarket at Merthyr Tydfil due to the development of a trunk road through the site.
On May 7 the group opened its latest network addition, in Rotherham, in a move which claimed to have created 180 jobs.
The company acquired the sprawling former Homebase location and its 52,000sq-ft Rotherham in a deal worth £6.75m.
No date has been given for the opening of the planned Walsall car supermarket, but the facility is expected to be operational at some time in 2022.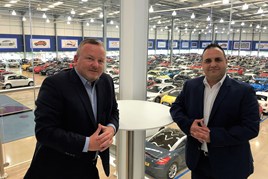 The Trade Centre Group was founded by Mark Bailey in 1999 and remains 100 per cent owned by the Bailey family.
The Trade Centre Group was established in 1999 and encompasses Trade Centre Wales and Trade Centre UK.
The business originally had three showrooms throughout the South Wales region, before expanding into England with a facility in Wednesbury, West Midlands, back in 2016.
In 2019 it grew its English operation with the opening of a new site, billed as "Europe's largest used car supermarket", in Coventry.
In April 2019 the Trade Centre Group published a record set of annual results detailing a 44% rise in turnover to over £250m and record profits during a year of expansion in an accounting period to November 30, 2018.
Its record results included sales generated by the then new Coventry car supermarket, which had helped swell its annual vehicles sales to 41,892 during the period.
In September last year, the group's 2019 financial results showed that its turnover had declined by 0.3% to £256.3m as pre-tax profits rose by 0.8% to £18.2m. It sold 39,939 in the period, which pre-dated the opening of its Rochdale site.