The Trade Centre Group has almost completed the development of its seventh used car supermarket site from a former B&Q and Homebase DIY superstore in Rotherham, South Yorkshire.
A planning application for the freehold site – approved by Rotherham Borough Council ahead of the first COVID-19 lockdown in March last year – said that the new facility would feature a 174-bay indoor showroom, 812 external car sales bays plus staff and customer parking.
Local online business news website, Rothbiz, reported that the location's previous owners, BMO Real Estate, had confirmed that its Rotherham retail warehouse was sold for £6.75m in December 2019 to an 'owner occupier'.
The Trade Centre Group's Rotherham site is located just yard's from the South Yorkshire town's Parkgate Retail Park and will join the expanding Neath-based business's existing locations in Neath, Abercynon, Merthyr Tydfil, Coventry, Wednesdbury and its latest addition in Rochdale.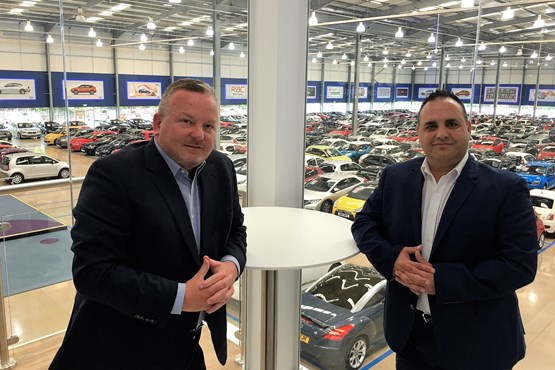 Speaking to AM, Trade Centre Group chief executive, Andy Coulthurst, said: "Our latest outlet in Rotherham is nearing completion and we are actively sourcing and preparing stock ahead of opening the new Rotherham store soon after non-essential retail is allowed to fully reopen.
"We will be begin a programme of recruitment using technology starting early February and are looking forward to growing the Trade Centre team with over 100 new colleagues joining us from the South Yorkshire region."
The Trade Centre Group was established in 1999 and encompasses Trade Centre Wales and Trade Centre UK.
The business originally had three showrooms throughout the South Wales region, before expanding into England with a facility in Wednesbury, West Midlands, back in 2016.
In 2019 it grew its English operation with the opening of a new site, billed as "Europe's largest used car supermarket", in Coventry.
In April 2019 the Trade Centre Group published a record set of annual results detailing a 44% rise in turnover to over £250m and record profits during a year of expansion in an accounting period to November 30, 2018.
Its record results included sales generated by the then new Coventry car supermarket, which had helped swell its annual vehicles sales to 41,892 during the period.
In September last year, the group's 2019 financial results showed that its turnover had declined by 0.3% to £256.3m as pre-tax profits rose by 0.8% to £18.2m. It sold 39,939 in the period, which pre-dated the opening of its Rochdale site.