Motorpoint chief executive Mark Carpenter has insisted the car supermarket group will succeed in its goal of becoming a "highly profitable market leader" despite faltering finance commissions and used vehicle margins.
A full-year 2022 trading update published by the PLC this morning (January 27) stated that the business had grown turnover by 17% to £1.06 billion in the period which brought incremental investment of over £5m to grow market share through an improved digital and technology capability and the roll out of more stores.
The business said that new car retail sites planned in Ipswich and Milton Keynes for the first half of its 2023/24 financial year would take its total openings since the announcement of a June 2021 growth plan to five – taking its total to 21.
But faltering consumer appetite, reduced finance commissions and the impact of faltering used electric vehicle (EV) values have all impacted profitability.
"The Board believes these macro factors will continue to impact sales and profitability for the foreseeable future," today's trading update revealed.
Last month Motorpoint stock and purchasing director Dean Walker told AM how new car production and inflation were adding pressure to his role at the used car supermarket PLC in the latest '8 Questions to...' Q&A.
Motorpoint chief executive Mark Carpenter remains positive about the business' outlook, however. He said: "Motorpoint will emerge from the current depressed consumer market a more efficient business, having made progress on multiple key strategic initiatives.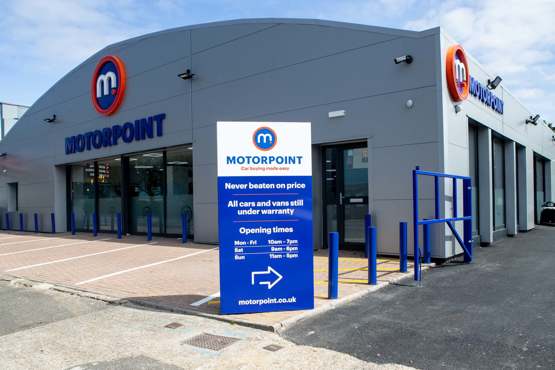 "Over the long term we will make further investments in technology, digital development and national marketing, which will be offset to a degree by efficiencies across the business."
Carpenter added: "In a period when some of the group's competitors are retreating or lacking financial capability and when current macro headwinds are forecast to continue, the board believes that there is significant opportunity to continue making targeted strategic investment to grow market share and become a highly profitable market leader."
Motorpoint's update said it had continued to make strong progress on its targeted strategic investments to meet the medium-term growth objectives of achieving over £1bn in e-commerce sales and over £2bn in total sales and being better positioned for the long-term with a lower cost base, a stronger brand, and improved customer experiences.
In June it revealed record pre-tax profits of £21.5m in its financial year ended March 31, 2022, compared to £9.7m in the previous year. Revenues rose 83% year-on-year from £721.4m to £1.32bn in the same period.
A month later it added plans for a Coventry used car supermarket site to its expansion plans for Edinburgh and Milton Keynes after growing its Q1 revenues by over 30%.
Share prices fell by almost a fifth (22.2%) in October, however, after the business reported a 9% reduction in H1 car sales and profit before tax "significantly lower" than H1 2021's £13.5m at c.£3m.
During 2022 the business also swelled its coffers with the £5m sale of its Stockton site in a move which Carpenter said would provide the business with "further firepower" for growth.