The Motorpoint used car supermarket PLC aims to almost treble its revenues to £2 billion with a new "medium term" business strategy laid out in its 2020 annual financial results.
Today's published results, for the 12-month period to March 31, detailed revenues down 29.1% to £721.4 million in the COVID-19 hit period, with profit before tax down 48.4%, from £18.8m in 2019 to £9.7m as gross margin improved from 7.8% to 8.7%.
The group sold around 68,000 vehicles during the period, including over 25,000 via its Auction4Cars.com E-commerce platform, and said that 69% of its vehicle sales (over 47,000) were completed online.
But the group claimed £3.9m from the Government's coronavirus job retention scheme (CJRS) and rates support of £1.8m as it furloughed staff and cut costs to survive multiple coronavirus lockdown periods., before retuning to profit in H2 2020
Chief executive Mark Carpenter was paid the national minimum wage for two months as senior leadership took wage cuts during the first half of last year as its former CFO's wage was cut by half.
Spelling out how the measures left Motorpoint with strong foundations from which to launch a new, ambitious growth strategy, Carpenter said: "The Group's balance sheet remains robust with no structural debt, and net cash at the year-end increased to £6.0m (FY20: £0.8m). This ensured headroom within both the bank financing and stocking facilities.
"Capital expenditure of £3.6m (FY20: £12.3m) related to the new Stockton on Tees branch, and investment in IT to accelerate our digital investment. Also, a number of branches were refurbished in the year. The sale and leaseback of our Swansea branch was completed in early 2021, realising cash proceeds of £6.1m.
"The Group has exciting plans to significantly increase its rate of growth, with the aim of at least doubling FY20 revenue in the medium term, with an improved margin and strong cash generation as we leverage the operating cost base."
Motorpoint's growth plan targets a turnover of £2bn, with £1bn of that earned through ecommerce.
To do this, the group said that it would: open 12 new sales and collection branches, on top of the recently expanded 14-site network; substantially increase investment in marketing, technology and data; and leverage its Auction4Cars.com platform to accommodate new supply channels and launch a new "marketplace offering".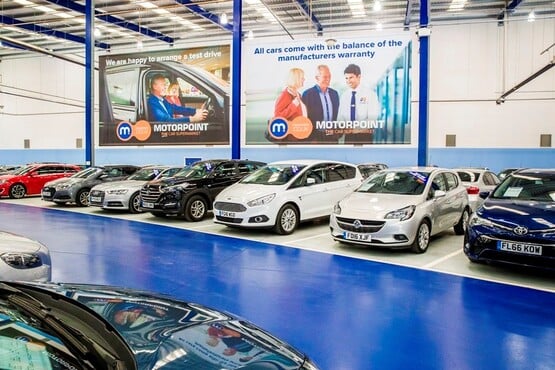 Far from standing still during the COVID-19 pandemic, Motorpoint expanded with its 14th retail site, in Stockton on Tees, in December last year.
Last month, the group became the sole partner of Birmingham City Council for a £10m scrappage scheme to accompany its emissions-cutting Ultra Low Emission Zone (ULEZ) plan.
And it also reported record employee engagement, placing 18th in The Sunday Times Best Large Company to Work for rankings, and first in the automotive sector.
Commenting on the trading period, and the challenges ahead in today's annual results ststament, Carpenter said: "The Board has been very encouraged by the initial levels of consumer demand since reopening, with a number of branches achieving record sales weeks.
"Supply has more recently been constrained, but we expect this to ease. Margins have remained strong. Digital sales continued to perform well, and the Board expects growing momentum for its E-commerce, Home Delivery and Reserve and Collect services as consumer buying habits evolve."
He added: "I believe Motorpoint is the best in class in the nearly new car market with leading national brand awareness metrics, an unrivalled heritage, enhanced digital presence and expertise that will ensure we continue to strengthen our competitive position.
"We now have an opportunity to grow rapidly as we continue our transformation into an E-commerce led business with huge potential."