Automotive aftersales operations have suffered a loss equivalent to 5.8% of their expected annual turnover in the COVID-19 coronavirus lockdown period to May 3, GiPA UK research has revealed.
The aftermarket intelligence provider said that its data had shown a steady rise in the losses incurred by the sector up to week 18 of the year – between April 27 and May 3 – when operations begun to ramp-up despite the ongoing health crisis.
GiPA UK has been tracking the activity of 420 British workshops for the last five weeks, since Government announced strict measures to tackle the COVID-19 outbreak on March 23.
In the third analysis of the impact of COVID-19 on the aftermarket it said that "while the situation of open and closed workshops has remained relatively stable on week 17, we saw in week 18 that some were starting to re-open".
In terms of workshops activity, the cumulative annual workshop turnover that was expected during the last five weeks but not generated due to lockdown measure reached 5.8%, it said.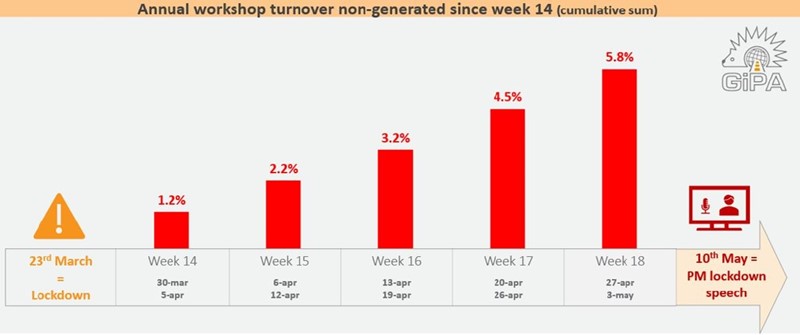 However, Quentin Le Hetet, GiPA UK general manager, told AM: "This does not mean that 5.8% of the annual turnover is lost for good.
"The volume of business that can be recovered depends on how the industry will be able to operate in the coming weeks and how, and when, drivers will start re-using their cars."
Car retailers were today (May 11) awaiting clarification of Government's plans to ease elements of the COVID-19 lockdown following a televised address by Prime Minister Boris Johnson.
While the speech suggested retail businesses could open on June 1, Johnson also revealed changes that could get more people back into their cars – potentially prompting rising demand for aftersales services.
Johnson said that "anyone who can't work from home, for instance those in construction or manufacturing, should be actively encouraged to go to work" and that people can now exercise more than once a day and could use their vehicles to travel to locations to take that exercise.
Johnson also said that individuals should avoid public transport to reach their place of work, stating: "When you do go to work, if possible do so by car or even better by walking or bicycle."
Restrictions remained unchanged in Scotland, Wales and Northern Ireland, however.
Clarification of Government's lockdown stance is expected when John addresses Parliament this afternoon.