Renault has launched a trio of Premier Edition vans to celebrate its partnership with Sky Sports Premier League coverage.
The range-topping trim is available in the Kangoo, Trafic and Master.
Premier Editions are based on the Business+ trim, or the Sport Nav for the Trafic. Additional features include black alloy wheels and a choice of black or white decals plus the R-Link infotainment system with TomTom navigation, a rear view camera and a dash cam with collision warning and lane departure warning.
The Kangoo Premier Edition additionally benefits from a leather steering wheel, cruise control and metallic paint. If is powered by a 1.5-litre dCi engine with a choice of 90 of 110PS.
Body-coloured side mouldings and 17-inch alloy wheels are exclusive to the Renault Trafic Premier Edition. It offers a choice of two wheelbases, plus the availability of a Crew Van version, and can be ordered with the 1.6-litre turbodiesel engine with either 120, 125 or 145PS.
Extra equipment of the Renault Master Premier Edition includes 16-inch alloy wheels, cruise control and metallic paint. The Premier Edition is available in two wheelbase lengths and with a 2.3-litre turbodiesel with 130, 145 or 170PS.
As with all Renault LCVs, all Premier Edition variants come with a three-year/100,000-mile warranty and lifetime roadside assistance package.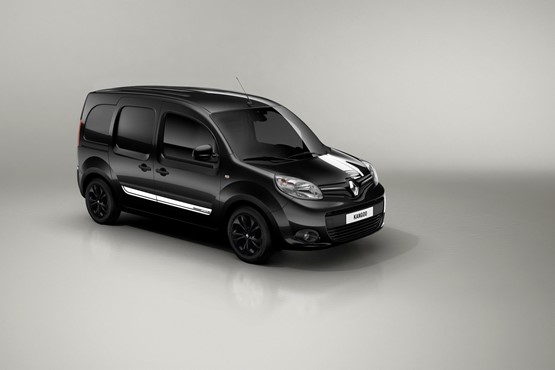 Kangoo Premier Edition – pricing
Version

Basic
price

VAT

Total retail price

Total OTR charges

OTR
price

ML19 ENERGY dCi 90
Premier Edition

£18,800

£3,760

£22,560

£941

£23,501

ML19 ENERGY dCi 90 Auto EDC
Premier Edition

£20,800

£4,160

£24,960

£941

£25,901

ML19 ENERGY dCi 110
Premier Edition

£19,250

£3,850

£23,100

£941

£24,041

ML19 ENERGY dCi 110 Auto EDC
Premier Edition

£21,250

£4,250

£25,500

£941

£26,441

LL21 ENERGY dCi 90
Premier Edition

£20,300

£4,060

£24,360

£941

£25,301

LL21 ENERGY dCi 90 Crew Van
Premier Edition

£21,200

£4,240

£25,440

£941

£26,381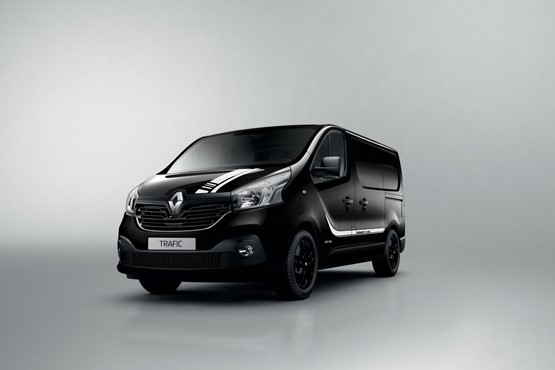 Renault Trafic Premier Edition – pricing
Version

Basic
price

VAT

Total retail price

Total OTR charges

OTR
price

SL27 dCi 120
Premier Edition

£26,150

£5,230

£31,380

£941

£32,321

SL27 ENERGY dCi 125
Premier Edition

£26,900

£5,380

£32,280

£941

£33,221

SL27 ENERGY dCi 145
Premier Edition

£27,500

£5,500

£33,000

£941

£33,941

LL29 dCi 120
Premier Edition

£27,350

£5,470

£32,820

£941

£33,761

LL29 ENERGY dCi 125
Premier Edition

£28,100

£5,620

£33,720

£941

£34,661

LL29 ENERGY dCi 145
Premier Edition

£28,700

£5,740

£34,440

£941

£35,381

SL27 dCi 120
Premier Edition Crew Van

£28,300

£5,660

£33,960

£941

£34,901

SL27 ENERGY dCi 125
Premier Edition Crew Van

£29,050

£5,810

£34,860

£941

£35,801

LL29 dCi 120
Premier Edition Crew Van

£29,500

£5,900

£35,400

£941

£36,341

LL29 ENERGY dCi 125
Premier Edition Crew Van

£30,250

£6,050

£36,300

£941

£37,241

LL29 ENERGY dCi 145
Premier Edition Crew Van

£30,850

£6,170

£37,020

£941

£37,961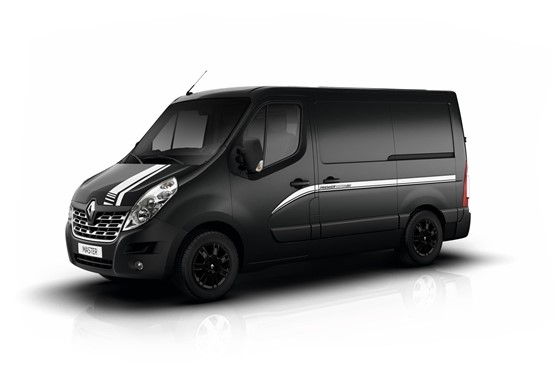 Renault Master Premier Edition – pricing
Version

Basic
price

VAT

Total retail price

Total OTR charges

OTR
price

FWD MM35 dCi 130
Premier Edition

£33,400

£6,680

£40,080

£941

£41,021

FWD MM35 ENERGY dCi 145
Premier Edition

£34,450

£6,890

£41,340

£941

£42,281

FWD MM35 ENERGY dCi 170
Premier Edition

£35,250

£7,050

£42,300

£941

£43,241

FWD LM35 dCi 130
Premier Edition

£34,200

£6,840

£41,040

£941

£41,981

FWD LM35 ENERGY dCi 145
Premier Edition

£35,250

£7,050

£42,300

£941

£43,241

FWD LM35 ENERGY dCi 170
Premier Edition

£36,050

£7,210

£43,260

£941

£44,201