Electrification is a dominant theme at this year's Geneva Motor Show, from full EVs to mild-hybrids, there is a range of new and exciting models and concepts that will shape the future of the automotive car parc.
Dealers can look forward to a breadth of new electric and hybrid models coming to showrooms in the next 12 months, including the new Peugeot e-208 and Honda e city cars.
There is also a focus on mobility and how EVs will shape the future of car retailing. The Seat Minimo and Citroen Ami One highlight how small EVs could form part of a new subscription or short-term rental model.
Mazda unveiled the new CX-30 mid-size SUV, which will use the brand's new Skyactiv-X compression ignition petrol engine and the new Renault Clio also debuted.
Here's a rundown of the key cars from at the show:
Alfa Romeo Tonale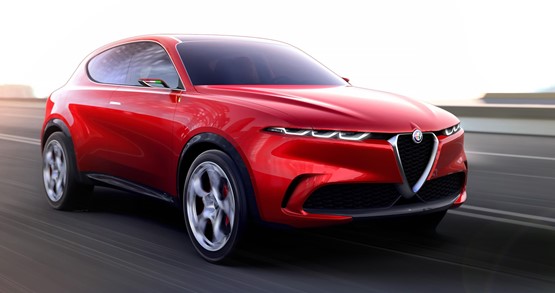 This mid-size SUV concept highlights Alfa's intentions to launch a new crossover to sit beneath the Stelvio.
The Tonale features a 1.3-litre petrol engine with plug-in hybrid technology.
Power and emissions figures are yet to be revealed, but the car could have more than 250PS.
Alfa Romeo says the Tonale will have a focus on performance and driver engagement.
A production version is expected to be available by 2022.
Audi Q4 E-Tron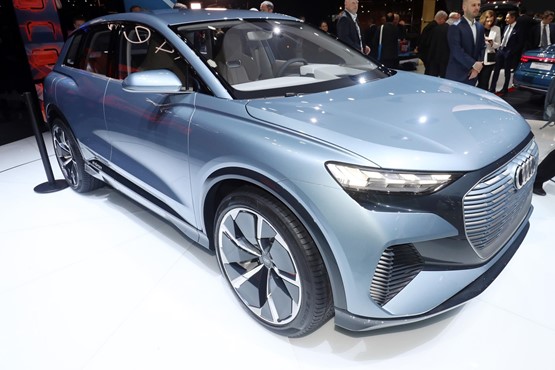 Following the launch of the E-Tron, which will be in dealerships in the coming months, the Q4 E-Tron is likely to be on sale by the end of next year.
The concept model boasts a 279-mile range and all-wheel-drive. An 82kWh battery provides 306PS - enough for a 0-62mph time of 6.2 seconds.
To improve driveability and efficiency, the Q4 E-Tron mainly utilises its rear electric motor to drive the rear wheels. The front motor can be called on for extra power or traction when required.
Later this year, the Audi e-tron Sportback will be presented, followed by a production version of the four-door high-performance coupé Audi e-tron GT, which is being developed at Audi Sport GmbH, in 2020.
BMW 7 Series and revised plug-in hybrids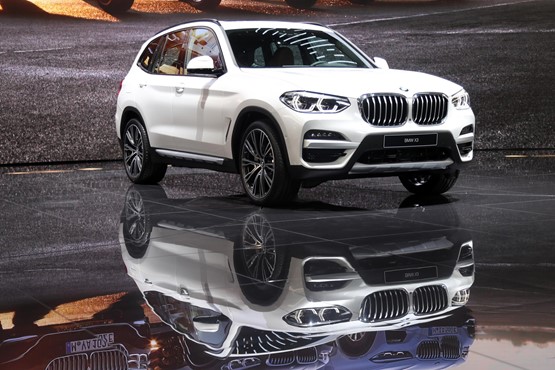 BMW's new 7 Series took centre stage at the brand's stand this year. It also announced a new X3 plug-in hybrid and revisions to its other plug-in models.
The new X3 xDrive30e will be available next year, it will have almost 300PS and a zero-emission range of 31 miles.
The same powertrain will feature in the new 330e, a popular fleet model. In this application, the battery range is up to 37 miles and CO2 emissions are 39g/km.
The X5 and new 7 series will both be offered with a new six-cylinder petrol plug-in hybrid. The X5 will have a zero-emission range of 49 miles and emit just 49g/km.
Citroen Ami One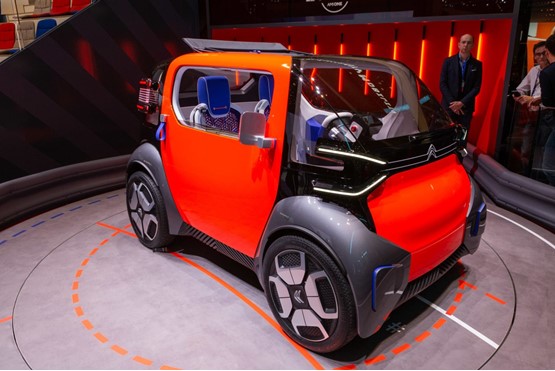 The electric Ami One concept is a mobility solution for inner-city transport.
It can be driven by anyone over the age of 16 and has a top speed of 28mph.
Citroen says the car can be managed via an app for car share, as a five-day rental, five month commitment-free access and five-year leasing option with battery, maintenance and parking included in the monthly payment.
A production version could be available by 2021.
Cupra Formentor
The first standalone model to bear the Cupra badge will be the Formentor. The performance SUV should be in showrooms by next year.
It is based on the Ateca platform but features a new body and redesigned interior.
A raked body and bucket seats hint at the car's performance intentions.
It's powered by a plug-in hybrid powertrain with 242PS and a 30-mile electric range.
Fiat Centoventi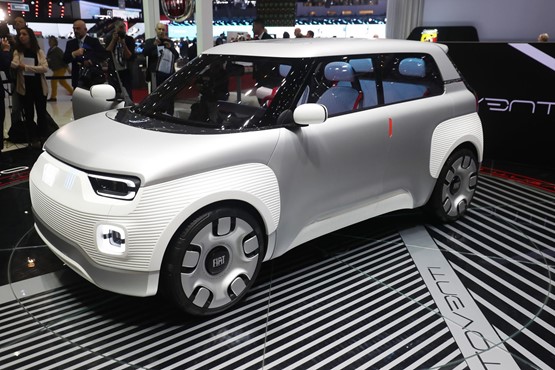 Fiat has a new take on the future of electric cars, demonstrated by its Centoventi concept.
The car is based around a modular configuration, which allows buyers to add or change any component when they choose.
Additional battery packs can be added to improve range from 62 miles up to a maximum of 310 miles.
Buyers will configure the car based on their ideal spec, but can go back to the dealer for extras whenever they want. Parts will also be available online, with a range of around 120 accessories to choose from.
Honda e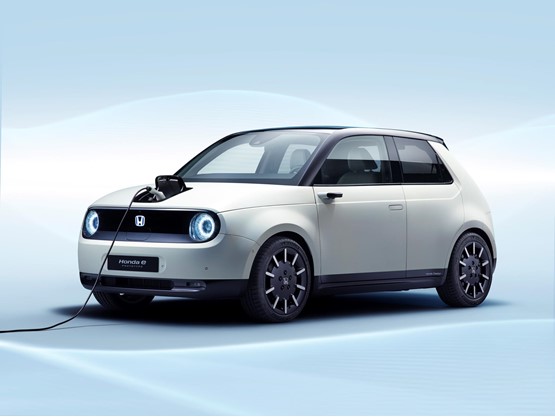 Honda confirmed that it will only sell electrified cars in Europe by 2025, with the new Honda e a key part of its ambition.
The retro-styled city car was first revealed last year, as the Urban EV concept. This new prototype is near production-ready.
It has a 120-mile range and a large digital display that spans the width of the dashboard.
Honda says it will reveal the full production vehicle at the end of the year, ahead of sales and first deliveries in early 2020.
Kia Imagine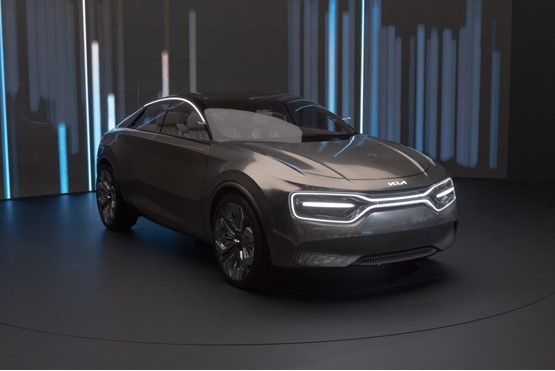 Alongside the new Kia Soul EV, the Korean brand showcased its vision of the future of EVs.
The Imagine by Kia concept is a luxurious fastback with great performance and driver engagement.
Kia says its designed to prove to car enthusiasts that EVs can still be desirable.
The new Kia Soul will be available from the start of 2020 and is likely to have the same 64kWh battery as the e-Niro – giving a 280-mile range.
Mazda CX-30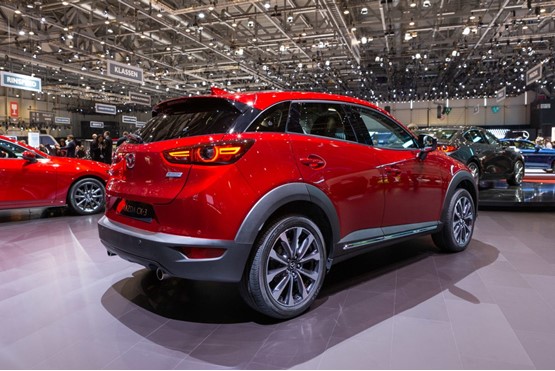 Based on the new Mazda 3, the CX-30 is a premium rival for the likes of the Skoda Karoq.
It will sit between the brand's existing CX-3 and CX-5 and use the new Skyactiv-X petrol engine with mild hybrid technology.
The new model is expected to be on sale in dealerships by the end of the year.
Mercedes CLA Shooting Brake and new GLC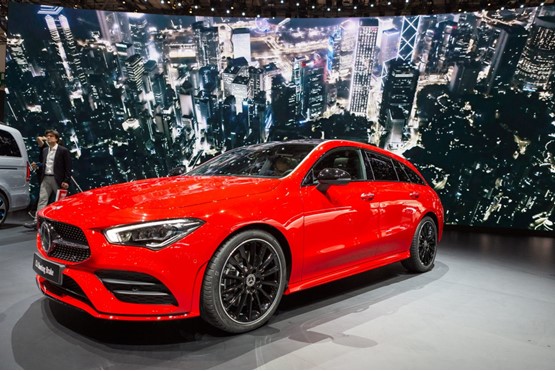 Mercedes has two key models at the Geneva Motor Show this year.
The CLA Shooting Brake is an A-Class derived estate that benefits from sleeker styling and a lower roofline. It will go on sale this year with engines that mirror those of the existing A-Class.
Also on display was the facelifted GLC. It has a new range of engines that are more efficient and has been fitted with the latest MBUX infotainment system.
The German manufacturer also showcased its EQV concept, an electric version of the V-Class people carrier. The vehicle can carry up to eight passengers and has a 240-mile range.
Peugeot e-208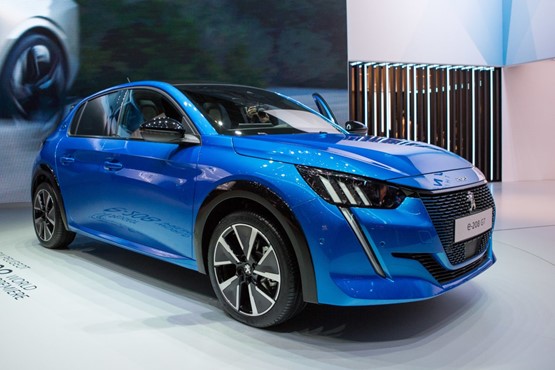 Peugeot's new 208 takes centre stage at the brand's Geneva stand. It will be available as a fully electric e-208, as well as featuring conventional petrol and diesel engines.
The all-new model sits on the same platform that will underpin the upcoming Vauxhall Corsa and features a revised version of Peugeot's i-Cockpit.
The electric version will have a 211-mile range and provides 135PS.
Order books are already open, with the first cars expected in the UK this Autumn.
Renault Clio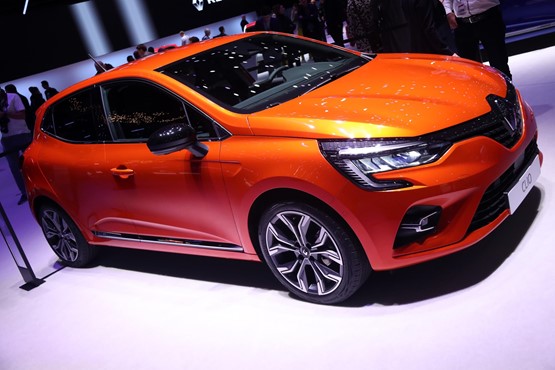 Unlike the 208, there will be no fully electric Clio. Instead the manufacturer has opted for a mild-hybrid petrol option, alongside conventional petrol and diesel engines.
All versions come with LED headlights and a digital instrument cluster. There is also expected to be a wide range of driver assistance and safety tech.
The interior features a large 9.3-inch infotainment screen and has been designed for comfort.
The car is due to go on sale in the Autumn. Prices and specs are expected to be published nearer that time.
Seat El-Born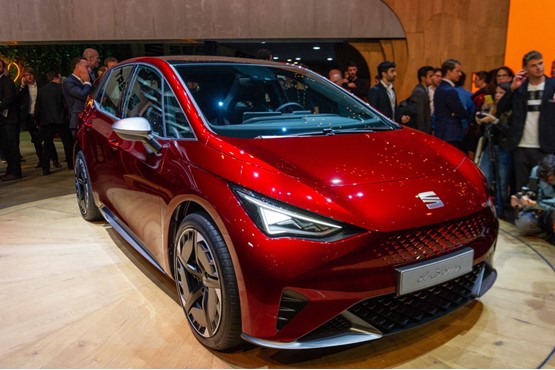 Seat's first EV, the El-Born, will go on sale later this year with a 261-mile range.
It's a sister car to the Volkswagen ID, and one of the first to be based on the VW Group's new EV platform.
Alongside the new model is the Seat Minimo concept. A two seat electric car designed to rival the Renault Twizy.
Designed for car sharing, Seat says the Minimo could feature level 4 autonomy, allowing it to 'find' users.
Skoda Kamiq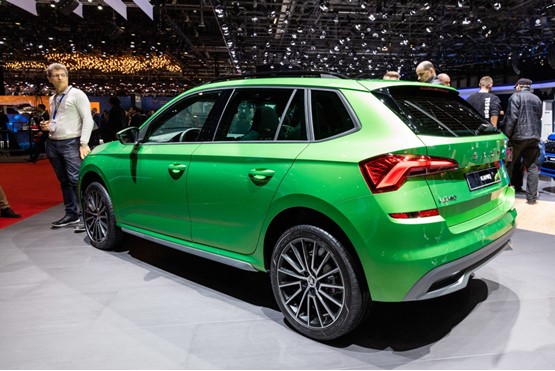 The Skoda Kamiq makes it debut at the Geneva Motor Show ahead of arriving in showrooms shortly, ready to take on the Nissan Juke and Renault Captur.
It's a small SUV that shares a platform with the new VW T-Cross.
It will feature a 1.0-litre turbocharged petrol engine and front-wheel-drive.
VW T-Roc R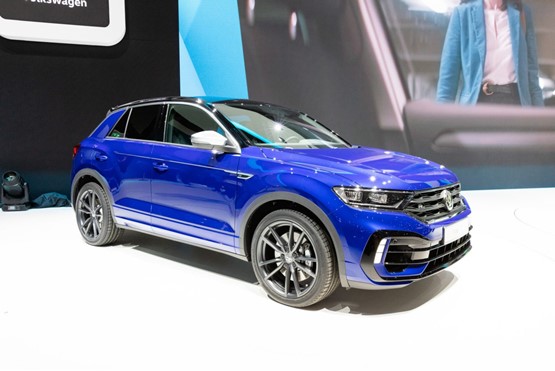 A sporty version of VW's popular T-Roc is the main attraction at the brand's Geneva stand.
The 300PS T-Roc R has all-wheel-drive and beefed up styling. It can hit 62mph from rest in less than five seconds.
It is displayed alongside the new Passat, which features a plug-in hybrid engine and new R-Line trim.
VW also announced it will share its new MEB platform with third parties. The first partnership is with low volume EV manufacturer e.GO.