Nissan has launched its first shopping centre store, branded the Nissan City Hub, and is set to follow the format with more in major cities.
The outlet is now trading on the edge of Paris, France, and the carmaker believes it offers a new experience to consumers. And it marks the formal beginning of online sales.
The UK is already home to a number of carmaker's stores in major shopping centres – Seat has two, Hyundai has two, Jaguar Land Rover has one, Ford shares retail space in a Next shop, and DS Automobiles operates a 'salon' at the Westfield White City site. All are run in partnership with dealers.
The UK is likely to gain a Nissan City Hub in the future but the brand's priorities are China and Japan.
"Nissan city hubs will put people at the heart of our vision for tomorrow's mobility, all while they're going about their normal shopping," said Leon Dorssers, corporate vice president for Nissan Motor Company.
"This marks a new step in our global commercial strategy, establishing an online and offline retail ecosystem to offer our customers a seamless customer experience, jointly with our dealer partners."
Nissan said it is a model that "leverages both the local knowledge and strong foothold of dealerships with the needs opportunities created with digital".
Dorssers said people "will see and feel a whole new Nissan".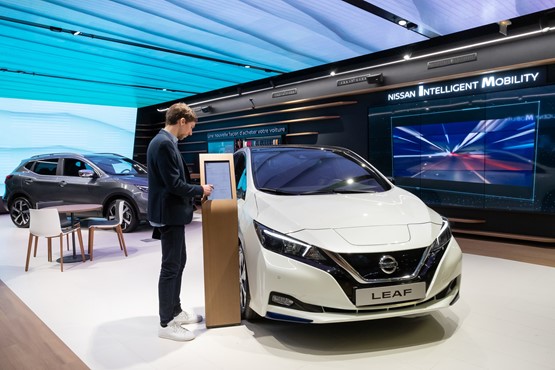 The brand is now able to fulfil any demand for online purchasing, as underpinning the City Hub concept are e-commerce solutions which enable consumers to personalise and purchase in "a few clicks", the brand said.
Dorrsers said the transaction can be done in store, at a dealership or at home. Vehicles ordered can be delivered to the store, to a group dealership or to the buyer's home.
"The key for the city hub is not online or online, but the integration of both," he added.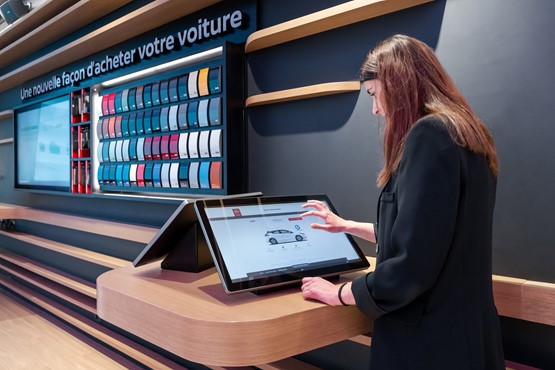 However he suggested Nissan is not ready to enable direct online sales of its new cars across the country - it is only via stores or the dealers which run them.
The Hub, at Velizy 2 shopping centre, operates from 10am to 9pm and is run by franchised dealer Group Altair, and is linked to its own Nissan dealerships.
The store will be expanded later this year to provide space to market Nissan's energy storage product, xStorage Home.
Dorssers cited predictions that 65% of the world's population will be living in cities by 2040, and those cities will be 'connected cities' with sensors and networks. He also stated that 60% of car buyers have already decided the make, model and price they wish to pay before they step inside a dealership.
"It's clear that digitalization has proved to be an immeasurable tool, bringing us closer to our consumers. It has reshaped the consumer journey over the past decade and will continue to do so," said Dorssers
For views and insights into how motor retail will adapt to new technologies and consumer behaviour come to the Automotive Retail Congress on May 21. Click here for more details.