Mitsubishi Motors in the UK managing director Rob Lindley has told AM he expects "no mass exodus" of car dealers from the brand's franchised UK retail network.
This is despite the Japanese carmaker's long-time UK importer, the Colt Car Company (CCC) writing to its 103 franchisees at the end of July to inform them that the
brand's Mid-Term Plan would mean an immediate freeze on new models entering the European market.
The move will, essentially, result in Mitsubishi becoming a one-car brand within 18 months – that car being the Mirage hatchback (pictured) which generated
1,179 of its 16,199 sales in 2019 – as the L200 pick-up falls foul of Euro 7 emissions regulations at the end of 2021.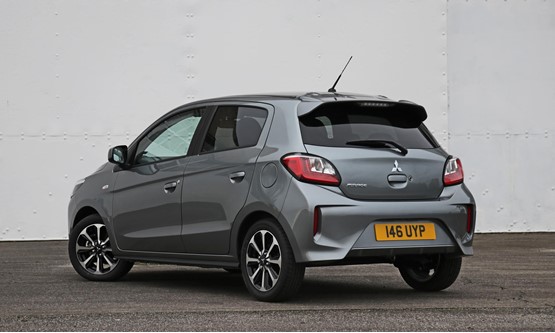 Other models will be sourced from an existing stock of 15,000 vehicles already in the UK. Imports of the Outlander plug-in hybrid (PHEV), which has underpinned
the brand's sales in recent years, will cease at the end of this year.
Despite CCC's indication that it wanted to retain much of its franchised network as parts and aftersales providers, Lindley said that there was "no urgent
need" for changes to retailer contracts.
One AM dealer source said he expected Mitsubishi's existing UK franchise contacts to be "ripped up" and replaced by separate sales and aftersales agreements.
But Lindley insisted in his interview with AM that "as it stands nothing has intrinsically changed".
He added: "For me it's a story, but it's not the story people have made it out to be.
"Mitsubishi is continuing and we're continuing to operate. Yes, there are no new models being introduced into the market, but this isn't simply the story of a brand pulling out and disappearing.
"We'll still have new and used car stock well into 2021 and new cars available to buy well into 2022 and beyond.
"It gives us time to see what our next steps will be."
Many Mitsubishi franchisees are already planning ahead, however, with most deploying resource to secure a replacement franchise.
RETAILERS' RESPONSE
Livery Dole managing director Hayden Williams teamed up with sales manager Joe Chatting, company secretary Diane Slater and workshop controller Chris
Veitch to complete a management buy-out (MBO) from owner Nigel Clegg in late February.
Williams (pictured third from the right, below) told AM: "If you'd have asked me if I'd have invested if I had any idea we'd be facing a global pandemic and the loss of our
franchise within the next four months, I don't think I would."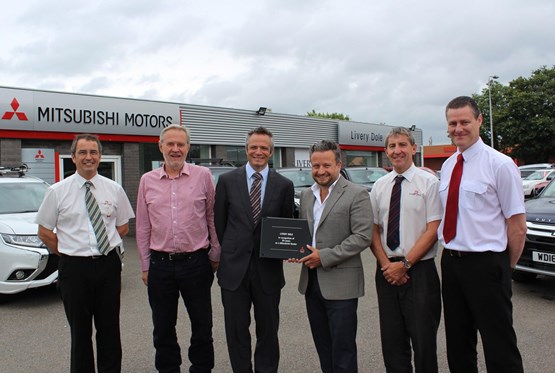 Like many Mitsubishi retailers Williams said that Livery Dole was strong in aftersales and used cars, reflecting that the manufacturer's decision only stood to
impact "the most complicated and least profitable part of the business".
He said: "If this had happened 10 years ago, when we were dependent on large bonuses from the manufacturer, then it would have been disastrous.
"The bonuses have become really insignificant in recent years, a nice to have but not fundamental to the business."
Williams said his solus Mitsubishi business, in Marsh Barton, near Exeter, was already surrounded by most of the market's major car brands, making finding
a replacement franchise difficult, but he said a few had made "tentative enquiries".
"The concern would be the cost," he said. "It's not in my plans to spend a vast amount on a new gin palace right now."
This article first appeared in the September issue of AM magazine, available here in digital form.
Nathan Tomlinson, managing director of fellow south-west Mitsubishi franchisee Devonshire Motors and a Mitsubishi dealer council member, said: "Our next
challenge is to prove we can achieve what we have achieved with Mitsubishi with another brand. That's something I find really exciting."
Like Williams, Tomlinson suggested that the impact of the withdrawal of Mitsubishi Motor Corporation (MMC) from Europe might not be felt straight away due
to the network's success in used cars and aftersales.
Lindley told AM the network achieved an average 78.4% overhead absorption in its previous financial year (to the end of March), with that figure rising to 132%
in June's post-lockdown period as franchisees made £19,000 profit before tax on average – double that of the same period in 2019.
Mitsubishi revealed a new corporate identity in 2018 and many franchisees were concerned about the prospect of investing in upgrades to their facilities, but
Mitsubishi Motor Europe paused the plans at the start of the COVID-19 pandemic.
Tomlinson said: "The saving grace for many Mitsubishi dealers is the cost base reduction. We are able to run a very efficient operation to continue to do a
good job for all parties."
Robin Luscombe, the managing director of Leeds-based Luscombe Motors, was counting himself lucky after moving MG Motors under the same roof as
Mitsubishi at its site in Hunslet during lockdown.
He said Mitsubishi's plans had come "out of the blue", but added: "At the moment I'm just counting myself quite fortunate that we'd already taken the decision
to introduce that new MG franchise."
Lindley conceded that CCC was another party that had been caught out by MMC's decision.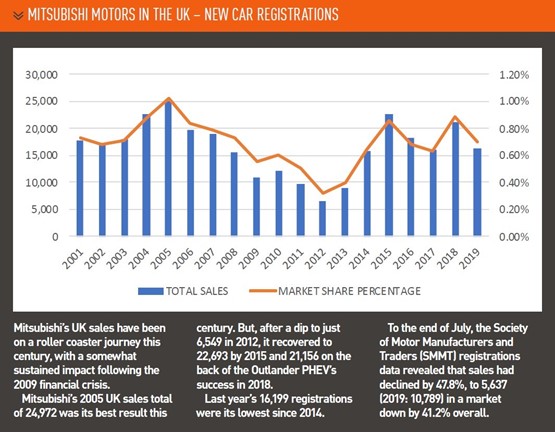 "The first I heard of it was in a conference call to Japan on the Wednesday before we wrote to our retailers," he said.
"We knew the Mid-Term Plan had been put off from May to July and we knew it might contain some strategic changes and that they'd look across the three
brands, but we didn't think they'd take this particular decision."
CCC, itself, is now on the hunt for a new manufacturer partner in the UK and hopes to have one in time to offer an alternative business proposition to its
Mitsubishi franchisees.
In its letter to retailers CCC said that it had already been looking at opportunities to bring a new brand to the UK adding that "in light of (the MMC) announcement
we are focused on accelerating these opportunities with the goal of introducing additional brands to our business as quickly as possible."
Asked about the introduction of new brands in a traditional distributor/dealer model at a time when many manufacturers are targeting online sales, Lindley
said: "We have developed the Mitsubishi online retail platform in the UK. We're well equipped and prepared to provide a blend of both."
Williams said he may be inclined to adopt a new CCC brand when the time comes. He said: "Livery Dole has a 35-year relationship with CCC, not Mitsubishi, so I
don't see why not."
MMC'S 'STRATEGIC EXIT'
MMC's move comes as the Renault-Nissan-Mitsubishi Alliance embarks on a restructure of its global operations with the brands taking the lead in European,
American and Asian markets, respectively.
Factory closures and increased cross-platform sharing form part of the plan to cut the cost of producing a vehicle by 40%.
Future Mitsubishi models will be targeted at the South-East Asian market in an attempt to boost market share there from around 6% to 11%.
MMC's decision to exit Europe also follows a £1.3 billion loss in Q1 and includes a drive towards 20% cost savings within the next three years.
David Bailey, a professor of business economics at the Birmingham Business School, said he expects further disruption among familiar car brands as the
pressures of EU emissions regulations, the expense of developing alternative fuel vehicles (AFVs) and the impact of COVID-19 take hold.
"A big squeeze is effectively playing out, and scale is seen as increasingly important for car firms," he said.
"Mitsubishi's decision to pull out of Europe is a reflection not only of Alliance tensions but also of these wider industry challenges. Expect more disruptions to
come."
Steve Young, managing director of ICDP, is not so sure. While he conceded that OEMs "must have their strategy departments and accountants running the numbers every time there is a market setback or new regulatory demand in Europe" he said that none shared the unique characteristics of Mitsubishi of "lacking a coherent product plan and having partners who will maintain the presence from a stronger position".
Young expects the number of manufacturers with a presence in the UK to rise with the likes of Polestar, Lynk&Co and Hyundai's Genesis premium brand.
He said: "For now, my money is on few if any further departures from the European scene, and indeed some additions as Chinese players including some of the BEV start-ups seize the opportunity."