Exhibitors, guest speakers and suppliers are preparing to meet over 1,000 visitors at the Automotive Management Live car retail expo on November 8, 2018.
The event has seen record-breaking attendance year-on-year since its launch in 2016, which has seen visitor numbers increase by 108% in just two years and anticipation is rising ahead of this Thursday's return to the NEC in Birmingham.
Social media has helped to map out the preparations and attractions which are set to greet visitors.
All prepared for #AMLive2018 🤩
Come and see us at stand C20 next Thursday! @AMchatter @AMLive2018 pic.twitter.com/4FyIIMI2n3

— Drive My Career (@DriveMyCareer) November 1, 2018
Over 50 exhibitors will fill Birmingham's NEC and delegates will be provided with help and advice from eight best practice sessions, covering online vehicle retailing, customer reviews and more.
An agenda of AML 2018's exhibitions, best practice sessions and IMI People Theatre can be found online
AM Magazine will also present awards to winners of the AM Best Dealerships to Work For, an initiative which gives us the chance to honour and celebrate the best employers in the motor retail sector.
A host of competitions and giveaways are being held on-stand. If you are a dab-hand at F1 on the PS4, then you could win a pair of Beats by Dr. Dre headphones from eDynamix on D50.
We will be exhibiting at AM Live which will take place next Thursday, at the NEC in Birmingham. Take part in our competition to win a pair of Beats by Dre headphones for the fastest lap on F1, PS4. Come and say hello, we'll be on stand D50. #AMLive2018 pic.twitter.com/QG38Hj0VHi

— eDynamix (@eDynamix) November 1, 2018
Visitors to Premia Solutions' stand (A18) could get themselves "into a spin" with a smartly-branded USBs, prizes, and a tonne of industry info.
6 days to go...

Till @AMLive2018!

Spin your way over to stand A18 where @PremiaSolutions will be packed with information, prizes and friendly faces!@AMchatter #TeamPSL #AMLive #USB #PremiaSolutions #Automative pic.twitter.com/7cvF12Bspg

— Premia Solutions (@PremiaSolutions) November 2, 2018
Judge Service's managing director Neil Addley, who will be hosting the customer reviews session at 10.15am, has invited attendees to learn more about brands rank amongst customers.
Which amongst Land Rover, Skoda, Mercedes Benz or BMW, are car buyers willing to travel 34 miles for? Find out where 33 brands rank at JudgeService's presentation at #AMLive2018 at 10:15 a.m, Session 3 at the NEC in Birmingham.
We…https://t.co/R63ctj93ID https://t.co/wrhB3Urfli

—Neil Addley (@NeilAddley) October 30, 2018
The IMI People Theatre will be running sessions throughout the day, with talks on management and leadership from GMD People's Nigel Bannister and diversity by Ennis & Co's founder Lynda Ennis. Additionally, chairman Steve Nash will be holding an informal session with IMI specialists during the afternoon.
'Make your best asset your game changer'. Only 7 days to go until the IMI host the People Theatre at @AMLive2018 https://t.co/WFa7QLBWgN #AMLIVE2018

— IMI (@The_IMI) November 1, 2018
Watch: The IMI's review of AM Live
The newest addition to AML's ever-growing event features is the Future Dealership Zone, which will see expert speakers give senior leaders insight into how the sector and businesses will evolve over the next decade.
The Zone will see speakers debunk common myths and highlight the need to prepare for a changing retail environment.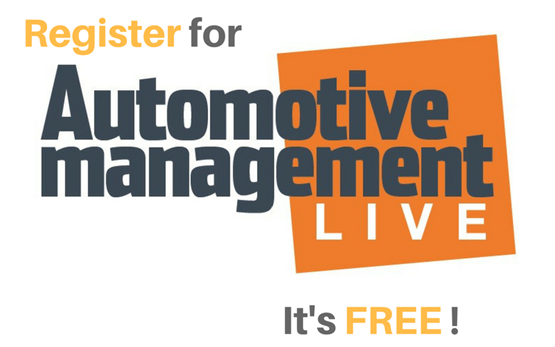 Codeweavers will kindly provide visitors to their stand (B22) with a free doughnut - but they warned the AM editorial team that they won't last long!
Join us at the UK's leading event for motor retailers @AMLive2018 , on Thursday 8th November at the NEC, Birmingham. We will be at stand B22, be sure to stop by to find out how we can help you sell more! Also we may have Doughnuts.... pic.twitter.com/OS3frsNCf9

— Codeweavers (@Codeweavers_Ltd) November 2, 2018
Online registration is still open for the free-to-attend event, but delegates can also register on the door at the NEC on November 8.