Lind Group is preparing to create a 27,200 square foot Porsche showroom in Norwich which will double its representation with the German performance car brand.
Plans for the new facility, which was granted planning permission last summer and is scheduled to open in the spring of 2020, have been unveiled on the website of the Norfolk-based group, which also operates a Porsche franchise in Tonbridge, Kent.
Lind Group founder Graham Dacre is behind the new development, according to the Eastern Daily Press, which will be run by his son, Russ, who is also in charge at the Kent facility.
Russ Dacre, MBE, said: "The development is good news for Norwich, and Porsche owners and enthusiasts alike.
"Not only will the Centre create 25 new jobs in the area, the latest Porsche products and services will be available from 2020 to support the growing number of Porsche owners in the area."
Lind Group's planned Porsche Centre will feature space to display 17 new and Porsche-Approved pre-owned cars inside, plus a dedicated vehicle handover area.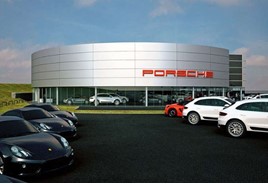 A wide selection of new and Porsche Approved pre-owned cars will be available for inspection and demonstration drives.
The workshop area offers eight workshop bays, an MOT bay and two Direct Dialogue bays, designed to support on the spot diagnosis and consultation.
The Centre will also be equipped to facilitate the latest Porsche full electric and plug-in hybrid vehicles with adequate charging points.
Customers will be able to take advantage of a 'Specification Lounge', which will allow visitors to experience the multitude of features and benefits of individual cars, and a Café Bar, a hospitality area serving fresh coffee and refreshments.
Lind Group said in a statement that the new Porsche Centre Norwich will be "more than a point of sale", adding: "Effectively, it will be a window into the world of the Stuttgart sports car manufacturer, a company that has fascinated car enthusiasts for 70 years since 1948."
Graham Dacre bought a BMW car dealership in 1992 which grew into the Lind Group.
He sold the group to Inchcape for more than £100m in 2006 with the exception of the Porsche centre in Kent.
The group now represents motor-cycle brands BMW Motorrad, Harley Davidson and Triumph alongside its car retail business.