TrustFord has opened a new 10-acre pre-delivery inspection (PDI) and vehicle preparation centre amid plans in to grow its fleet volumes to "50,000 to 60,000" during 2019.
The new facility, in Sherburn in Elmet, North Yorkshire, adds additional capacity for the Ford of Britain-owned AM100 retail group which opened its sprawling fleet facility at Long Marston in 2017.
Speaking to AM at The Commercial Vehicle Show 2019, at the NEC in Birmingham, yesterday (May 30), TrustFord fleet and commercial vehicle director, Mark Wilkie, revealed that the site would expand to 20 acres in the next 12 to 18 months.
"When we look back a few years it's hard to imagine how we ever operated without the Long Marston site and now, with the volumes that we're doing and our growth targets, this site was very much needed," revealed Wilkie.
"Last year in fleet and CV we did 47,778 vehicles and the Sherburn site will allow us to grow that to over 1,000 vehicles a month this year, to somewhere in the region of 50,000 to 60,000."
He added: "Last year our fleet and CV operation had a record year and, despite the headwinds that we're experiencing with Brexit and emissions regulation, we're 20% up in volume terms during Q1."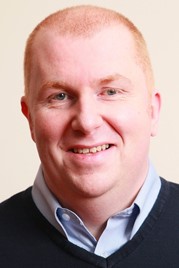 Wilkie said that the new Sherburn facility would provide all the services of Long Marston, meaning that its vehicle, storage, preparation and graphics functions are already in place.
TrustFord has just completed its first large scale fleet order with a graphics package included, according to Wilkie, and the group is now looking at a plan to scale-up the provision, which is drawing more business to the group.
Initially, 12 employees will be based at the Sherburn site, with a potential growth in headcount to around 30 anticipated as the growth of the facility and the volume of vehicles processed there rises.
But Wilkie said that TrustFord is working to drive efficiency through minimising the demands on headcount within its expanding operation.
He said: "We are currently in the process of completely re-imagining our fleet DMS system in order make deal with the volumes that we're now looking at more efficiently.
"We looked in the market for a system but felt that we were able to develop our own system in-house in order to provide all the elements that we wanted.
"TrustFord is unique in the sector in its ability to deal with small and large fleet business and we have our own logistics business too in order to manage our own deliveries and such. To help us manage all that meant that we needed a DMS system specifically tailored to our needs."
Despite its growing volumes and Ford of Britain ownership model, Wilkie insisted that TrustFord's growth in the sector – it sold in excess of 30,000 CVs in 2018 – did not cause tensions in the wider Ford retail network.
He said that the group's aspiration was top win conquest business from other brands and not to compete with other Ford franchisees.
"Without a doubt we want the wider Ford network to be as successful as possible because we rely on them, and Ford's customers rely on them, for aftersales on an ongoing basis," he said.
TrustFord has taken its fleet aftersales operation on the road as part of the Ford drive to implement mobile servicing, however.
The group wants to grow its fleet of mobile servicing vehicles to "50 to 60", according to Wilkie, as part of the brand's plan to have 200 such vehicles operational in the UK.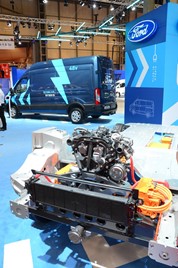 One of the biggest challenges faced by TrustFord and the wider UK retail network will be the dramatic shift to electrification which Ford is about to embark on with both its cars and light commercial vehicles in the coming months and years.
AM reported earlier this month how the all-new Kuga SUV will be first Ford to feature mild-, full- and plug-in hybrid (PHEV) powertrains, while the Focus and Fiesta will soon be available with a 48v mild hybrid drivetrain as part of its product plan.
A "Mustang-inspired all-electric performance SUV" is set to arrive in 2020, meanwhile, offering a 370 mile WLTP range, the brand said.
Ford's electrification plans are not confined to its passenger cars either, with a new all-electric Transit anticipated to launch in 2021 and the new Tourneo Custom Plug-In Hybrid set to drive the agenda on cleaner towns and cities by matching the Kuga plug-in's claim of offering a zero emissions range of over 31 miles per charge.
Stuart Rowley, president, Ford of Europe, said: "Forward-looking, technologically advanced and using a wide range of electrified solutions to suit the different needs of different consumers, our new Ford Hybrid vehicles will make electrification relevant and affordable for more drivers than ever before.
"From Fiesta to Transit, every new vehicle that we introduce will feature an electrified version that best suits the needs and pockets of our customers across Europe."
Wilkie said: "In terms of personnel and training I think it's fair to say that we're not up to speed yet. It will be a rapid period of change."