TrustFord has officially opened two new FordStore car dealerships in Northern Ireland and begun the expansion of its PartsPlus wholesale parts operation into Scotland.
The Ford of Britain-owned AM10o car retail group's chairman and chief executive, Stuart Foulds, travelled to Belfast and Lisburn to join Elena A. Ford, chief customer experience officer at Ford Motor Company for the opening of two new Ford retail facilities on Friday (17).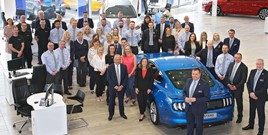 Celebrating the landmark openings with staff at the two sites, Foulds said: "The newly enhanced sites in Lisburn and Belfast help us meet our customers' needs today and, importantly, into the future. Well done and thank you all for a fantastic day."
Elsewhere in the business TrustFord last week celebrated the opening of two new PartsPlus sites, as the dealer group expands its infrastructure to support Ford of Britain's new wholesale parts network.
The Carlisle and Aberdeen Parts Plus sites were opened on May 13 and 15 by Foulds, who was accompanied by Kevin Magee, the regional general manager responsible for both sites, and members of the board.
The openings also followed the recent official opening of another new Parts Plus facility at Tamworth, marking a significant moment in the expansion of TrustFord's PartsPlus network – with 12 sites now open across England, Northern Ireland and Scotland.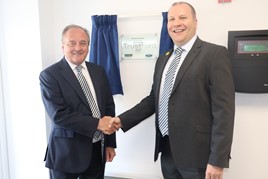 It also marked a milestone in TrustFord's expansion into Scotland where the dealer group is actively growing its presence, with two further Scottish sites set to officially open over the next six months.
PartsPlus Centres provide services to support the sale of trade parts directly to franchise groups, independent repairers and body shops, offering extensive, competitively priced Ford, Motorcraft and Omnicraft parts, delivered with local business knowledge and expertise.
They also offer delivery of parts in under an hour to regular customers within a 30 minute drive of the centre.
Foulds said: "We are making a significant, network-wide investment in Ford of Britain's wholesale parts initiative. Our new sites are giving us a hugely expanded scale and resource to meet our customers' parts needs.
"It also signals our continued commitment to supporting local businesses, as our parts offering supports local repair and bodyshop businesses.
"At TrustFord, we're committed to driving the standard in customer care. This expanded parts offering will help us deliver a truly excellent parts service to our customers around the UK and Northern Ireland."
There are currently 12 PartsPlus centres across England, Northern Ireland and Scotland.
TrustFord will be officially opening three more sites over the next six months.