Jardine Motors Group's Aston Martin Cambridge dealership has headed to the 2019 24 Hours of Le Mans to deliver a special handover experience to buyers of 24 DBS Superleggera-based DS 59 coupes.
The franchised site, on High St, Harston, shipped the £325,000 limited edition vehicles over to the event last weekend ahead of a handover on the starting grid of the legendary endurance race within an hour of the start of the race tomorrow afternoon.
Customers will then take part in a traditional Le Mans 24 Hour standing start to reach their new cars before embarking on a parade lap of Circuit de la Sarthe ahead of the race.
Following on from previous Red Arrows and Spitfire-themed limited edition car creations, Aston Martin Cambridge utilised the brand's bespoke car offering, Q, to create the DBS 59 coupes in honour of Aston Martin's first win at Le Mans in 1959.
Former dealer principal, Simon Lane, left the business earlier this year to become Director of Q and Special Project Sales at Aston Martin Lagonda.
But commenting on a once-in-a-lifetime Le Mans-themed weekend for customers of his former employer, he said: "Aston Martin Cambridge really set out its stall to offer custiomers something very unique in terms of bespoke cars and a handover experience to match.
"This weekend at Le Mans truly is going to be a once-in-a-lifetime trip for those taking part and a great celebration of the brand and the anniversary of its first Le Mans victory."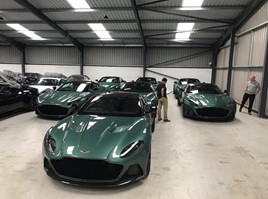 Current Aston Martin Cambridge dealer principal, Richard Eniffer, took to LinkedIn to celebrate the arrival of the 24 Superleggera-based DS 59 coupes at Circuit de la Sarthe this week and was unable to disguise his excitement at the prospect of a weekend at the races with his handful of privileged customers.
Eniffer said that it was set to be "an amazing few days".
Giving an earlier insight into the weekend, he said: "Customers will recreate the iconic starting grid by running across the track to their new car and complete a parade lap, just hours before the start of the 24 Hours of Le Mans.
"The last few weeks I have seen my team pull together like never before. I'm proud to be Dealer Principal for such a committed and talented group of people.
"Going over and above is something we all try and do but this project has also shown the respect the team have for each other's roles.
"Now the excitement really starts. Get ready Le Mans, we are coming for you!"
In standard form, Aston Martin's DBS Superleggera has a retail price of £225,000.
The Gaydon-built coupe features a 5.2-litre V12 engine delivering 725PS and 900Nm of torque and will accelerate to 62mph in 3.4 seconds on its way to a 211mph top speed.
Aston Martin announced today (June 14) that it would contest the 24 Hours of Le Mans with its even more potent Valkyrie hypercar in 2021.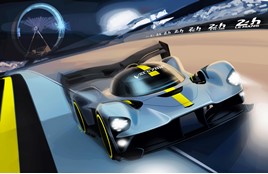 Following the announcement of the Automobile Club de l'Ouest's decision to introduce hypercars to the top category of the FIA World Endurance Championship (WEC), the brand has taken the decision to field a minimum of two works Aston Martin Valkyries, specially-developed for the 2020/21 FIA WEC season, including the 2021 24 Hours of Le Mans.
The new car will feature a race-prepared version of its bespoke high-revving normally-aspirated 6.5-litre V12 engine placed within the car's lightweight carbonfibre structure, and featuring F1 inspired aerodynamic technology.
Aston Martin Lagonda president and group chief executive, Andy Palmer, said: "We have always said that we would one day bring Aston Martin back to Le Mans with the intention of going for the outright win when the time was right.
"David Brown came here in 1959, with a car and a team of drivers capable of winning. We intend to do the same in 2021."