Malaysian businessman Vincent Tan wanted to buy a car from Rolls-Royce Motor Cars London earlier this decade. But a salesperson at the HR Owen-owned dealership failed to take the casually dressed visitor seriously, and suggested he may be in the wrong place.
The billionaire was so incensed by his poor reception, and the apparent opportunity to create the right experience for wealthy people such as himself, that by the end of 2013 his conglomerate, Berjaya Group, had taken over the AM100 luxury car retailer.
On the surface, having a portfolio of supercar dealerships in and around London could be seen as another trapping of wealth, but Tan's ownership of HR Owen is no vanity project. Since installing Ken Choo as chief executive in January 2017, the dealer group has doubled its return-on-sales to 1.4% and that Mayfair Rolls-Royce dealership has become the brand's global dealer of the year, with 100% scores in all brand KPIs – a first for the network.
AM met Choo in London at HR Owen's historic Jack Barclay Bentley dealership, which has been refurbished this year at a cost of £2 million to adopt Bentley's latest corporate identity, including LED lighting above the cars and a champagne bar in the centre of the showroom. Bentley wanted it to reflect the modern brand, which meant the removal of the showroom's trademark chequerboard tiled floor and wood-panelled boardroom.
However, Choo insisted the outlet retained both, by relocating them to the lower ground level of the showroom, so Bentley buyers see modernity and luxury as they come through the door, but can still experience a slice of its past.
"History to us is very important. Customers like history," said Choo.
Manufacturers' increasingly strict corporate identities risk leaving franchised dealerships a bit plain, a bit too corporate. Choo said he ensures his sites conform, but may then ask a brand's global head about how HR Owen can liven it up a little, adding some Italian paintings, for example.
"You need to have an identity, rather than stick with the corporate identity 100%," he said.
The desire is for customers to bond with the HR Owen brand as much as with the car manufacturer, to feel like members of a club rather than owners of a car. Choo is also chief executive of Premier League football club Cardiff City, which is also owned by Vincent Tan, and is inspired by the way football clubs engage with their communities.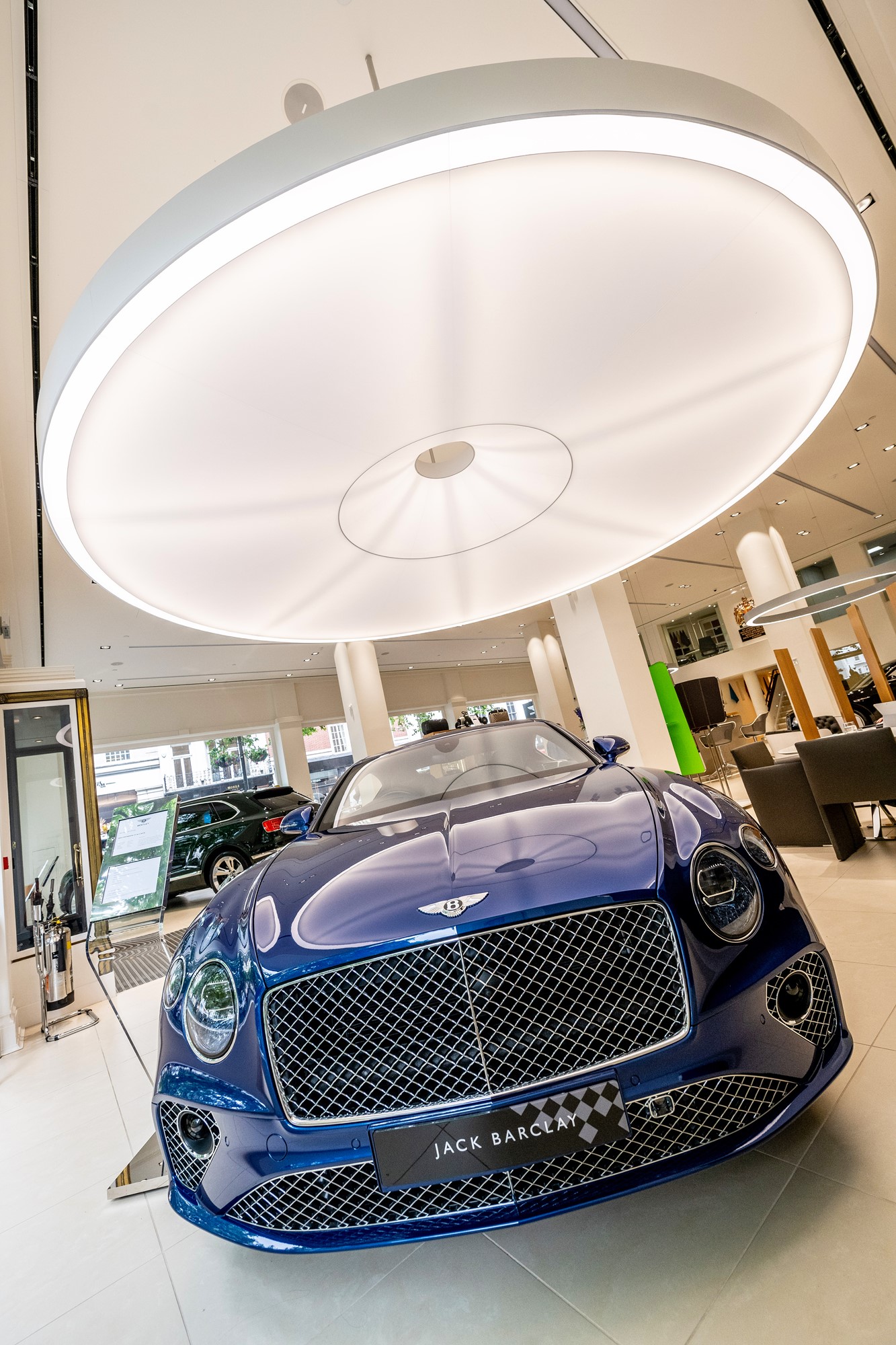 "Anybody who buys cars from us gets a sort of membership into that elite segment that we have," he said.
"If you look at our customers versus other dealers, we are very personalised. We know them by name, we take them to the factories, to drives, to events, and they feel like part of the family. We get to know their family as well, and the cars they have in their collection, so it's a very personalised relationship."
Having that football club at the other end of the M4 motorway provides a unique advantage. Customers who like football get invited occasionally to matches as guests, and others are offered VIP invitations to join other events at Cardiff's stadium, such as boxing matches and pop concerts, where they may rub shoulders in a corporate box with Choo and senior management from the luxury car brands.
"Football is an entertainment business, and footballers are like movie stars. Here, we have to sweat to sell a car – it's a tough business. There's a lot of planning to go with it. But it's the experience they have – some customers tell me other dealers don't do anything like this."
Serving specific customer needs
There is a skill in meeting customer expectations, and Choo said HR Owen knows how to tailor things to their typical desires – Lamborghini customers may like a party, he said, while Bugatti buyers expect something more low-key, like a scenic drive stopping at vineyards and world-class restaurants.
"They buy cars from us and say that if we organise certain drives, they will come. From our conversations, we know they don't just want to buy a car and leave it in the garage. So we fly their cars out, then when we fly the customers out we'll land to see their cars already arranged on the tarmac for them to enjoy."
Choo has an ambition to establish a 'Bentley boys' club across the road from Jack Barclay within the next two years, to recreate the camaraderie of the original 1920s Bentley Boys, a group of wealthy socialites who drove and raced the British cars. Having a passion for hospitality as well as business – Choo, a chartered accountant, was a senior auditor for PwC in Malaysia and later ran Berjaya's hotels and casinos in the Seychelles and London before taking the helm at Cardiff and HR Owen – he believes high levels of service are important in taking HR Owen's brand forward.
He and Tan have spent time strengthening HR Owen's relationships with its manufacturer brands, too. As a result, the brands see that the dealer group is engaging and entertaining customers in exciting ways, and creating more sales opportunities as a result.
Tan visits London six times a year and always comes to see staff at one of the showrooms. "Vincent continues to provide the inspiration and vision for the success of HR Owen," said Choo.
"HR Owen is not just a name. It's about the relationship we have, with customers and with the factories," he said. Choo recounted instances where manufacturers have asked the group to sell million-pound supercars even before their names have been decided or any pictures have been released. It means selling a production number, not a car.
However, HR Owen knows it has clientele who are happy to buy this. Earlier this year, Bugatti tasked Choo with getting two orders for its €5 million (£4.5m) car to succeed the Chiron (revealed in August as the Divo, of which only 40 units are planned). HR Owen spoke to its clients and, within days, had deposits for four.
When AM interviewed Choo in the summer, he had just returned from a trip to Italy with some customers, during which two had ordered cars worth €2.1m (£1.9m) each.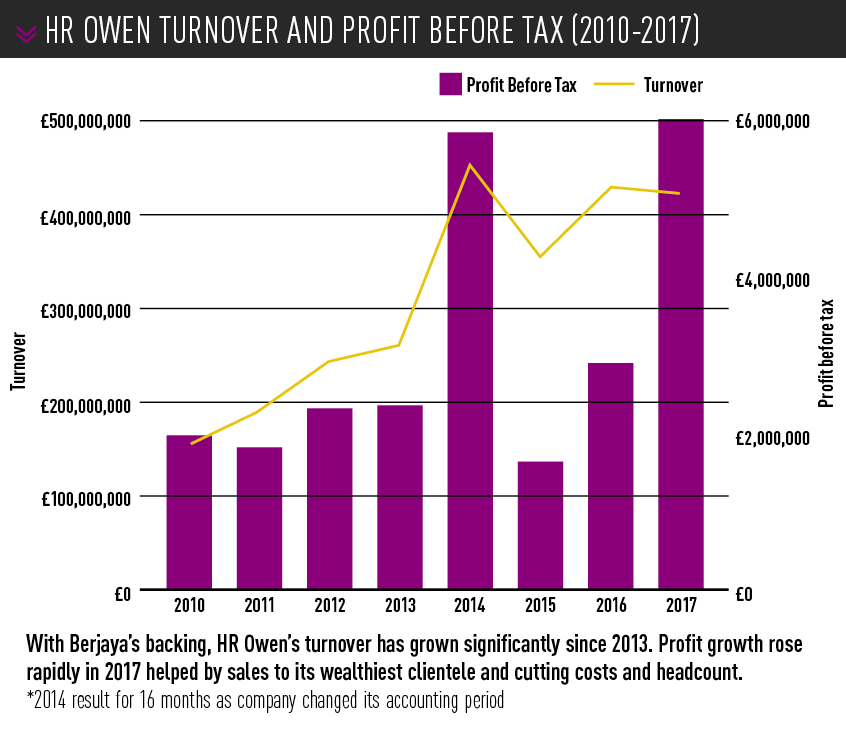 These so-called 'Black Book' customers are an increasing part of the business's focus and planned resilience, as it sees them as being Brexit-proof.
HR Owen is London-centric, with dealerships in the capital and the home counties, but also has outlets in Greater Manchester for Lamborghini and Maserati.
It bought an additional Bentley outlet in 2014 from Lookers, opened its second Aston Martin outlet in 2015, added BAC and a third Maserati site in 2016, and bought a specialist bodyshop in 2016.
Choo said its growth ambitions are focused on central London: "We have a lot of serious money in London. It is still one of the best places in the world to do business, and we're right in the heart of it. HR Owen and the reputation have been there for years."
It will look for opportunities, but will avoid spreading itself too thinly, he said.
"There's no point having 50 dealerships all over the UK just because we want to have them. We are very targeted, so we study the demographics."
He wouldn't comment on any targets, but McLaren and Porsche are among the obvious absences from its portfolio of supercar brands. Both already have strong London representation, however, the former from a dealer group that also has extensive Asian connections, Jardine Motors Group, and the latter from the manufacturer-owned Porsche Retail Group.
Keeping the luxury business plan
Since Berjaya bought HR Owen for £43.2m and subsequently delisted it from the London Stock Exchange, Choo said it has benefitted from having one owner who takes full responsibility for the business (Bentley Motors remained a minority shareholder until 2016).
Since Choo became chief executive in January 2017, he has restructured its management to pull the group's parts closer together and reduced the back-office headcount to strip out some cost. Each individual brand's director now reports directly to Choo, and all gather together monthly to determine how to grow the business.
"You need to keep the business very lean and efficient. We have the best people. Our training and skills development is at another level. We pick our people carefully," he said.
Property forms part of the strategy now, to build the balance sheet with land and buildings, to reduce the rental costs over time and to improve profitability.
"We're not trying to reinvent the wheel, but some basic business strategy should be at play. Property is quite important for us because we're looking after the company's value for the long term."
"I want the staff to know that in future we don't have to pay rent."
HR Owen's accounts to April 2017 showed it had begun buying investment properties in London. Choo said this is to allow it to add businesses, and to develop a new headquarters with multiple showrooms. Reports suggest this will be across a five-acre site with an underground garage for 500 vehicles – including storage of customers' cars – and at a cost of £50m, funded by Berjaya, which has a separate division that invests in property.
But isn't the role of showrooms changing? Choo said it's still the "window of our world", and still important to have a few iconic showrooms.
"All these are not cost centres to us. Jack Barclay is very profitable. We don't put two cars in the showroom and make it an experience centre in Mayfair and sell two cars. We're not doing charity, we're doing business."
Do the wealthy use car websites?
In digital marketing, HR Owen uses a sophisticated customer relationship management (CRM) system to ensure its customer contacts and advertising channels are effective. Choo said it has invested in its websites, and created a group website to allow consumers to see the breadth of luxury cars it offers, and to improve the marketing of its pre-owned cars.
While he recognises that motor retailing will get more and more digitalised, Choo doesn't see online selling winning favour with the wealthy.
"If you look at volume car sales, that really helps. With our clientele and brands, it helps, but not to such a great extent – you don't spec the car on a website when you're buying a Bugatti or Ferrari. We still do it the old fashioned way, because you're not selling just another car."
HR Owen "plays with technology differently", he said, with a lot of social media activity, managed by a central team. This focus echoes that of Cardiff City FC. Occasionally, the social teams from the two operations come together to share best practice and ideas.
The dealer group and the football club both share content people are very passionate about and want to interact with. Choo takes opportunities to blend the two, by holding drive days for Cardiff's players, ensuring the cars and the stars get broader exposure on social media.
Asked whether he demands Cardiff players buy their sports cars from HR Owen, Choo laughed: "We don't hold a gun to their heads. But we let them have a feel for them.
"It's very important to get people into the cars. You can give them the best picture in the world, but get them in the cars and you don't have to do much more."
He sees desire for luxury SUVs as an opportunity for HR Owen's showrooms. Bentley and Maserati already have theirs, Lamborghini has the Urus, Rolls-Royce has opened order books for the Cullinan, and Aston Martin and Ferrari are expected to bring their crossover SUVs to market in 2019 and 2020 respectively.
Until Bentley's Bentayga came along in 2016, wealthy motorists could choose only a Range Rover Autobiography or Porsche Cayenne Turbo to satisfy their cravings for a luxurious 4x4, and HR Owen does not represent either brand.
"The SUV market hasn't reached saturation point. The top brands want a piece of that market, because the statistics don't lie – people are moving into them. Look at how successful Porsche has been with its 4x4. You have to look at where the market is taking you. You have to produce something the customer wants," said Choo.
There are wealthy people who don't want the limitations of a low-slung supercar, but who will now be able to add a Lamborghini or Ferrari to their garage.
"The ability to be able to see what's coming up is very exciting. Manufacturers show us their cars for the next five years. We can see the industry evolving. Even manufacturers that you wouldn't expect to develop hybrids are doing so. Manufacturers understand that it is a requirement of the future, and they need to follow demand, whether they like it or not."
Refusing to play 'a numbers game'
Asked what he does not like about the motor industry, Choo said it is the excess volume in the mainstream new car market and the consequent lack of a personalised experience: "By then, it's just a numbers game, and you've lost all form of value."
Parent company Berjaya has just filed its annual report, showing HR Owen's sales declined in its latest financial year (to April 2018). New car volumes dropped 9.3% to 1,185 units and used sales fell 10.3% to 1,235 units, mostly due to lower sales of Bentleys and Maseratis.
Turnover was down 1.2% to £423.2m, however profit before tax increased 104.5% to £6m, which the company said was mainly due to lower costs.
Choo said 2017/18 was on the right track – strengthening profits – and he doesn't see the luxury car market softening nor his staff's' hard work diminishing.
Running an AM100 group is usually enough for any chief executive, but that football club at the other end of the M4 motorway constantly begs his time. Choo, who lives in London, tries to divide it equally between the two. Recently, when he was asked what he does in his spare time, he responded: "sleeping".
Asked which of the two provides the greatest return on investment, he said both have different synergies. The club's rise into the Premier League from the Championship led to a huge jump in revenues and valuation due to it now taking a share of £5.3 billion league revenues, but its time in the Championship, where most clubs lose money, said Choo, was a test of the operation's abilities to manage expenses while becoming as competitive as possible.
"It's not all about money. It's about the team spirit we have and the togetherness. Everybody pulls together. And we do that at HR Owen again. It's about psychology – keep your staff incentivised, keep the structure very lean, enable quick decision-making. I come in to see people, we're down on the ground, moving quickly. You need to move around as a chief executive."