Sytner Group has opened the doors of its £9 million BMW car dealership in Cardiff after contractor MCS Group met its Christmas deadline for completion.
MCS Group had stated on its website that it was working "extremely hard to complete this brand new showroom in time for Christmas" and was able to hand over the site to the AM100's top ranked retail group in-time for its festive opening.
The 43,000 square-foot development – located on the site of a former McDonald's on Kismet Park, Grangetown – houses a 22-bay workshop, two MOT bays, a drive-in service area and more than 650 parking spaces.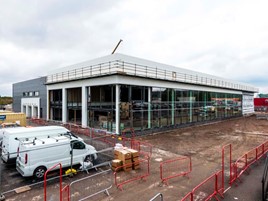 Keir Edmonds, managing director of MCS Group, said: "This is a fantastic new dealership and a significant investment by Sytner in Cardiff.
"BMW customers now have a showroom and service facilities of the very highest quality and I'm sure it will be a huge success for Sytner.
"We've delivered similar new developments for Sytner Group in recent years and it has been wonderful to work alongside them again on such a prestigious project."
The new BMW dealership is Sytner's latest investment in the South East, following last month's opening of its 10th CarShop used car supermarket site in Bristol.
Sixty-five new jobs were created with the opening of the new 600-car facility, located on a seven-acre site off Bolingbroke Way, Little Stoke, Bristol.
The new CarShop location represented a £14 million investment is was the first to offer drive-in car servicing.
The car supermarket division now has sites in Bristol, Cardiff, Doncaster, Manchester, Northampton, Norwich, Sheffield, Swindon, Wakefield and Warrington.
AM reported today (December 23), however, on the apparent departure of CarShop's chief executive, Jonathan Dunkley, and chief financial officer, Brian Scott, from the business.
A notice of the termination of both Dunkley and Scott's appointment at CarShop was published on the Companies House website today (December 23), appearing to confirm their move.