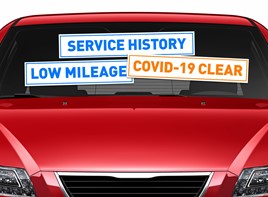 AM is urging retailers to share their experience of trading during the COVID-19 coronavirus outbreak and their hopes for a recovery once current restrictions are eased.
We've put together a two-minute, quick-fire 'COVID-19 car retail recovery survey' in order to inform the insight we can provide readers in our next AM digital magazine, and potentially shape future news coverage and lobbying.
Guidance from the National Franchised Dealers Association (NFDA) and subsequent confirmation from Government's Department for Business, Energy & Industrial Strategy (BEIS) that car retailers can continue to sell vehicles online has alerted the wider sector for a need for a recovery strategy.
But how many businesses have the ability to transact with customers online and/or policies in place to complete safe handovers ensuring the health and wellbeing of staff and customers while fostering a sense of trust?
How many have supplies of personal protective equipment (PPE) for when showrooms are allowed to open again under continued social distancing rules and ongoing concern among visitors?
In the coming months such decisions could prove vital to the recovery of many car retail operations and we want to gain as accurate a picture as possible of how preparations are progressing.
Get involved and feed the debate by taking part in our survey, here: