Marshall Motor Holdings expects to report a first-half pre-tax loss due to the 10 week closure of its showrooms by COVID-19 counter-measures.
The vehicle orders during lockdown that the car dealer group achieved, having kept its online, telephone and fleet sales operations active, were less than 20% of the volume achieved in the same period last year.
In August Marshall will publish its interim results, and in a trading statement today, as its 117 showrooms reopened, it said financial guidance for the year remains suspended currently given the continued uncertainty over the economic and trading environment.
"The significant impact of both the temporary closure of the group's physical retail showrooms during the current crisis and a gradual return to a more normalised trading environment is anticipated to result in a loss before tax for the six months ending June 30, 2020," the company stated.
Today's update reports that the AM100 motor retailer had "continued to perform strongly" ahead of the lockdown announced on March 23, and had been confident of achieving an excellent Q1 performance until the COVID-19 pandemic hit the UK.
Once lockdown commenced, Marshall ended Q1 with like-for-like new vehicle sales volume down 10.6%, compared to the total market drop of 31%. Used vehicle sales volume dropped 9.7%, which it said was broadly in line with the wider used car market. Aftersales revenues were down 3.1%.
Through the lockdown Marshall kept 62 workshops open to serve key workers, and all remaining workshops opened in late May.
Since March 23 the dealer group has taken orders for more than 3,700 new and used vehicles from retail and fleet customers, just 19.5% of the c19,000 orders taken during the same period in 2019.
Retail orders have been "heavily weighted towards used vehicles", the company said. It believes "some level of pent-up demand for new vehicles" to emerge in the months ahead, due to motor finance houses having extended those finance agreements which would've expired in the lockdown period.
It also notes "encouraging signs of demand" for service and repair, and again expects some pent-up demand to emerge.
Around 90% of Marshall's 4,300 workforce was put on furlough, with the support of the Government's Coronavirus Jobs Retention Scheme (CJRS).
Marshall, which has ranked as a Great Place To Work for six consecutive years, supplemented pay from the scheme's 80% of salary, capped at £2,500, to 100% of pay in March, 90% in April and 85% in May, with no cap imposed.
With showrooms reopening today, under new operating guidelines, Marshall said initially around 50% of the workforce is returning to work, to allow for social distancing and to match resource with demand.
Operating expenses during lockdown were reduced by about 50% through management actions and state support schemes, including CJRS, business rates relief for retail businesses, cuts in marketing and other discretionary spend, and agreements with suppliers and several landlords, plus salary reductions volunteered by senior managers.
Adjusted net debt reduced to £3.2m at the end of May, from £30.6m at the end of 2019.
Marshall added that its £120m revolving credit facility with Barclays and HSBC is due to expire in June 2021, and it hopes to conclude discussions with the banks over an extension in the coming weeks.
It warned that due to the impact of COVID-19 the group expects to use more of the facility at an increased margin in line with current market rates, and therefore its interest costs are expected "to increase significantly".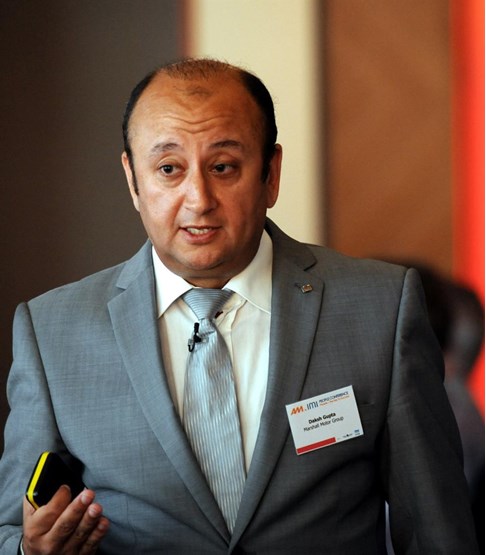 Daksh Gupta, Marshall's chief executive (pictured), said: "I would like to thank our brand and business partners for their continuing support as we collectively and in partnership, navigate through this period of national crisis.
"We are also grateful for the support provided by Government to both the business sector as a whole and the automotive sector in particular. Initiatives such as the Coronavirus Jobs Retention Scheme and business rates relief have enabled us to take the right long-term decisions and to protect jobs today in this vitally important sector for the UK economy.
"Finally, I would like to pay special thanks to my colleagues throughout our businesses for their hard work and support during this difficult time. Those colleagues who continued to work during the temporary closure of our dealerships, including my senior management team, have demonstrated great dedication and commitment to the company.
"We are also extremely grateful for the messages of support and encouragement for the actions the company has taken from our furloughed colleagues. I am delighted to see so many of them begin to return to work to reactivate our businesses and I look forward to remaining furloughed colleagues re-joining us over the coming weeks and months."