Scottish car retailers will have to wait a further 11 days before re-opening their showrooms after Scotland's First Minister Nicola Sturgeon outlined phase two of COVID-19 lockdown easing north of the border.
The Scottish Government revealed that phase two of its re-opening plan would see non-essential retail outlets allowed to open their doors to customers for the first time since mid-March on June 29 in an announcement made this lunch time (June 18).
While Scottish Motor Trade Association (SMTA) chairman, Sandy Burgess, described the extended delay as "devastating" he welcomed confirmation that retail sites would not be restricted to 800sq-m of trading space, as had been suggested in previous guidance.
Adressing Holyrood in her address, Sturgeon said: "From 29 June retail premises of all sizes can re-open, but only if they have outdoor entrances and exits.
"I am afraid that for the time being, indoor shopping centres will remain closed, except for access to essential shops such as supermarkets and pharmacists."
Yesterday (June 17), AM reported that many Scottish car retailers had expected an exemption for showrooms, allowing them to re-open ahead of many other retail sector outlets.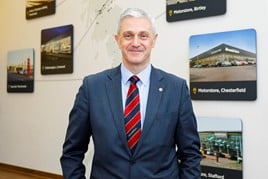 Arnold Clark chief executive, Eddie Hawthorne (pictured), was among them. He said: "I think the Scottish Government realise that there was an exemption to be had there.
"The truth is that we have plenty of space in which to social distance, we don't get the footfall of other retail sector businesses and half our business – the aftersales element – has already been re-opened anyway, so all our health and safety measures have already been implemented."
Sturgeon acknowledged the frustration of certain businesses in her speech. She said: "We will feel frustrated at times, if that journey seems too slow. That is true for individuals - and also, I know, for business.
"The impact of this crisis on businesses, large and small, is colossal and we all want the economy to re-open as quickly as possible.
"But if - as I believe is the case - frustration, leading to a premature easing of too many restrictions, is our biggest risk right now, it is equally true that patience could reap our biggest rewards."
Scottish car dealers were left frustrated by delays to Scotland's reopening plans, along with a reported lack of clarification on trading guidelines and a schedule for a route out of lockdown, after England's car retailers re-opened their showroom doors on June 1.
English retailers, including Vertu Motors chief executive, Robert Forrester, and Swansway Garages director, Peter Smyth, were among those who told AM that they had been encouraged by signs of pent-up demand entering their businesses as they return to trading proper over a fortnight ago.
But SMTA chairman, Burgess (below), said he feared that the politics of COVID-19 North of the border will cost car dealers financially and result in disproportionate job losses across the UK's devolved regions.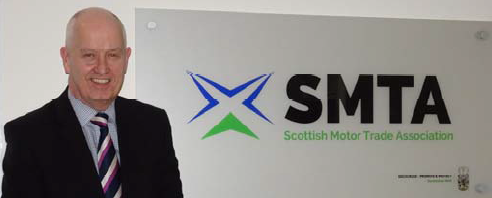 During the week starting June 1 - as English dealership re-opened - Burgess had told AM that Scottish car retailers, and the economy, stood to lose out due to the disparity between COVID-19 policy across the UK's devolved nations in a week that saw dealers in England re-open their showroom doors to customers.
"We have been left in a political situation and that shouldn't be the case," said Burgess. "This is a health crisis first and foremost, then an economic crisis. The last thing COVID needs to be turned into is a political crisis."
He added: "Our members have been put in a position where they cannot even plan for a return to showrooms trading as their English counterparts start to ramp-up their operations.
"It's short-sighted and I fear it will cost the sector economically and in the form of jobs."
Retail outlets size restrictions scrapped
The SMTA this week received confirmation that previously communicated restrictions on the size of retail outlets allowed to open in pahse two of the Scottish Government's plan had been dropped.
In a response to a letter written by the National Franchised Dealers Association (NFDA) regarding legislation to permit click and collect car sales during lockdown, Fiona Hyslop MSP had outlined guidance which stated that retailers may open "up to 800m2 of their sales area", adding that retail units larger than 800m2 would be permitted to open in Phase 3.
Correspondence sent to the SMTA by the Scottish Government stated: "Following today's announcement by the First Minister and publication of the Updated Route Map which outlines the order in which we will carefully and gradually lift lockdown restrictions, I can confirm that all street-access retail throughout Scotland can re-open from 29 June. This includes car showrooms.
"Please note, this updated guidance no longer places a restriction on the size of sales area permitted to reopen.
"For clarity, this means that the previous restriction whereby units larger than 800m2 would have to wait until Phase 3 to reopen no longer applies."
Hawthorne suggested that the main issue with the Scottish Government's approach to easing lockdown measures for car showrooms had seen their inclusion among other retail businesses, such as high street stores and shopping malls.
Responding to the suggestion that the re-opening policy north of the border seems to contradict a sense that larger retail facilities make social distancing easier, he said: "The issue remains the classification of car dealerships.
"The (initially suggested policy over a retail site's size), I think, boils down to the fact that the initial re-openings will exclude large shopping malls. What the Government don't want to see is people flocking back to those kinds of places."
He added: "Early-on, Government's handling of the crisis, it's response, was exemplary. As time's gone on it's become apparent that its communication could have been far clearer."