Vertu Motors has completed a £200,000 upgrade of its Bristol Street Motors Nissan Northampton dealership.
The AM100 PLC said that changes to the facility on Carousel Way, Northampton, had succeeded in introducing new technology and "adding flair" to car buyers' vehicle handover process.
Renovated as part of the Nissan Retail Concept, which includes updated versions of the familiar red Nissan signage and an exclusive handover area, visitors to the site can also make use of a new digital car configurator.
Matthew Green, the general manager at Bristol Street Motors Northampton Nissan, said: "The transformation of the dealership is breath-taking. We have a wonderfully modern space for customers to view our range of new and used vehicles.
"The digital configurator is a fantastic bit of kit that lets you design a vehicle specification to suits your needs, whether you want all, some or none of the latest mod cons or extras."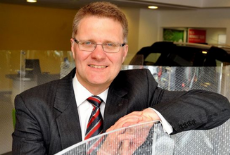 Vertu Motors and Bristol Street Motors chief executive, Robert Forrester, said: "We've seen a real shift in the way customers shop for a new vehicle, with more and more people engaging with online and digital platforms. However, showrooms remain a vital part of the customer journey for many.
"By incorporating digital elements into the dealership in new ways, we can bring the best aspects of the online and real-life buying experience together, to offer customers an all-encompassing sales experience."
Earlier this month, Vertu's adoption of Nissan's new CI got underway with the completion of changes to its dealerships in Northampton, Derby and Glasgow.
Hawkins Motor Group and Griffin Mill Garages became the first Nissan franchisees to adopt the Japanese car manufacturer's new corporate identity at its dealerships back in July.
The changes are part of a push by Nissan to embrace the growing momentum of electric vehicle sales in the months ahead.
In a recent manufacturer profile feature with AM, Nissan GB managing director Andrew Humberstone asserted that his franchisees will be in a good place to capitalise on the UK car market's electrification, but suggested that they will need to raise their game.