Single-site car dealer Fife Seat has proved capable of punching above its weight after being named as the Cupra performance car brand's top performing retailer in its first year of trading.
The team at the five-car showroom on Millie St, Kirkcaldy, is owned and run by former Seat UK head of operations Mark McKenna, who grew up in nearby Cupar and made the decision to bring his expertise back to Fife to provide a customer-focused car retailing business.
And his team have been celebrating after achieving success as Cupra UK's recipient of the 'Overall Top Performance' award for 2021.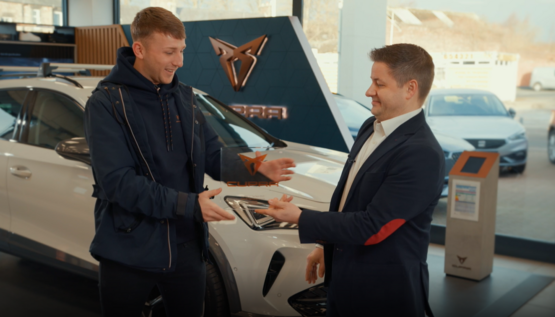 Ben Fish, head of sales at Cupra UK, presented the award to Cupra sales specialist Robbie Gibson, in-person, in a trophy handover that was screened to the network as part of a network-wide virtual awards event..
Commenting on the win, Fife Seat sales support manager Frazer Horswell said: "To win the award just 14 months after taking on the brand is a huge result for us, and it's been a huge boost for the team here.
"Fife Seat's only a small dealership – it's a five-car showroom and two of those are Cupras – but we've done really well with our sales targets and have benefited from a real enthusiasm for the Cupra brand."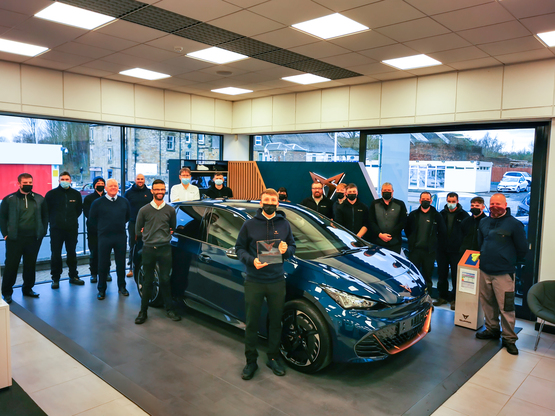 Seat Fife finished ahead of Vertu's Bristol Street Motors Cupra Carlisle and Johnsons Cars' Cupra Liverpool dealerships to claim overall victory in the brand's annual Retailer of the Year awards.
Horswell said the dealership has just welcomed the first fully-electric Cupra to its showroom, the Born hatchback, and had already attracted the attention of buyers.
He said: "Where we are we don't suffer the same infrastructure issues as some of the more remote areas of Scotland and we found appetite for EVs to be good. W've already sold 25% of our annual quota for the Cupra Born."
Cupra revealed last year that its Born EV would be launch alongside a new online sales platform that would introduce its franchised retailers to an agency sales model.
The model range starts with a 150PS version that uses a 45kWh battery, giving a range of 211 miles.
The largest battery available – a 77kWh unit – makes the Born capable of covering 335 miles on a single charge and delivers 231PS to the car's rear wheels.
Cupra's Born joins the Formentor E-Hybrid and Leon E-Hybrid in the brand's plug-in electrified vehicle line-up.