Family-owned franchised dealer group Sandicliffe has informed its staff they will receive a special payment of £500 in April to help them cope with the rising costs of living.
As high petrol prices, rising energy bills and climbing food costs continue to hit households, the AM100 motor retailer told its employees it wanted to recognise their contribution to the company's financial stability with a special gesture.
"You don't have to go far to see something in the news about the rising costs, whether it be energy or food, so with this in mind we will be making a payment for an additional £500 to all employees," managing director Paul Woodhouse told AM.
"As a company we appreciate the contribution each and every employee makes to the success of the business and this bonus is only able to be paid because of the financial stability which their hard work generates."
The Ford, Mazda and Nissan dealer also gives every employee access to the Sandihome portal, which gives employees discounts at a huge range of retailers, including cashback on energy contracts and discount on groceries.
Sandicliffe employs over 450 staff across nine dealerships in Nottingham, Leicester and Loughborough and has won AM Awards in previous years for best online consumer experience, most improved dealership and best marketing strategy
The group has recently been selected as one of 15 INEOS agents in the UK, supplying and maintaining the new INEOS Grenadier (pictured, right) to customers across the East Midlands.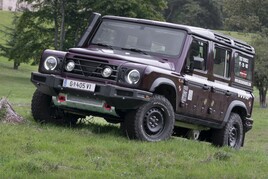 The latest AM News Show podcast features Sandicliffe's data projects manager Kat Lord and Waylands Automotive head of marketing April Wyatt discussing how marketing and customer communications had evolved to adapt to the car market's current headwinds.