Steven Eagell Group's Lexus dealership in Cambridge has been celebrated among the Japanese premium brand's best franchised car retailers in Europe.
The dealership, which claimed the Centre of the Year accolade at February's Lexus UK Centre of Excellence Awards, was one of just 10 European franchisees to receive a Lexus Kiwami Award.
The annual award, ow in its sixth year, rewards the best-performing dealerships among more than 300 across Europe.
Pascal Ruch, Lexus Europe vice-president, said: "The fantastic achievement of Lexus Cambridge and our other Kiwami Award winners is only possible through strong leadership, teamwork and a continuous focus on omotenashi.
"My thanks go to everyone for their ongoing commitment and delivery of Lexus's 'Experience Amazing' to our customers."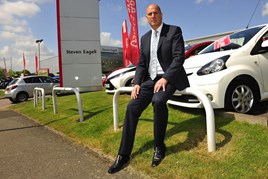 Steven Eagell, chief executive of the AM100's Steven Eagell Group, said: "We are incredibly honoured to receive the Lexus Kiwami Award, a phenomenal accolade which validates the team's continued commitment to deliver the most exceptional service to all our customers.
"In addition, it gives me enormous pride to see the team at Cambridge recognised as the Centre of the Year in the Lexus Centre of Excellence Awards. This outstanding performance is testament to the hard work and dedication from each member of the team."
Earlier this month AM revealed that Steven Eagell Lexus Cambridge was among the shortlist for the AM Awards 2022, appearing in the Dealership of the Year category.
Steven Eagell Group also appears in the Dealer Group of the Year (more than 10 sites) and and Franchised Workshop of the Year shortlists, the latter with its Toyota Birmingham dealership.
Back in February AM reported that Steven Eagell Group had won nine categories in the annual Toyota and Lexus dealer of the year awards.
Speaking at the time, Eagell said: "It gives me great pleasure and enormous pride for the Group to be recognised by both Toyota and Lexus with these awards.
"It is the continued hard work, dedication and commitment to outstanding customer service from the whole team at Steven Eagell that results in us being recognised with these awards.
"Everyone can be exceptionally proud of the part they have played in this outstanding achievement."