Cazoo has revealed that its gross profits and profit-per-unit both declined as its online used car sales soared to deliver record revenues in Q1 2022.
The New York Stock Exchange-listed digital disruptor revealed revenues up 159% year-on-year to a record £295 million in the three-month period to March 31, in a trading update published this morning (May 3), after its sales volumes rose 102% (to 19,713) following its expansion into France and Germany.
However, gross profits per unit in the UK declined by 19% to £124 in a market defined by its strong volumes, as limited used car supplies continue to be outpaced by demand.
Cazoo's overall gross profit for the period declined 2% to £2m.
The Q1 result comes less than a month after Cazoo reported seeing a "clear path for significant Retail GPU improvement" from its online used car sales after reporting a £550m loss in 2021.
The business revealed it was targeting profit growth through an improvement in its gross profit per unit to £900 this year, with a longer term goal of reaching £3,000pu.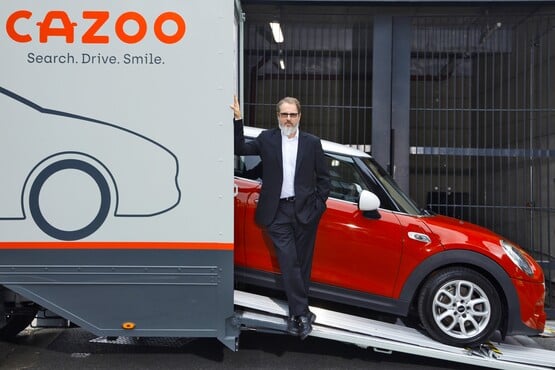 Commenting on today's Q1 update, Cazoo founder and chief executive Alex Chesterman OBE said: "I am extremely pleased with our record Q1 revenues and unit sales as we are starting to see the benefits from the significant strategic steps that we took during 2021.
"We achieved over 50% sequential quarterly growth in retail units sold in the period, driven by increased inventory available on our website, supporting our thesis that increased reconditioning output leads to greater sales.
"As we advance through 2022 we aim to continue to ramp up our reconditioning capacity which we expect to lead to further growth and allow us to continue our progress towards our long-term market share ambitions."
Cazoo's trading update revealed that it had been able to grow its used car stock to over 6,500 vehicles in Q1.
It did so while continuing to scale its operations in France and Germany and preparing for launches in Spain and Italy this summer.
The business also continued to raise funds to drive its ongoing growth, issuing $630m of convertible notes to an investor group led by Viking Global Investors and securing €50m in asset-backed finance for its subscription business in France and Germany.
Chesterman said: "This strong acceleration in growth comes despite a rapidly changing macroeconomic backdrop in our markets. While we are very mindful of the wider macroeconomic uncertainties, we remain laser focused on the execution of our strategy as we continue to make progress against our previously detailed expectations for the year.
"We expect any macro headwinds to be transitory in nature and remain extremely excited by the enormous market opportunity for Cazoo and are very confident in achieving our long-term growth and margin targets."
Cazoo's chief financial officer, Stephen Morana, said that he was "encouraged" by the progress made in Q1. He added: "As previously detailed, our Q1 UK retail GPU was impacted in the short term from investments made in the second half of last year with the launch of our car buying channel and bringing our UK reconditioning in-house.
"We expect a significant improvement in our UK Retail GPU in Q2 and throughout the rest of the year as we start to see the benefits of these investments."