A BBC Watchdog investigation has called into question online car retailer Cazoo's 300-point check on all its vehicles after failing to uncover documentary evidence of such scrutiny being carried out.
Television's consumer protection series occupied time in last night's prime-time One Show episode on BBC One to highlight the experience of dissatisfied customers of the rapidly-expanding New York Stock-exchange listed operation.
Its investigation into the experience of three customers, whose newly-acquired cars suffered issues including a faulty brakes, gearbox, snapped exhaust, leaking roof and traction control malfunctions, questioned why customers were denied the documentary evidence of the 300-point checks.
Watchdog host Matt Allwright said: "If when their cars go wrong, you can't provide customers with evidence of those inspections, what are they really worth?"
Consumer car buying guide Parkers noted that Cazoo's widely publicised use multi-point vehicle and provenance checks claim to exceed those of all franchised car retail's approved vehicle schemes, including the 165 checks carried out, as part of Jaguar Land Rover's programme.
Highlighting the importance of documentary evidence of those checks, Suzuki GB used car and cost of ownership manager at Suzuki, Ian Banks, told Parkers: "(For mechanical checks), we make roughly 75 multi-point checks, which are completed on a sheet. The customer can be sure these are done, as they're required to validate the warranty we offer."
Stocking challenges
Cazoo initially had its used car stock prepared by BCA. However, following the launch of rival online car retail operation, cinch by BCA's parent company Constellation Automotive, Cazoo acquired Smart Fleet Solutions (SFS) as part of a move to bring the operation in-house.
Like many car retailer struggling to acquire stock in a market currently struggling with the impact of new car supply shortages and the knock-on effect of registrations shortfalls resulting from the COVID-19 pandemic.
Cazoo sold 20,454 cars in 2021 and claims to buy less than 5% of the vehicles it sees.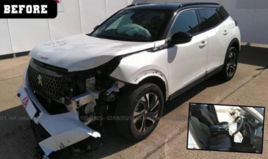 However, online car dealer forums have highlighted instances where previously crash damaged cars appear to have been offered for sale on its website before their swift removal upon identification.
In 2019 the BBC's Rip Off Britain series accused Pendragon's Evans Halshaw used car business and Arnold Clark of selling insurance write-offs without telling buyers the vehicles had been damaged in a crash following an investigation by the BBC.
A resulting investigation revealed retailers were vulnerable to such oversights due to severe flaws in the recording of crash damage by insurance companies.
Watchdog uncovered no evidence that the cars of the unhappy Cazoo customers it spoke to had been involved in collisions.
Cazoo customer care
One customer bought Ford Ka from Cazoo in March last year which had issues with its gearbox and exhaust. Cazoo bought back the car and issued a £700 goodwill gesture.
A second customer discovered a BMW bought from Cazoo had a braking issue after taking the vehicle to a franchised dealer for a health check.
In this case Cazoo paid to replace the faulty brakes.
The buyer of an Mazda MX-5, meanwhile, found that their newly-acquired sports car had issues with its traction control system and headrests.
Cazoo exchanged the car for a different MX-5 which was later found to have a leaking roof.
Cazoo paid for repairs.
Central to Cazoo's online sales promise is a seven-day, no-quibble policy which allows customers to return their vehicle and recieve a full refund.
It also provides a 90-day warranty and free roadside assistance.
In a statement issued to AM this morning, A Cazoo spokesperson said: "We are sorry that the three customers featured in the BBC One Show didn't have an experience that matched their expectations.
"We regret this, however we did do all we could to quickly rectify these isolated issues and ensure that they weren't left out of pocket financially.
"We have sold over 60,000 cars in the last two years and with 95% of customers rating our service as either 'Excellent' or 'Great' on the independent review website, Trustpilot, we believe that the way we handle any issues is what sets our service apart."