Bourne Road Mazda, in Kent, is celebrating its 50th anniversary as a Mazda franchise.
The family-owned business has been part of the Mazda dealer network since 1972 and was presented with a commemorative plaque to mark the occasion.
Andrew Mooresmith, managing director at Bourne Road Garage, has worked at the dealership for the last 42 years. He said: "You've got to keep doing what you do best", adding, "we have a family business culture and we have many wonderful loyal customers who come back because of the service we provide."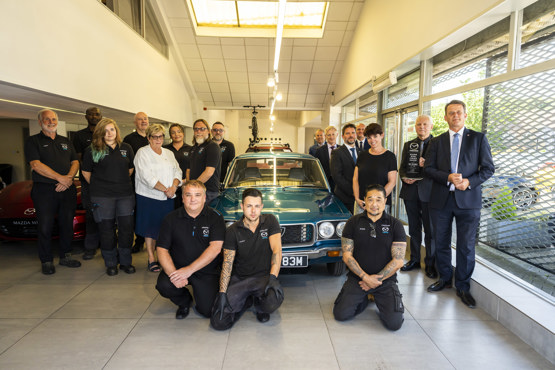 Bourne Road Garage started selling Mazda cars in 1972 from the very same site it occupies today. The history of business pre-dates Mazda with Edwin Henry Braddon, grandfather of present owner Peter Braddon, buying the site on Bourne Road in Crayford on the April 1, 1938, for his haulage and engineering business. By the 1960s the operation had moved to car retailing, workshop and fuel station, and after a brief period selling Ford and Datsun products, became a Mazda dealer in 1972.
More than a third of the employees at Bourne Road Garage have worked for the business for more than 20 years.
Sales manager Garth Vincer, a 22-year veteran at the garage, commented that: "it's the focus on people - both staff and customers that has been key to our success over the last five decades. Adding, "we have a customer who has been with the dealership for the last 40 years and customers who still come to us for servicing in spite of moving hundreds of miles away, and I think the key to this is making the car buying process easy, we don't put people under pressure we give customers choice and let it flow. We empower all our sales staff to make decisions so that the customers get personal service, and this focus on customer care extends to servicing and parts, too."
A long-server supporter of the local rotary club and their charity activities, Bourne Road Garage has also been active in the local community in Crayford and the Borough of Bexley for decades, the dealership site even features a pair of listed lampposts that the business saved from the scrap when a local theatre was demolished in the 1960s.
Jeremy Thomson, managing director at Mazda UK, added: "It's an absolute pleasure to be at Bourne Road Garage and to recognise the hard work, dedication and commitment demonstrated by Andrew Mooresmith and the team over the last five decades. The industry has significantly changed in the last 50 years, but with the dedicated team at Bourne Road combined with the exciting Mazda vehicles on offer, the dealership has been an integral part of our success in the UK."
Mazda Motors UK marked its own 20th anniversary, last year, following its inception on August 1, 2001.
Snows Group is running a series of events and charity fundraisers throughout 2022 to celebrate its 60th anniversary.