JCB Group has replaced its Honda franchise in Ashford with a new dual-brand Renault and Dacia car dealership for the Kent town.
The AM100's 76th-placed car retail group by turnover (2021: £192.5 million) announced the completion of the transformation of its facility on The Parade, Willesborough, Ashford, in a statement issued this week.
Its new Dacia and Renault dealership - formerly operated by Motorline, which is now owned by Marshall Motor Group - features the brands' latest corporate identity, following redesigns in 2022, and will complement its existing sites with the two OEMs in Medway (Rainham) and Canterbury.
JCB Group managing director Jonathan Bischoff said: "In 1998 I was selected to become one of the first Volkswagen Sponsored Retailers, and that's how the JCB Group began.
"I am extremely delighted that the group is continuing to grow with our multitude of brands.
"Our diversified sites are continuing to flourish through creating business opportunities locally as well as jobs in the area.
"The fact that we have opened another Renault and Dacia site in Ashford instils further confidence with our customers that we are capable to promote such an innovative brand."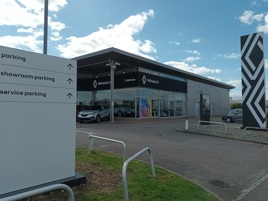 JCB Group continues to offer Honda approved aftersales services from its Ashford dealership site.
Constellation Automotive's Marshall Motor Group closed its Honda Scarborough dealership last week as the Japanese carmaker continues to restructure its franchised car retail network.
Last year Honda UK managing director Jean-Marc Streng told AM that it was drawing to the end of "phase one" of a retail network restructure first detailed in in the summer of 2019.
He also told AM that it had "no specific plans" to introduce an agency model to its franchised car retail network.