The used car sector delivered double-digit growth in the value of new consumer finance business generated in July as supply issues continued to subdue new car registrations.
Data published by the Finance and Leasing Association (FLA) showed that the value of advances received on new car sales reached £1.98 billion (up 13%) as volumes rose 3% to 129,687 year-on-year in a wider market down 5% by value (to £3.31bn) and 3% by volume (to 181,926).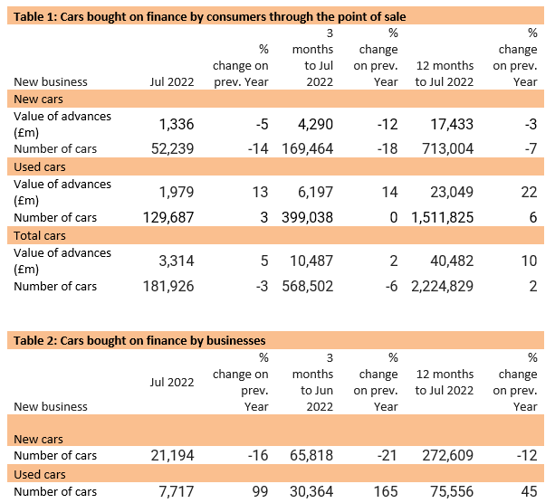 The uptick in used car activity came as the consumer new car finance market fell 5% by value (to £1.34bn) and 14% by volume (to 52,239) in July to leave new business volumes down 5% on the same period in 2021.
In June, the UK's new car finance suffered its "largest contraction" in new business volumes since February 2021's COVID-19 lockdown period
Geraldine Kilkelly, the FLA's director of research and chief economist, said: "The consumer new car finance market remained subdued in July as shortages of supply continued to disrupt the market's post-pandemic recovery.
"By contrast, the consumer used car finance market reported its ninth consecutive month of double-digit growth in the value of new business and a return to growth in new business volumes."
Last month AM reported on Society of Motor Manufacturers and Traders (SMMT) new car registrations data which showed a 9% dip in the market during July, to 112,162 units – representing a fifth consecutive month of sliding sales.
The FLA's data showed how businesses have turned to the used car market as supply issues stymied their efforts to buy new vehicles.
While the volume of new cars bought on finance by businesses dropped 16% year-on-year in July, a total of 7,717 used vehicle sales were funded, representing an uplift of 99%.
Kilkelly said the motor finance sector remained in "a strong position" as it continued to facilitate car sales in an unusual market.
She said: "Despite the challenges posed by the worst inflationary environment since the 1970s, the motor finance industry remains in a strong position to continue to meet demand for the financing of car purchases in the coming months, while providing targeted support to those customers who may need it.
"As always, customers who are worried about meeting payments should speak to their lender as soon as possible to find a solution."