The UK's new car finance suffered its "largest contraction" in new business volumes since February 2021's COVID-19 lockdown period during June, according to new data published by the Finance and Leasing Association (FLA).
New business volumes fell 12% year-on-year overall in the last month of H1 2022 as the new car finance market's new business declined 21% by value (to £ 1.44 billion) and 28% by volume (to 56,877).
The impact of the automotive sector's supply issues appear to be reflected in an growth in the value of the new used car finance business written in the same month, as some consumer changed teir purchasing decisions to avoid lengthy lead times.
New used car finance business grew 10% by value (to £2.05bn) and declined just 3% by volume (to 132,305 units) in the same period.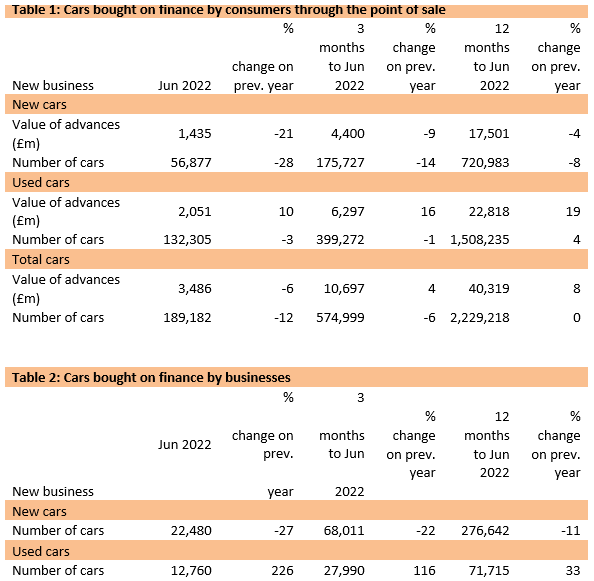 Overall, that meant that the value of new business decreased by 6% (to £3.49bn) year-on-year in June as volumes declined 12% to 189,182.
Geraldine Kilkelly, the FLA's director of research and chief economist, said: "In June, the new car finance market reported its largest contraction in new business volumes since February 2021 as vehicle shortages continued to disrupt the market's recovery.
"By contrast, the business used car finance market reported record monthly new business volumes in June, and consumer used car finance new business volumes were only slightly lower than in June 2021."
Growth expectations
Despite the economic headwinds currently facing the UK, Kilkelly said that finance providers still expect to deliver growth over the coming 12 months.
She said: "Consumer spending is expected to weaken during the second half of 2022 as incomes are squeezed by higher inflation, interest rates, and taxes.
"Our Q3 2022 industry outlook survey suggests 56% of motor finance respondents expect growth in new business over the next year, down from 76% in the Q2 2022 survey.
"As always, customers who are worried about meeting payments should speak to their lender as soon as possible to find a solution."
Commenting on today's FLA data, Michael Davidson, chief revenue officer at Freedom Finance, acknowledged that the automotive sector had struggled with severe headwinds since the COVID-19 pandemic, with a shortage of semi-conductor chips impacting supply for buyers in the UK and driving up the cost of second-hand cars.
But he added: "Motor finance has a crucial role in enabling more people to buy vehicles by spreading the cost of payments.
"The market has seen significant innovation to broaden the range of products that are available to customers and there are now more bespoke, flexible options that will suit a customer's individual circumstances.
"Many successful car dealerships have also put in place embedded finance partners that can meet their customers' demands for quick, simple access to a range of different car finance options as well as other financial services, so that their customers can get the best deal at source at any stage of the purchase journey."