A 9% dip in new car registrations in July delivered a fifth consecutive month of sliding sales in a UK automotive sector which continues to be hampered by the global manufacturing crisis.
Registrations fell to 112,162 units last month, according to data published by the Society of Motor Manufacturers and Traders today (August 4), prompting a further downgrade of 2022's full-year volume forecast.
The SMMT is now anticipating a 2.8% fall in 2022 total new car registrations to 1.6 million units, with 2023's forecast now 1.89m – down from earlier estimates of 2.02m.
And as reports of soaring inflation and the threat of recession begin to test consumer confidence, SMMT chief executive Mike Hawes today called upon the UK's next Prime Minister to prioritise economic stimulants that could help revive the sector as it drives to meet Government's ambitious Road to Zero emissions goals.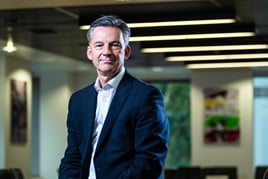 "The automotive sector has had another tough month and is drawing on its fundamental resilience during a third consecutive challenging year as the squeeze on supply bedevils deliveries," said Hawes.
"While order books are strong, we need a healthy market to ensure the sector delivers the carbon savings government ambitions demand.
"The next Prime Minister must create the conditions for economic growth, restore consumer confidence and support the transition to zero emission mobility."
Fleets falter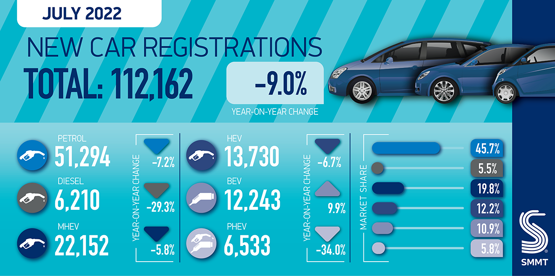 Large fleets suffered the bulk on July's decline in registrations, as OEM continue to prioritise retail customers, dipping 18.2% to 50,014 units.
Private registrations are now up 3.7% year to date as July volumes remained static at 59,847.
Electric vehicles (EV) were able to buck the trend of declining registrations in July, growing market share to 10.9% as uptake grew 9.9% to 12,243 units.
Overall EV registrations growth for the year now stands at 49.9% – delivering a 13.9% market share.
Hybrid electric vehicle (HEV) uptake declined 6.7% to take 12.2% of the market, meanwhile, as plug-in hybrid (PHEVs) registrations slumped by over a third (34%), cutting their market share to 5.8%.
EV demand
Despite fears about the impact of rising energy costs on EV charging, Auto Trader commercial director Ian Plummer said that consumer interest in pure EVs was outstripping supply as the cost of fuel continues to soar.
But he added that concerns around the cost of purchase – as well as the supply issues – will need to be addressed to meet the UK's net zero ambitions.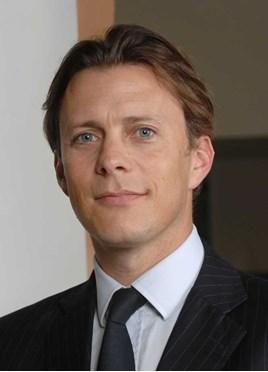 "With fuel prices as high as they are, EV owners are currently saving £165 for every 1000 miles they drive, as our latest Road to 2030 report shows", Plummer said.
"The savings are such that demand for EVs is outpacing actual sales. Around one in four of all new cars viewed on our site is an electric vehicle, but they account for just one in seven of all new sales.
"Bridging that gap could unlock the mass market reach of EVs - but for that to happen, concerns over the cost of new EVs compared to traditional vehicles will need to be addressed, as well as the ability of the second-hand market to keep up with demand for more affordable used EVs."
Reflecting on July's registrations data Jamie Hamilton, automotive partner and head of electric vehicles at Deloitte, is fearful of the effect of the growing cost-of-living crisis on the car retail sector. He said: "Dealers will take solace in the fact that pent-up demand and the current timeframe associated with buying a new car mean that many of them have been able to fill their order books for the remainder of this year.
"Attention is now turning to the sector's prospects for 2023. With inflation expected to rise further, there is a very real risk that more consumers will find themselves unable to afford big-ticket purchases. Some may simply decide it is not the right time to buy a car – new or used."
Hamilton added: "Dealers will have to be even more savvy with their range of available vehicles. For example, adapting stock to cater to buyers looking for smaller, cheaper and more economical vehicles."