Automotive retail businesses have been reminded that they have until the end of October to "make a plan and do what it says" to comply with the Financial Conduct Authority's (FCA) new Consumer Duty regulations.
Attendees at yesterday's BVRLA Leasing Broker Conference 2022, at the Royal Institute of British Architects, were told to act now to establish a framework of how the Duty will be addressed in every aspect of their business before submitting their plan.
Businesses dealing in motor finance must be able to demonstrate how the Duty will be implemented across its operations in a framework approved at board-level, but "skeleton plans" will now be sufficient at this early stage, delegates were told.
"Authorise a plan by the end of this month. It only has to be a skeleton plan, but the important thing is to make one and do what it says", said Richard Chadwick, head of Alphabet Partner.
EY associate partner Marc Ireland said: "All the deadlines were presented in the much-anticipated policy document published in July.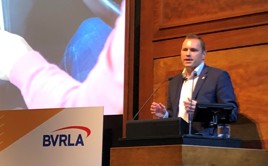 "The FCA didn't want to extend the implementation date because it felt that firms would lose momentum and take their foot off the gas, but such was the wealth of feedback they got that they didn't really have an option but to give a little something."
He added: The FCA is starting to give a little bit more and there's a lot more talk now about a plan for a plan.
"They are now saying 'we don't expect there to be a lot of detail'."
Among the key considerations to express in a business's initial plan is an explanation of understanding at board level and the journey that has been entered into in order to embed the Consumer Duty's principals, Ireland said.
Evidence of the appointment of a "Consumer Duty Champion" should also be submitted as part of the plan, he said.
The implementation of the Consumer Duty Act into car retail operations was recently he subject of an AM webinar presented in partnership with Freeths solicitors. This can be viewed on-demand by clicking here.
AM reported back in July that the FCA had shifted its expectations of finance firms and dealers from the old "treating customers fairly" principle to now an adage of "put their customers' needs first" with the Duty's implementation.
The FCA said the Consumer Duty will mean that consumers should receive communications they can understand, products and services that meet their needs and offer fair value, and they get the customer support they need, when they need it.
It also wants to ensure products and services are sold at a fair price that reflects their value.
In August Richard Barnwell, financial services advisory partner at BDO, outlined what the FCA's new Consumer Duty will mean to UK motor retailers and repairers.
Among the panellists in an on-stage Q&A at yesterday's BVRLA conference was former Lookers chief executive Andy Bruce, now chief executive of Fleet Alliance.
Commenting on the introduction of the Duty, he said: "Ultimately, it's a good thing. My approach s to embrace it. Well considered regulation results in better businesses in the long run."
But he warned: "It is going to eat into a lot of management time because there isn't one part of the business that isn't touched by this in some way."