Franchised car retail groups are choosing to exit the UK fleet sector as their leasing divisions attract big offers from banks and car manufacturers amid a squeeze on profits from their core retail operations.
AM revealed yesterday (October 23) that Sandicliffe Motor Group's Sandicliffe Motor Contracts leasing division had taken the decision to withdraw from the leasing sector just weeks after Inchcape sold its Inchcape Fleet Solutions (IFS) business to Toyota for £100m.
The moves came two years after Marshall Motor Group sold its Marshall Leasing business to the Bank of Ireland UK under its Northridge Finance division in September 2017 for £42.5 million.
But market analysts have said that the timing appears to be right for car retail group's to cash-in on their fleet assets, with profitability beginning to be heavily squeezed in their core car retail operations.
Mike Allen, Zeus Capital head of research and stock market analyst specialising in automotive, said: "If you look at the numbers these leasing businesses are achieving at acquisition they're probably 10 times their valuation. Inchcape achieved a good value for IFS which would have convinced them to exit."
Allen said the dealer group-owned leasing businesses require a separate management team and they are exposed to residual value risk at a much greater level than the retail side.
He said: "Dealer groups are becoming much more focussed on their core offerings as the new car trading environment becomes tougher.
"If the valuations for these leasing divisions are high right now you can cash out at a time when dealer groups are under pressure from manufacturers to invest in dealership facilities."
Banks, car manufacturers and independent companies now make up the vast majority of the FN50 ranking of the UK's largest fleet operators compiled by AM's sister title, Fleet News, with only nine dealer group-owned leasing companies remaining.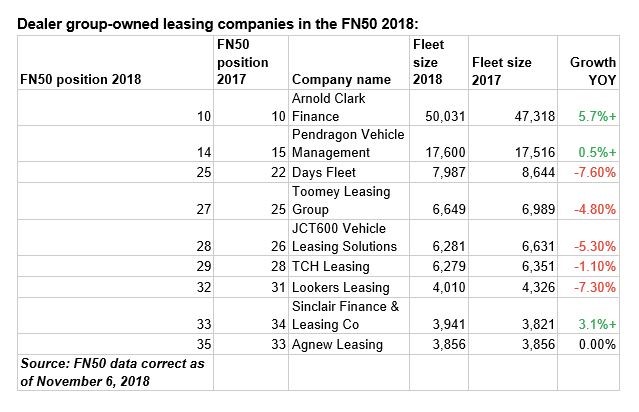 IFS was the second largest dealer-owned leasing company in the UK with a risk fleet of over 20,000 vehicles when it was sold to Toyota.
Arnold Clark Finance is still by far the largest dealer-owned leasing company in the UK with volumes of over 50,000 vehicles and it was one of the few dealer-owned businesses to post growth last year of 5.7%.
Inchcape's exit propelled Pendragon Vehicle Management into second place by volume when looking purely at dealer-owned leasing companies.
However, Pendragon is currently facing pressure from shareholders to restructure after it posted a £32.2m underlying pre-tax loss in its H1 2019 financial results. Its fleet size growth was relatively flat last year, with growth of 0.5% to 17,600 vehicles.
The only other dealer-owned leasing company to post growth in 2018 was Sinclair Finance & Leasing Co, which saw its fleet size grow by 3.1% to 3,941 last year.
Every other dealer-owned leasing business saw declines in 2018 led by Days Fleet which saw a drop in volumes of 7.6% in 2018.
Mike Jones, chairman at automotive business management specialists ASE, echoed Allen's view that the sale of IFS fits with Inchcape's strategy of concentrating on core distribution activities.
Jones said: "Inchcape received a good offer for a piece of non-core business and, in common with other listed retailers before them, they decided the time was right to cash in."
Jones said dealer groups need to be working with significant volumes in the fleet market to make a sustained success.
He said: "For many dealer groups it makes most sense to concentrate on the retail side of the business, particularly when the sale prices of vehicles are healthy."
Allen said it was unlikely Arnold Clark would follow and exit the fleet market due to its strong balance sheet, its sizeable fleet volumes and the fact it is a family owned business, rather than publicly listed.
However, he said there is clearly an appetite from the banks to consolidate and snap up leasing companies that fit.
Jones said: "It's currently unclear what Pendragon's future direction will be as they're looking to appoint a new chief executive.
"It wouldn't surprise me if they were targeted for offers from the banks for its leasing division because it would allow them to write down their debts and it could be a strategic option for them."