Advertisement feature from CarGurus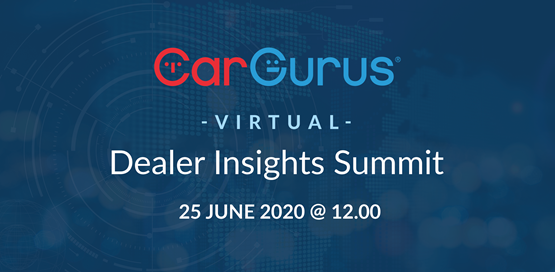 The spread of COVID-19 has wreaked havoc on the UK economy. The pandemic forced the closure of UK car dealerships, which brought the automotive sector to a near halt.
The pandemic has also driven consumers indoors—and online. According to CarGurus' COVID-19 Consumer Sentiment Study, just 36% of car buyers said they were open to buying a vehicle online before the global health crisis. Now, 64% are open to the idea. Dealers who are adopting digital retailing practices will be best poised for success. COVID-19 will likely leave a lasting impact on the prospect of online retail and consumer's in-store expectations.
To deal with these fast-paced changing consumer trends and preferences, CarGurus, the fastest-growing automotive shopping site in the UK*, is launching an exciting virtual summit for car dealers who want to learn more about how to adapt their strategy during these times.
On 25 June, the free online event will host multiple sessions covering everything from COVID-19 Consumer Insights to a live dealer panel. Sign-up for the event today to secure your space, and if you can't make the live version, CarGurus will send you the recording after the event.
The agenda:
Consumer sentiment survey: A deep dive into UK automotive consumer insights gathered during COVID-19
Live dealer panel discussion: Hear from leading UK dealers on the strategies they've implemented to get back to business
Back to business playbook: an informative guide to help dealers return to work and implement new strategies to deal with demand
CarGurus will keep you informed about all event details including speakers, sessions, and login information. If you are a retail owner or a manager, please share this sign-up link with the rest of your team so the recorded version can be sent to them.
For more information please contact CarGurus on: 0808 169 2483 and ask for Sarah Cunningham or Andrew Dooley.
*CarGurus is the fastest growing online automotive marketplace in the UK (Among its nearest competitors based on the percent change in average unique monthly visitors from Q1 2019 to Q1 2020 (Source: Comscore MMX Multi-Platform®, Custom-defined list includes CarGurus.CO.UK, Motors.CO.UK, AutorTrader.CO.UK, Gumtree.com)