Advertisement feature from Auction4Cars
Auction4Cars is one of the country's largest independent trade-only online vehicle auction websites, supported by a network of collection points across England, Scotland and Wales.
Launched in 2008 by Motorpoint to exclusively sell its part-exchange vehicles, today it helps traders purchase more than 30,000 vehicles a year throughout the UK.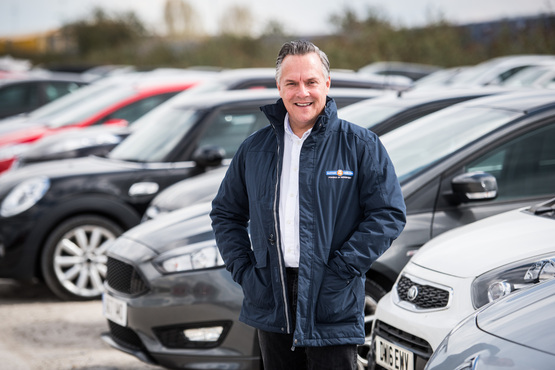 John Hood, General Manager
Huge choice of makes and models
Led by General Manager John Hood and his highly experienced team, Auction4Cars lists hundreds of vehicles daily from up to 30 different manufacturers, including Audi, BMW, Ford, Mercedes-Benz, VW and Volvo.
All vehicles are appraised, photographed and HPI checked by a team of experts before being listed online so traders can bid and buy with total confidence 24/7. They are also presented in trade condition to ensure a true representation at all times.
Lowest fees anywhere
What really separates Auction4Cars from its competitors, though, are its low fees. Not just how competitive they are – prices range from £30 for vehicles worth up to £1,000 through to £125 for vehicles more than £20,000 – but the fact that its fees are up to eight times cheaper than those of its leading competitors for the same value vehicle.
Auction4Cars has been busy studying the respective fees that customers pay when purchasing trade-only vehicles. And, it has discovered that prices vary by as much as 834% more for the same value vehicle than they would when buying from Auction4Cars.
For instance, a VAT-registered customer bidding for a vehicle below £5,000 would pay only £50 in fees at Auction4Cars compared with £467 from a leading competitor. The same customer buying 100 vehicles a year for less than £10,000 each from Auction4Cars would save more than £50,000 per year alone in buyers fees – enough to pay for five free vehicles on their forecourt.
John Hood explained: "We have always prided ourselves on our extremely low auction fees, backed by great customer service, but it was only once we started comparing our fees against those of other leading online used vehicle auction brands that we realised we weren't just talking a few pounds.
"In some instances, such as vehicles for sale online below £10,000, we are talking a saving of more than £500 for the same value vehicle, which is quite staggering. When you multiply that over a year for an average trader buying 100 trade vehicles from Auction4Cars, those savings run into tens of thousands of pounds, savings, of course, which they can then pass on to their customers – benefitting everybody in the process."
Financial support
One of the additional benefits of buying from Auction4Cars is the easy access to vehicle funding through its relationship with NextGear Capital.
Their Stocking Plan allows buyers to purchase the stock they require while freeing up the cash to invest in other areas of the business.
The NextGear Capital approach to funding is uncommon. They fund 100% of the vehicle price from Auction4Cars plus any auction and delivery fees free of charge. This means settling your invoices is simple. One-click on the Auction4Cars website and the vehicle is yours, no delay.
Vehicles are funded for up to 150 days, with repayments made over the course of the plan to aid cashflow.
Plus, you only pay for what you buy, whether you are buying one or a hundred vehicles, while there are no reciprocal terms or restrictions on when you buy.
Liam Quegan, Managing Director of NextGear Capital, added: "There is a common trait among the most successful dealers I meet. They are working their capital wisely and not overexposing themselves.
"NextGear Capital helps them in that respect. They can use our Stocking Plan not just as a source of capital, but as a way of simplifying their stock buying through Auction4Cars as our plan offers additional flexibility compared with other alternatives in the market."

To find out how you can join Auction4Cars for free and benefit from the lowest online buyers' fees anywhere in the UK visit www.auction4cars.com/register or call 0845 4133 133