LSH Auto and BCA will host events aiming to help aspiring apprentices take their first steps towards a career in automotive as Kia UK revealed plans to re-launch its apprenticeship programme.
The businesses revealed their plans to ramp-up efforts to add to their workforces, and support job seekers, as National Apprenticeship Week (February 6 to 12) got underway today.
Mercedes-Benz retail group LSH will host events at Mercedes-Benz of Birmingham from 5.30pm on Wednesday (February 8) and at Mercedes-Benz of Stockport from the same time on Thursday (February 9).
Becky Pitt, talent acquisition specialist at LSH Auto, said: "We're looking forward to recruiting as many apprentices as possible to join us in September 2023 and would urge anybody considering a career in the automotive industry to come along to one of our events this week.
"Our apprenticeship evenings provide the perfect opportunity to meet some of our existing apprentices and colleagues and chat to them to get a real insight into the various roles that are available. Visitors will also have a 'behind-the-scenes' tour of our state-of-the art facilities to see where they could be working."
LSH Auto currently has 65 apprentices working at its dealerships in Birmingham, Solihull, Tamworth, Stockport, Macclesfield and Whitefield.
Vertu Motors has launched a nationwide apprenticeship programme to fill 120 customer service vacancies, while TrustFord is looking for 75 new apprentice recruits.
On Friday (February 3) the Institute for the Motor Industry (IMI) said that businesses are missing out on apprenticeships that could help fill the skills gap.
BCA's careers event will take place at the BCA Rockingham Centre, in Corby, from 11am until 7pm tomorrow (February 7).
Visitors will find out about the specialist courses offered for new recruits by the BCA Training Academy "regardless of whether they have existing experience", the Constellation Automotive-owned remarketing giant said.
AM Awards 2022 M\nufacturer of the Year Kia UK is relaunching its Kia Apprenticeship programme with the help of a training facility due to be opened later this year.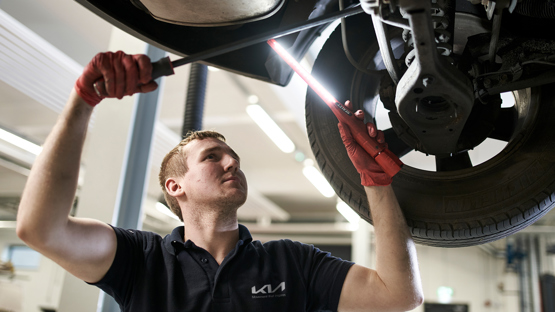 The OEM has partnered with Skillnet, which is currently recruiting on behalf of the Kia dealer network, to deliver the apprenticeship course launched 18 years ago and will begin delivering training from the new premises from August.
It said that the new facilities would allow it to deliver bespoke learning programmes, as well as increase its capacity to recruit apprentices focussed on its electrified era.
Chris Lear, aftersales director at Kia UK, said: "We're delighted to partner with the country's leading automotive apprenticeship experts. We believe this will truly unlock the potential for our apprentices and offer them state-of-the-art learning facilities, equipment and training.
"Apprenticeships form an important part of our industry, training a new generation of skilled workers. As we move ever closer to our electrification goals, the skills that our apprentices learn will become ever more important.
"This is why Kia continues to invest in apprenticeships and we believe that they're a fantastic way into the industry and to gain accredited qualifications, while also earning while you learn."