Fiat Professional's head of sales Richard Chamberlain has said that the brand is "well-placed" to grow its UK sales volumes in 2019 despite the anticipated impact of WLTP on the LCV sector.
The Italian commercial vehicle brand, which has 72 franchised retail sites across the UK and a network of 140 aftersales providers, has currently suspended orders of its LCVs as production patterns are switched to accommodate vehicles that meet Worldwide Harmonised Light Vehicle Test Procedure (WLTP) standards
Orders have been closed on Euro 6B vehicles all production and most of the manufacturer's stock has been sold and the latest prices for Fiorino, Doblo and Ducato are now being communicated to the network.
But Chamberlain said that Fiat Professional still aims to grow sales following a 2018 decline.
"There was a decline last year, but we ended up exactly where we thought we would and this year we will redress that situation," he said.
"WLTP is a huge challenge for the sector, but we have suspended orders now and right now we're at the bottom of a period which will see a slowdown and ramp-up. Pricing of the new Ducato has been released to retailers now and orders will follow. Doblo is a little behind."
Chamberlain said that lessons had been learned by many manufacturers with the roll-out of WLTP into the car sector last September, but suggested LCVs were "a different animal".
He said: "Uncertainty in the market is one thing but when you have model conversions, as you do in LCV, you've got to manage customer supply lines and the transition of Euro 6B stock.
"We're not talking about cars, where there might be five or six variants, we're talking about 130 variants of Ducato. That's significant."
Despite the challenges Chamberlain is confident that the brand is moving forward in the right way and will keep supplies flowing through its retailers.
Speaking to AM at last week's Commercial Vehicle Show, at the NEC in Birmingham, he said that the brand is back on an upward curve and offered plenty of opportunity to a retail network which currently has just a handful of open points in "parts of London" and Aberdeen.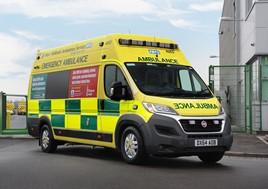 Fiat Professional has a 75% share of Europe's recreational vehicle market and has also established itself as a major player in the provision of ambulances to the NHS in recent years, Chamberlain asserted, which is boosting the brand's profile and the aftersales operations of its franchisees.
After securing a position as provider to 11 of the UK's 13 NHS ambulance trusts last year – a rise from just two trusts four years ago.
"Having Fiat ambulances on the roads is a great benefit for us. It speaks volumes about the cost effectiveness and the reliability of the product that they are being run by fleets which operate 24/7 and will be expected to complete 350,000 miles or more in a lifecycle," said Chamberlain.