Vauxhall's first plug-in hybrid (PHEV) model - the Grandland X Hybrid4 - will be priced from £35,590 when it arrives in showrooms in January 2020.
The new model is available to order now and will offer 32 miles of all-electric driving.
It was unveiled by the Luton-based PSA Group-owned brand in May. The new powertrain uses a 200PS 1.6-litre engine petrol engine and electric motors at the front and rear axles to deliver a combined 300PS.
Vauxhall say the Grandland X Hybrid4 will offer a combined fuel consumption of 176.5mpg, and 37g/km CO2 emissions.
The new model comes as Vauxhall begins to ramp up its electric vehicle (EV) plans. It shares a powertrain with the Peugeot 3008 Hybrid4.
A statement issued by Vauxhall said: "The Grandland X Hybrid4 reinforces Vauxhall's dedication to electrifying its entire product portfolio by 2024.
"Later this year, the fully battery electric version of the next-generation Corsa will go on sale. This will be followed by the new Vivaro Life MPV, new Vivaro LCV and the successor to the Mokka X – all of which will feature a fully electric version."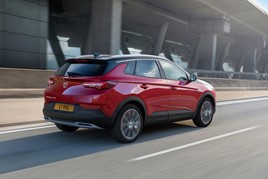 The Grandland X Hybrid4 offers four driving modes – electric, hybrid, AWD and Sport.
In hybrid mode, the car automatically selects the most efficient method of propulsion.
When travelling at low speeds within cities, for example, the system switches to electric mode for zero-emission driving.
The Grandland X Hybrid4 comes equipped with a 3.3kW on-board charger, with an optional 6.6kW version also available.
Vauxhall said that it will also offer a 7.4kW wallbox to allow customers to fully charge the battery in less than two hours.
Grandland X Hybrid4 owners will also benefit from access to more than 85,000 charging points across Europe, as part of Vauxhall's Free2Move Services, which includes a trip planner capable of suggesting the best routes based on the car's remaining range.