Peugeot is set to follow-up the launch of its new e-208 electric vehicle (EV) with the arrival of an all-electric version of its 2008 SUV – called the e-2008.
The 193-mile range compact SUV will be available in conjunction with special short-term lease offer which allows owners to access a petrol or diesel model from the French manufacturer's range, when required, as part of the PSA Group's Free2Move connected mobility platform.
Peugeot's e-2008 will arrive on the market as part of an update of the model which will also include the launch of new petrol and diesel drivetrains.
The e-2008 SUV is powered by a 138PS electric motor and 50kWh battery. It can achieve a range of 193 miles under WLTP.
Capable of supporting 100kW rapid charging technology, Peugeot says an 80% charge will take just 30 minutes, while a full charge using conventional fast chargers will take between five and eight hours.
There will also be three petrol and one diesel engine to choose from, based on Peugeot's existing three-cylinder 1.2 PureTech petrol engine and the four-cylinder 1.5 BlueHDi diesel.
Driver assistance systems will include adaptive cruise control with stop and go function and autonomous parking assist.
A suite of connected service will be offered to support drivers with the e-2008, including remote climate activation and trip planning.
Trim levels will include the core Active, fleet-friendly Allure and sportier GT-Line and GT.
The new 2008 features sharper styling and Peugeot's latest 360-degree i-cockpit.A larger wheelbase should provide more interior space, although the roof line is lower to improve aerodynamics and looks. Boot volume is 360 litres across all powertrains.
Prices and specifications will be released closer to the cars launch.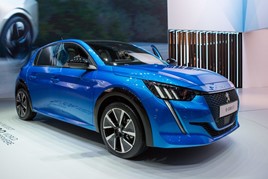 Peugeot has started accepting online reservations for the new 208 and e-208 EV in April, prior to the car going on sale in September.
Buyers can place a £500 deposit in order to be the first to receive a new 208 in GT Line trim when first deliveries commence early next year.
Peugeot said that the decision to open pre-orders early was taken due to "unprecedented demand", which saw the first e-208 reservation placed at Truscott's Peugeot Barnstable on the day the car was revealed at the Geneva Motor Show.
David Peel, managing director of Peugeot UK, said: "We're delighted that our all-new Peugeot 208 reservation site has now opened. This is a hugely exciting model for us.
"Not only does the all-new Peugeot 208 deliver on our promise of sharp styling, uncompromising quality and an instinctive driving experience, but the 208 features our first new generation fully electric vehicle, the all-new Peugeot e-208."