Peugeot has started accepting online reservations for the new 208 and e-208 EV, prior to the car going on sale in September.
Buyers can place a £500 deposit in order to be the first to receive a new 208 in GT Line trim when first deliveries commence early next year.
The car is offered with a petrol, diesel or electric powertrain.
Peugeot says the decision to open pre-orders early was taken due to "unprecedented demand", which saw the first e-208 reservation placed at a dealer on the day the car was revealed at the Geneva Motor Show.
David Peel, managing director of Peugeot UK, said: "We're delighted that our all-new Peugeot 208 reservation site has now opened. This is a hugely exciting model for us.
"Not only does the all-new Peugeot 208 deliver on our promise of sharp styling, uncompromising quality and an instinctive driving experience, but the 208 features our first new generation fully electric vehicle, the all-new Peugeot e-208."
Following March's Geneva Motor Show unveiling of the e-208 EV, AM reported on how Truscott's Peugeot Barnstable took the UK's first order for the Peugeot e-208 electric vehicle (EV) on the very same day that the all-new hatchback was unveiled.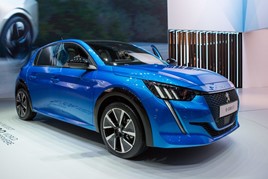 Self-confessed car enthusiast Neal Street placed the order at the dealership on Lauder Lane, Barnstable, without even seeing the all-new model in the metal.
Street, who aid a deposit before the pricing of the new EV model had even been announced, said: "I have total confidence in the Peugeot brand.
"The information I gathered online gave me all the information I needed to place a deposit."
The first of a new generation of electric Peugeots, the e-208 is powered by a 100kW electric motor and 50kWh battery and delivers a claimed zero-emissions range up to 211 miles (WLTP).
Its unveiling in Switzerland marked the first stage of the Peugeot's commitment to offer an electrified version of its entire range by 2023.
Peugeot's all-new 208 will also be offered with a choice of battery electric, petrol and diesel powertrains.
Actual orders for the all-new Peugeot 208 range can be placed from late summer 2019.
Those placing a deposit online will be contacted by Peugeot before the order books open to finalise specification.
At this point the customer can choose whether they want to purchase online or transact through a dealer.
A test drive will then be offered, after which customers will have seven days to decide if they wish to go ahead with the purchase or not.