Mercedes-Benz Vans will further its EV strategy with the unveiling of its first eight-seat electric vehicle, the EQV MPV, at the forthcoming Frankfurt Motor Show.
Making its global debut at the German automotive showcase event – which runs from September 12 to 22 at the at the Frankfurt Messe – the new addition to the premium brand's EQV range of electric vehicles claims to offer a range of 253 miles.
Earlier this year Mercedes-Benz's first EV arrived in UK showrooms. The £65,640 EQC EV SUV went head-to-head with the Audi etron when it went on sale in May.
According to Mercedes-Benz, customers will be able to charge its new MPV from 10% to 80% in less than an hour.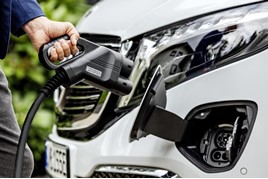 Mercedes-Benz is set to offer a choice of two different wheel base lengths, while it will be available with a range of flexible interior layouts, carrying up to eight people.
The EQV MPV's 90kWh battery is located below the floor, which Mercedes-Benz says does not impact interior space.
EQV features a 10-inch media display, which can be used to display electric vehicle specific information, such as charging current, departure time, energy flow and consumption histogram.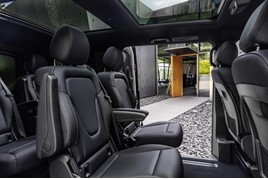 The display can also be used to operate the navigation and Mercedes me Charge functions, as well as the driving modes.
In combination with EQ-optimised navigation, Mercedes-Benz says active range monitoring ensures that the driver reaches their destination safely even if a charging stop is missed.
In May Mercedes-Benz owner Daimler set out its bold electrification plan which will see its entire passenger car portfolio of Mercedes-Benz, Maybach and Smart vehicles become carbon-neutral by 2039.
The German premium car brand set its new target as incoming chief executive Ola Källenius presented its 'Ambition2039' strategy at the company's lead factory in Sindelfingen, Stuttgart.
Last month AM reported that the future of the brand's retail operations will be transformed by a new online strategy, meanwhile, which will see 25% of its new car sales transacted online.
Speaking at a conference in The Hague, which was attended by AM, Britta Seeger, member of the Board of Management of Daimler AG responsible for Mercedes-Benz Cars marketing and sales, said it's time for further diversification in a bid to better merge Mercedes-Benz's digital and physical retail experiences.
"The world is changing fast and so are the needs, the wishes and the expectations of our customers," she said.
"Being 'always on' is a game-changer which strongly influences our daily lives today and will do so even more so in the future."