Mercedes-Benz has said that 25% of its new car sales transactions will be completed online by 2025 as it develops a "single log-in" digital strategy offering lifestyle, mobility and shopping solutions to owners and non-owners alike.
At a 'Future of Retail' conference at the brand's new dealership in The Hague yesterday (July 18) the German premium brand revealed its plans to drive its online as it grows its online influence to engage a wider range of potential customers and create data-rich leads for its franchised retailers.
Mercedes' variety of customer touchpoints has been expanded to include temporary pop-up-stores, lifestyle-focussed Mercedes Me stores, events and conferences since a change of strategy in 2013.
Now Britta Seeger, member of the Board of Management of Daimler AG responsible for Mercedes-Benz Cars marketing and sales, has said its time for further diversification in a bid to better merge Mercedes-Benz's digital and physical retail experiences.
"The world is changing fast and so are the needs, the wishes and the expectations of our customers," she said.
"Being 'always on' is a game-changer which strongly influences our daily lives today and will do so even more so in the future."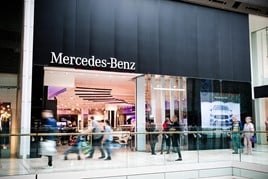 Seeger said that the aim of all future developments by Mercedes-Benz would be that of serving customers' needs with greater ease "anytime, anywhere" with the use of a "single log-in for the Mercedes Me platform".
But while Seeger revealed that a quarter of car sales will be fulfilled online within the next six years - in an echo of the comments made to AM by the brand's UK chief executive, Gary Savage, in 2016 - she sought to reiterate the "strong relationship" the German premium brand with its 6,500 franchise partners across the globe as it aims to align its online activity.
Attempting to underline this, Seeger said that there were new plans under consideration to further broaden the brand's physical offering, with a new Mercedes-Benz World environment already being considered for certain markets – particularly larger Asian cities – which would bring retail and lifestyle experiences together with a car showroom in one large complex.
In this month's AM magazine LSH Auto managing director, Martyn Webb, reveals his plans to introduce concessions to his franchises in Stockport and Solihull not only to help the sprawling new facilities meet the financial costs attacthed to their development but to fulfil the role of "transforming the dealership from a sales point to a destination that is a hive of activity".
New-generation CMS
Tanja Wagner, Mercedes-Benz's head of physical retail experience, explained changes in personnel in the dealership environment and said that retailers would be aiming to shift from a showroom to showcase experience for customers.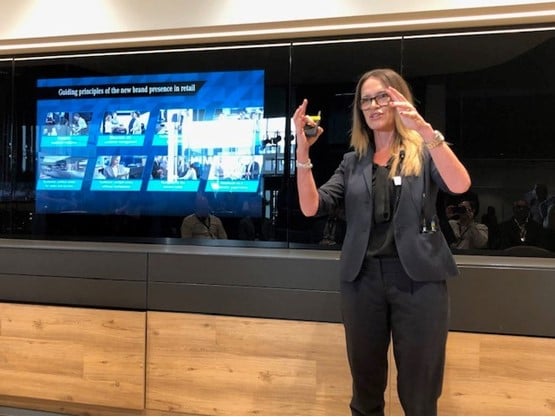 At the dealership in The Hague, which opened its doors three months ago, a new CMS system utilises automated numberplate recognition (ANPR) to greet service customers and direct them to drive-in aftersales bays, while front of house Star Assistants lead the front of house operation, channelling unscheduled visitors to the correct department via an iPad-operated CMS, alerting the department to their arrival.
Andreas Hiller, head of customer management and retail network development, revealed how online configurations generated QR codes to deliver in-showroom access to a customer's choices, while digital signatures allowed sales and aftersales offers to be viewed and agreed in paperless fashion.
A new app being trialled in Hong Kong looks set further streamline the digital experience, though.
The Carshow app will give details of where a similarly configured car might be in the Mercedes-Benz network before providing sat-nav guidance to reach the car – at a specific location in a specific dealership.
Tracking technology then allows the customer to call on a member of dealership staff via the app while they are stood with the vehicle.
Hiller said: "We strongly believe in the human touch and the strong network that we have but we also see online and we see the energy and the power of technology. We strongly believe that we need to combine the two."
Further helping to combine the two are a series of apps and collaborations now being developed and explored by Mercedes-Benz.
Embracing apps
Marc-Oliver Nandy, head of digitalisation, sales and Mercedes Me, revealed how the brand intends to engage with customers and non-customers online to not only increase its sphere of influence but, no doubt, it's wealth of potential customer data.
While 90% of owners now engage with the Mercedes Me app which can deliver online booking, service reminders and other assets, the brand is now embarking on an expansion into mobility solutions and online retail.
A Mercedes Me Store app has now been added to the latest MBUX infotainment system, allowing over the airwaves upgrades – to DAB radio or the use of your smartphone as a key, for example.
Now the electric vehicle (EV) specific app delivering sat-nav bespoke routes taking in partner charge points where energy can be paid for via the app has been added to coincide with the launch of the EQC SUV, the brand's first full-EV.
Meanwhile the Bertha app allows even non-Mercedes owners to visit partner petrol stations and pay for fuel from their smartphone app, Mercedes Me Parking gives a register of available spaces and navigates users to them while also allowing payment.
Similarly an under-trial car sharing app allows multiple users to have access to a single car, a special key being left in the vehicle as users can request and schedule periods of usage and gain access to the vehicle via their smartphone.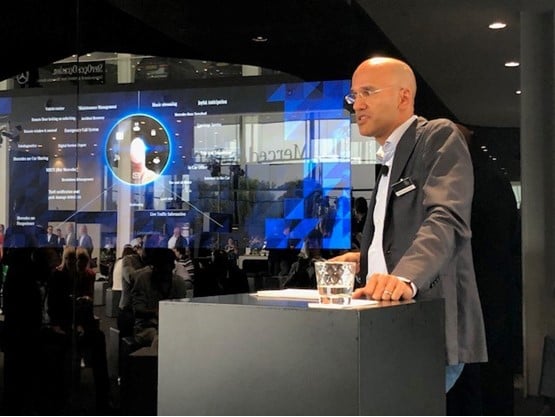 Nandy said: "Already we have partnerships with Yelp and TripAdvisor and the potential for collaboration for apps and in-car solutions is endless, really.
"From a car wash services, delivery services, even a dry cleaning service which could deposit washed and ironed clothes in your parked car. The possibilities are endless."
OEM turned online 'influencer'
The advantages of further online engagement are clear for Mercedes-Benz, allowing it to add contact points and learn more about potential customers' habits and behaviour.
It's a trend that the brand started with the opening of its first temporary pop-up store in Warsaw back in 2013. It has since rolled the concept out into 20 countries globally.
Meanwhile, Mercedes Me stores focus more on events, with a focus on exceptional gastronomy, in a bid to engage customers with the brand through other platforms and Mercedes Me Conventions have followed, with the next due to take place at the Frankfurt Motor Show later this year.
Mercedes-Benz has also sought to target female customers specifically with a 'She's Mercedes' concept offering an app and customer events. To date, Seeger said, the concept has been made active in 65 markets, attracting 20,000 members.
"In China alone 6,000 women took part in She's Mercedes events last year," she said.
The effects have been marked, coinciding with a growth in global in sales volumes for the premium carmaker.
Seeger said that every second driver of a Mercedes-Benz in the compact sector previously drove a competitor vehicle, with 60% of A-Class customers in Europe considered as conquests.
She added: "In China, the average A-Class owner is aged 35."
While its renewed focus on mobility and online lead generation is clear, it seems Mercedes-Benz could be well on its way to becoming an online 'influencer' in its bid to draw new, young and tech-savvy customers into its retail environment.