​Renault and Nissan trailed rival manufacturers as franchised car dealers ranked their brand partners' alternative fuel vehicle (AFV) offering in the latest bi-annual NFDA Electric Vehicle (EV) Dealer Attitude Survey.
Despite producing the UK market's two top-selling pure electric vehicles – the Nissan Leaf and Renault Zoe – the two Alliance partners occupied the bottom two places in the overall rankings of the survey which gauges car retailers' attitude towards their OEM's future product offering, supply availability, bonus and rebates, profit return, return on investment, finance, and incentives.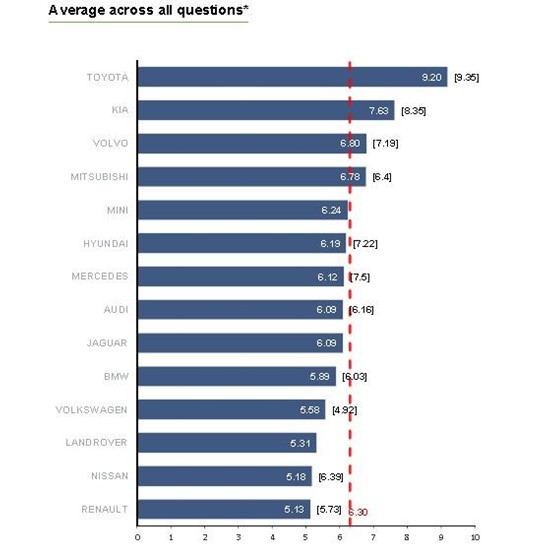 Renault scored an average of 5.13-out-of-ten across all survey questions, while Nissan scored 5.18 as the two brands emerged as the worst-rated of 14 OEMs represented in the survey.
This week both Cap HPI and CarGurus cited used versions of the Renault Zoe as an example of a pure electric vehicle which had shown strong price appreciation in the used car sector as demand for EVs rises.
However, when asked by the survey how likely customers who had owned an electric or plug-in vehicle were to replace them with another AFV, the scores delivered by Nissan and Renault retailers suggested that they had not been sold on the idea.
Both Renault and Nissan retailers rated the likelihood of repeat AFV custom at 5.23-out-of-10, against an overall response average of 6.72.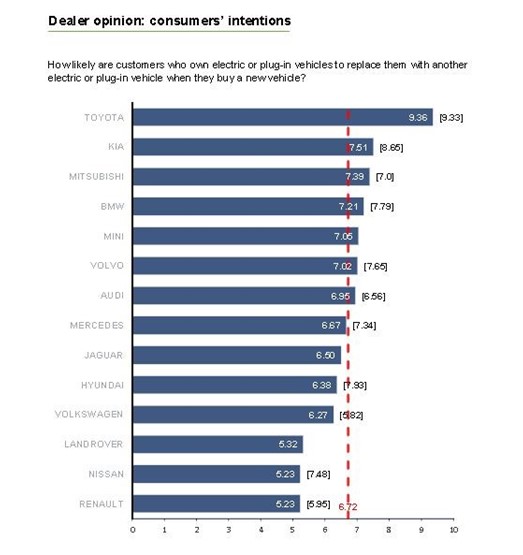 Toyota retained its lead at the top of NFDA EV Dealer Attitude Survey as the brand's hybrid vehicle offering found favour with its franchised retailers, meanwhile.
The Japanese brand, which is yet to introduce a full-EV to its product line-up, gained a 9.2-out-of-10 average rating across all questions in the NFDA's third bi-annual survey as Kia came second with an average rating of 7.63-out-of-ten across all questions.
The results marked declines for both Asian brands after Toyota emerged from last year's survey with a score of 9.35 compared to Kia's 8.35 score in second place.
Mitsubishi (4th-place) and Volkswagen (11th-place) saw marginal improvements in their scores, while Mercedes-Benz suffered the biggest losses, with its average score going down to 6.12 from 7.5 despite the 2019 launch of its EQC EV SUV.
Commenting on the overall results of the survey, NFDA director Sue Robinson said: "It is positive that retailers showed a degree of optimism about the electric vehicle sector in the latest NFDA EV Dealer Attitude Survey."
The latest NFDA EV Dealer Attitude Survey was carried out in July and asked retailers about their views on business aspects which play an important role in the electric vehicle sector.
Acknowledging that not all manufacturers have entered the EV market yet, the NFDA only included responses from respondents who currently have at least one new plug-in hybrid or pure electric vehicle available within their franchise.
While supply issues are often cited as a key hurdle to the mass adoption of AFVs in the UK, many respondents to the survey seemed satisfied with the delivery of stock.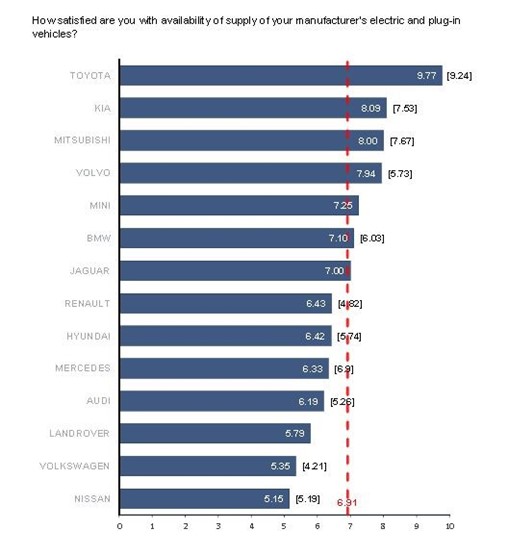 Earlier this year Hyundai Motor UK managing director, Ashley Andrew, told AM that his brand had introduced an Ioniq Hybrid lease scheme in an attempt to plug the gap between order and delivery of its popular Kona EV compact SUV.
Hyundai retailers scored AFV supply from their OEM as 6.42 against an average of 6.91.
Nissan retailers were most frustrated with their supply of AFVs, despite the historic sales success and UK production of the Leaf, scoring the brand 5.15-out-of-10.
Volkswagen (5.35) and Audi (6.19) also finished in the bottom four for the supply of AFV product to their retailers.
VW launches its hotly-anticipated ID range next year and Audi announced this week that it would be implementing 9,500 job cuts at its German plants in a bid to fund its electrification programme.
The NFDA is keen to see retailers promote AFVs in their dealerships and claims to have seen high demand for its Electric Vehicle Approved scheme, which is designed to equip participants' sales teams with the skills to address customers' questions and ownership needs.
Commenting on the results of the latest NFDA EV Dealer Attitude Survey, Robinson said: "A number of retailers continued to be concerned with their return on investment in equipment and training, bonus and rebates, and manufacturer training and material supporting them to effectively sell EVs.
"Overall, retailers gave high scores in key areas such as product range, supply and consumer appetite.
"However, it is important that the issues highlighted by the survey are addressed and all retailers are enabled to meet the fast-growing consumer demand as soon as possible".