Kia Motors UK urged its franchised car retail network to "take charge" in 2020 as it prepares for the arrival of a new crop of electric vehicles (EV) – including the new e-Niro and Soul EV.
Hosting its franchise partners at the event, hosted at the ACC Liverpool, the Korean brand recognised its dealer of the year – SG Petch of York – among a series of awards resulting from the brand's strong performance in the UK market during 2019.
The brand achieved a 1.6% increase in registrations in the UK last year as volumes reached 97,323, according to data published by the Society of Motor Manufacturers and Traders (SMMT).
Addressing retailers from a stage emblazoned with the slogan "Take Charge", Paul Philpott, the president and chief executive of Kia Motors UK, said: "I am hugely proud of everything our dealers have achieved this year.
"2019 has been one of our most challenging years, yet we have still managed to achieve another year of record sales.
"As we move into 2020, we expect the year to be just as challenging, but even more exciting. From changes in our EV line-up to significant investments in Kia as a brand, I am confident that our dealers will continue to maintain their exceptional work."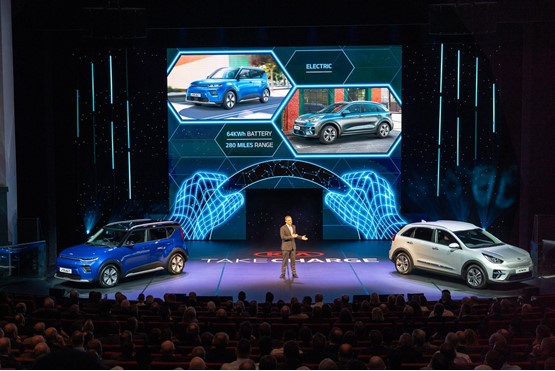 Kia will start 2020 with the launch of plug-in hybrid versions of its new XCeed crossover and Ceed Sportswagon estate car and will add a new version of the e-Niro crossover and an all-new Soul EV in the summer.
Among the retailers awaiting the arrival of the new product as the brand bids to achieve growth in what is expected to be a contracting new car retail market once again, will be a host of Kia award winners.
Here is the full list of winners from the Kia Motors UK Dealer Conference 2020.
Dealer of the Year - S G Petch (York)
Dealer Excellence Award - Tates (Pyecombe)
Dealer Excellence Award - West End Garage
Excellence Award - Tates (Pyecombe)
After Sales Excellence Award - TMS (Hinckley)
Family-Like Care Award - Drayton Motors (Louth)
GoElectric Award - Marsh (Exeter)
In addition to the events headline awards, a total of 25 dealers were presented with Kia's Customer Experience Award.
The winners were the top 25 ranked dealers from the Family-like Care Award. They were: Allingtons (Ashington); Bells (Northampton); Burrows (Barnsley); Chorley Group (Blackpool); Drayton Motors (Boston); Drayton Motors (Louth); F J Chalke (Mere); Fine Cars (Lee-on-the-Solent); Fisken (Forfar); Gatwick Kia; Gravells (Narberth); GWR (Brentford); Howard Abraham (Lurgan); Ken Jervis (Stoke-on-Trent); Longley Park (Huddersfield); Loughborough Kia; Mantles (Royston); Milton Keynes Kia; Rodgers of Plymouth; S G Petch (Richmond); S G Petch (York); Stoneacre (Wallasey); TMS (Hinckley); Viking Garages (Southampton); West End Garage.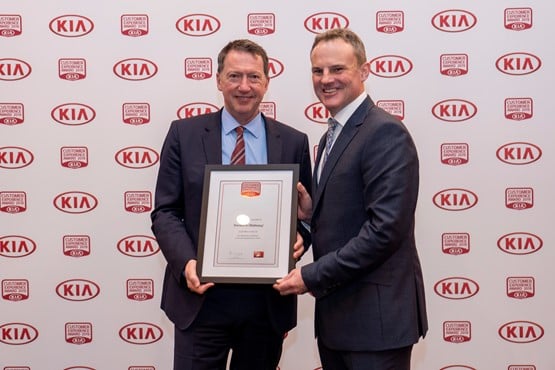 Stoneacre's Kia franchise in Wallasey was among those keen to celebrate their 2019 success with the brand.
Stoneacre operations director Shaun Brookhouse (pictured, left) collected the group's award from Simon Hetherington, Kia Motor UK commercial director.
Philip Hall, new car sales manager at the Wallasey facility, said: "We had a really successful 2019 at our Wallasey dealership. We pride ourselves on delivering outstanding customer experience, so to win this award means a lot to us.
"It's a great start to 2020 and we're looking forward to an exciting year ahead."