Kia Motors UK has further expanded its range of plug-in hybrid electric vehicles (EV) with the launch of electrified versions of its new XCeed crossover and Ceed Sportswagon estate car.
Prices for the electrified version of the XCeed start from £30,695, with the model available in '3' and First Edition trim levels, while the Ceed Sportswagon PHEV is priced from £29,995 and is offered in '3' specification.
Both models combine the Korean carmaker's 1.6-litre GDi petrol engine with a 8.9kWh battery pack and 44.5kW electric motor to produce 139bhp and 265Nm of torque along with the ability to cover 36 and 37 zero emission miles, respectively, on a full charge.
The new plug-in derivatives come hot on the heels of electrified versions of the Niro, Soul and Sportage and are available to order now, with the first vehicles arriving in the UK in April.
Kia said in a statement issued this week that its plug-in hybrid models' use of a six-speed dual-clutch auto transmission (6DCT) ensured that they were "a more enjoyable drive than other hybrid vehicles equipped with electronic continuously variable transmissions (e-CVT)".
It said that, unlike an e-CVT, the gearbox allows the full output of both the engine and motor to be transferred in parallel through the transmission, with minimal loss of energy.
PHEV-specific features
Among the features that define the new Kia models from their internal combustion engine (ICE) alternatives is a new closed 'tiger-nose' grille to aid aerodynamic efficiency and 'eco plug-in' badges.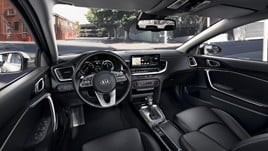 Both vehicles are equipped with a charging indicator and Kia's brand-new 10.25-inch touchscreen infotainment and navigation system with Kia's UVO Connect telematics which incorporates new functionality to help owners locate nearby charging points.
Kia said that owners can use the touchscreen system to schedule when their vehicle should charge when plugged in at home, enabling owners to take advantage of cheaper off-peak energy tariffs.
Also standard on the Kia XCeed First Edition is Kia's new fully-digital 12.3-inch 'Supervision' instrument cluster is designed to deliver information as clearly as possible with a range of unique graphic displays.
AFV aspirations
Speaking to AM at the international launch of the new XCeed crossover last year, Kia Motors UK managing director Paul Philpott has said that the brand can achieve 120,000 vehicle sales with the help of the new XCeed crossover.
He said that the brand expects the new model to account for 50% of all UK sales of the Ceed in 2020 as the Korean brand continues to drive growth in a faltering market.
The brand - the AM Awards 2019's Franchise Partner of the Year winner - finished second in the National Franchised Dealers Association's latest EV Dealer Attitude Survey rankings.
Toyota retained its lead at the top of the survey as the brand's hybrid vehicle offering with a 9.2-out-of-10 average rating across all questions in the NFDA's third bi-annual survey as Kia came second with an average rating of 7.63-out-of-ten across all questions.
The results marked declines for both Asian brands after Toyota emerged from last year's survey with a score of 9.35 compared to Kia's 8.35 score in second place.
The brand introduced its first full-EV to the UK market with the Soul EV in 2014 and has offered a plug-in hybrid version of its Optima since 2016.
The brand introduced its its e-Niro full EV crossover in 2018, with an updated version set to arrive with customers in Q1 2020, ahead of the April arrival of an all-new Soul EV.
Kia has also bolstered its electrified vehicle line-up with the introductions of electrified versions of the Niro, Soul and Sportage in recent months.