New car registrations ended 2019 at a seven-year low after falling 2.4% in a third consecutive year of decline, the Society of Motor Manufacturers and Traders (SMMT) has reported.
Despite a 3.4% year-on-year increase in registrations in December – the result of a 14.1% slump in the last month of 2018 prompted by WLTP supply issues – the market ended the year down, with a total of 2,311,140 vehicles having entered UK roads.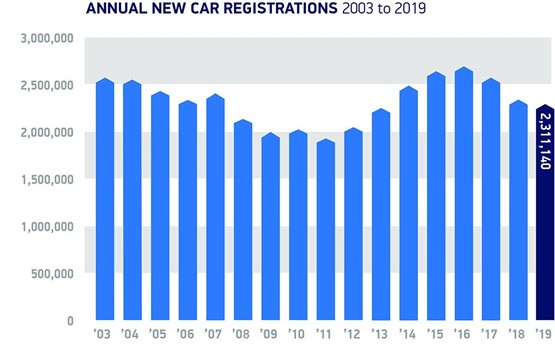 SMMT chief executive, Mike Hawes, said: "Undoubtedly consumer confidence when it comes to buying big ticket items is still very weak and there is also confusion about what is happening around the Government's Road to Zero clean air policy and clean air zones. All of this is holding back car purchases."
The SMMT revealed this morning (January 6) that private sales had declined by 3.2% across 2019, as fleet volumes grew by 0.8%.
Hawes revealed that all vehicle segments apart from 'dual purpose' and 'specialised sports cars' had registered a decline throughout the year.
Superminis and lower medium cars remain the most popular - with a combined 57.1% market share - despite registrations falling (by 6% and 4%).
Alternative fuel vehicles (AFVs) registered a 20.6% increase in volumes, to reach a market share of 7.4%, with hybrids accounting for 4.2% of the market after volumes rose by 17.1%.
Zero emission electric vehicles (EV) generated a 144% rise in volumes to 38,000 units, meanwhile.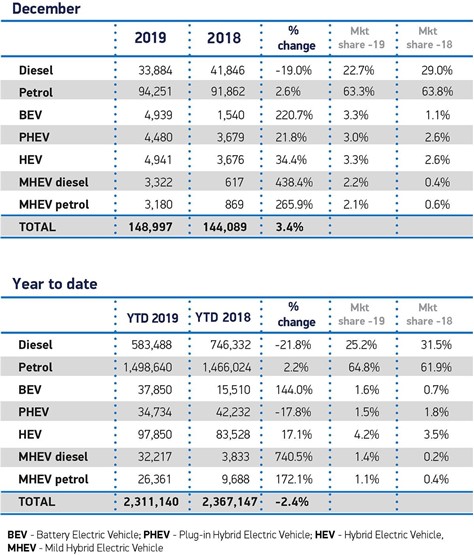 Hawes said: "Significantly, pure EV overtook plug-in hybrids for the first time. The removal of the Government grant from plug-in hybrid vehicles some 15 months ago now caused a 17.8% decline last year which is what happens when you pull and incentive from a technology that demands a larger investment from the buyer.
"For now, pure EV remains just 1.6% of the market."
EV incentives required
Addressing a press briefing in London on Friday (December 3) Hawes highlighted the positive role that April's removal of BIK tax from zero emission plug-in vehicles may have on EV registrations this year but also pointed out that the existing ultra low emission vehicle (ULEV) grant was set to expire at the same time, urging government to continue to support the uptake of EVs with continued financial support.
The UK Government set "aggressive" goals to meet EU clean air targets with its 2018 Road to Zero strategy, alongside the Paris agreement's fines for OEMs who fail to meet the 95g/km CO2 emissions targets for 2020/21, but Hawes said that consumers will need financial help to make the switch to EVs.
According to the SMMT the UK new car fleet average CO2 actually rose for a third successive year, by 2.7% to 127.9g/km, in 2019.
Hawes said: "Manufacturers want to reach these goals. They have to. The fines are swingeing. There are currently 50 EVs available in the UK and there will be 30 more this year and as many as 160 more next year.
"We are bringing them to market, but we still need the take-up.
"These are expensive technologies and we need the incentives to encourage uptake."
Hawes would not dismiss the possibility of the return of consumers to diesel-powred vehicles in 2020 and said that that rate of decline was likely to slow.
He said: "For the right people, diesel is still the correct option."
There was modest growth in demand for petrol cars in 2020, according to the SMMT's data, with registrations up 2.2%, as diesel registrations slumped by 21.8%.
December marked the 33rd month of diesel decline as what the SMMT described as "continued anti-diesel rhetoric and confusion over clean air zones" hit demand.
This has resulted in drivers keeping their older, more polluting vehicles on the road for longer, holding back progress towards environmental goals, it said.
In December alone, sales of petrol cars rose by 2.6% as diesel declined 19% and EVs rose by 220.7%.
Stability required in 2020
Commenting on the full-year 2019 registrations data, National Franchised Dealers Association (NFDA) director Sue Robinson said that 2019's 2.4% registrations decline had come "as a result of the continued, prolonged political uncertainty and a number of challenges affecting the automotive sector, namely supply constraints and confusion surrounding emissions".
Robinson: "It is disappointing to see that CO2 emissions continued to rise. It is crucial that motorists choose the car that best suits their driving habits. Due to the confusion surrounding emissions, many high mileage drivers have purchased petrol cars which emit more CO2 than their modern diesel equivalents.
"In 2019, the decline in new car registrations was partially offset by a strong used car market which provided profit opportunities for retailers who, in turn, offered excellent deals to their customers.
"NFDA hopes that a more stable political environment will support the automotive retail sector and restore consumer confidence in 2020."
James Fairclough, the chief executive of AA Cars, said that car retailers would want to "gain some momentum quickly" in Q1 2020.
He said: "December's fall in sales figures reflects the challenging environment that faced the industry in 2019, but there are reasons for optimism for the year ahead.
"As with most of 2019, political and Brexit uncertainty hovered over much of December, but last month's election will hopefully spark a much-needed resurgence in sales this year.
"Dealers will want to gain some momentum quickly in the first quarter, and any deals and special offers they can provide will go a long way to attracting motorists back to the forecourts.
"Looking ahead, hopefully 2020 will see the continued growth of electric and hybrid vehicles. Their sustained growth provided a positive thread throughout 2019, with drivers showing great enthusiasm for environmentally-friendly cars."