Toyota and Lexus are offering discounts of up to £4,000 to owners of older vehicles to trade up to a brand-new car with the launch of its own scrappage schemes.
Earlier this month (June 8) AM reported that a Government-backed new car scrappage scheme could boost the automotive retail sector with incentives of up to £6,000 to switch into an electric vehicle (EV).
The Telegraph reported (June 8) that the Prime Minister, Boris Johnson, could set-out plans for the scheme in a speech penciled-in for July 6.
Toyota/Lexus has launched its own OEM-backed offering, however, offering discounts on a choice of vehicles ranging from the Aygo city car through to the Land Cruiser SUV and Hilux pick-up.
The Lexus line-up includes the popular CT hatchback, ES saloon and the UX, NX and RX SUVs.
A spokesperson at Toyota, said: "Customers have been enthusiastic in taking the opportunities offered by successive scrappage schemes, which have yielded almost 18,000 new Toyota and Lexus vehicles sales so far.
"This sees older, more polluting cars replaced with cleaner more efficient models, Toyota and Lexus's market-leading self-charging hybrids. The new cars also feature more advanced safety systems and typically contain more parts that can be recycled or re-used."
Almost a third of new car buyers are putting-off their next purchase as they await a Government announcement about a potential car scrappage scheme, according to research conducted by WhatCar?.
The scrappage savings cannot be combined with any other special offer, but customers can access the same APR rates on Personal Contract Purchase (PCP) agreements. These currently include zero per cent APR for certain Aygo, Yaris, Corolla, C-HR, RAV4 and GR Supra models.
PSA Group announced in May that it was in talks with Government about the possibility of car scrappage scheme incentives to boost the automotive retail sector in the wake of the coronavirus crisis.
Below are the qualifying Toyota model ranges in the scrappage scheme, with the saving offered on the recommended retail on-the-road price (including VAT).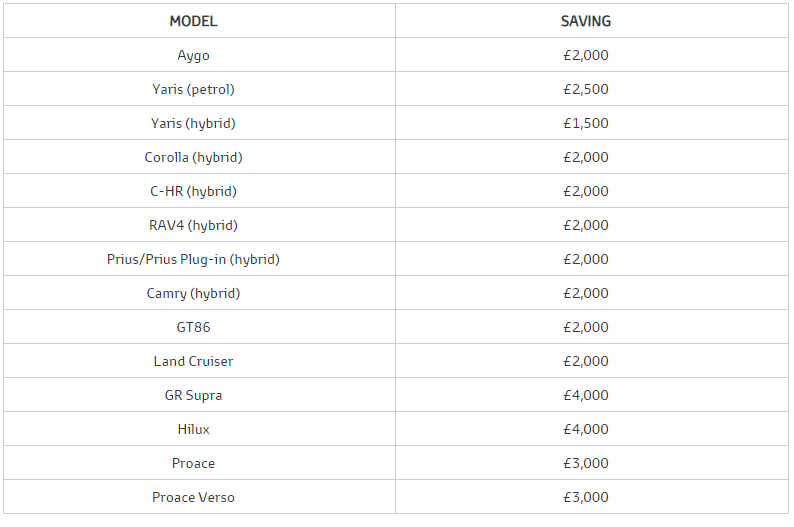 For Lexus, the choice and savings available are shown below.

Customers can use any passenger or commercial vehicle in the schemes, manufactured on or before September 30 2012. They must be the registered keeper of the vehicle for a minimum of six months before the order date of the new Toyota or Lexus. The new vehicle must be registered in the same name.
The schemes are available until September 30, 2020, and new vehicles must be registered by December 31, 2020.